Your gift makes a difference. Any amount helps Gonzaga Law support current and future generations of students who are working to put their Passion Into Practice. Your generous philanthropy helps make this possible.
Announcements

Spring Pop-Up Shop: Now Open
For a limited time, Gonzaga Law has all new swag available for the springtime. This exclusive sale features The North Face among other brands. All orders must be in by March 21. No orders will be accepted after the deadline.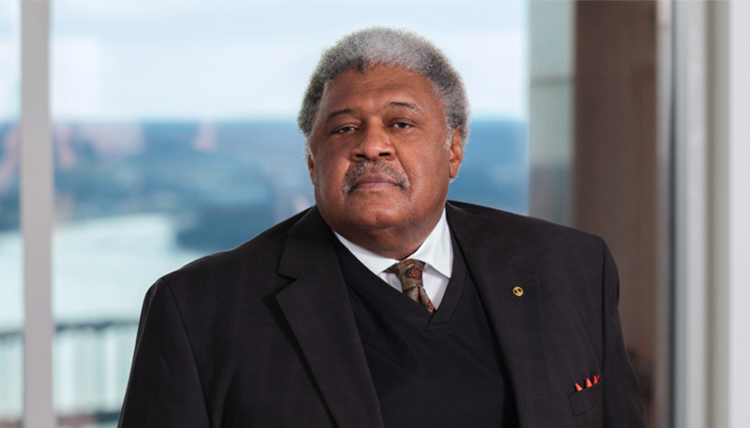 Upcoming Jurist-in-Residence
Justice John Charles Thomas is the 2019 Jurist-in-Residence for the Center for Civil and Human Rights at Gonzaga Law. Justice Thomas was the first African American appointed to the Supreme Court of Virginia, in 1983. After 7 years, Justice Thomas retired from the Supreme Court and he is now a senior partner at the Virginia firm of Hunton Andrews Kurth, where he focuses on appellate practice, general litigation, and alternative dispute resolution.

Justice Thomas is a frequent speaker and lecturer across the country and around the world. Justice Thomas has lectured at the Interim University Center in Dubrovnik, Croatia on "Enforcing Interim Arbitral Awards Under the New York Convention"; he has delivered the Constitutional Law lecture to the Firsties at the United States Military Academy at West Point; and he has delivered the "First-Day, First Year" lectures at the University of Virginia School of Law and the College of William & Mary School of Law since 1990. In 2017, he co-taught a course on Appellate Advocacy at the University of Virginia School of Law.

During his visit to Gonzaga, Justice Thomas will be teaching a course entitled, "Civil Rights Lawyering." He will also deliver the annual 2019 William O. Douglas Lecture, and will be meeting with interested students and community members at various events.
Thank You: Alumni Survey
Thank you to all the alumni who participated in our recent alumni survey. Thanks to your efforts, we received over 500 responses. Your ideas and comments are very important to us and we are thrilled to have received so much feedback.
Alumni in the News

2nd Year as Sweet as the First
On January 19, 2019, Gonzaga Law hosted the 2nd Annual Sweetser Closing Argument Competition. Each participant delivered a closing argument that integrated jury instructions with a fact pattern prompt and was video-recorded. Sponsored by the Sweetser Law Office, students receive a fact pattern based in tort law, a set of jury instructions, and one (1) hour—that's a mere 60 minutes—to prepare a cogent, persuasive closing argument of no more than 15 minutes in length.

After review by a panel of judges, the finalists were:

First Place: Branden Landon, 3L
Second Place: Chelsea Norman, 1L
Third Place: Alex Hutchings, 2L
While not all competitors left with a cash prize, all received a copy of their recorded argument as well as written feedback from the judges.

In endowing this competition, James and Marcus Sweetser wanted to create a competition to inspire future trial attorneys. And the fact patterns that the Sweetsers create are far from simple. In this year's prompt, competitors were to argue damages on behalf of Maria Alexander in a suit against Kubota, a company that makes farm equipment and the RTV900 utility vehicle that injured Maria. While Maria was riding in her family's RTV900, it flipped. She was injured so badly that she, at 17 years of age, had to decide whether to live with the pain and limitations of her injured foot and ankle or amputate and live with a prosthetic. She chose to amputate and live with the phantom pain in her limb and the pain from the prosthetic itself.
This year, the panel of judges include panel of volunteer judges included Spokane practitioner and double Zag Greg Casey, (B.B.S., ´68, J.D., ´71) of the Casey Law Office and Gonzaga Law professors Lisa Bradley and Brooks Holland, who holds the Donald J. and Va Lena Scarpelli Curran Faculty Chair in Legal Ethics and Professionalism and is the Director of Global Legal Education. The panel was rounded out by Matt Albrecht, a local plaintiff's attorney and double Zag, (B.A., '98 and J.D., '05).
Snipes Ruiz Appointed Judge in Montana
Congratulations to Gonzaga Law alumna Kaydee Snipes Ruiz ('11) for being appointed as the judge in the 12th Judicial District of Montana that includes Chouteau, Hill and Liberty counties.

Snipes Ruiz, whose appointment must be confirmed by the state Senate this legislative session, takes the place of Judge Dan Boucher, who retired in November.
Gerla Named as the New Bellevue City Attorney
Congratulations to Gonzaga Law alumna Kathy Gerla ('87) who became the Bellevue City Attorney in January, replacing former City Attorney Lori Riordan, who retired from the position in October.
Upcoming Events

Catch the 2019 Linden Cup Finals
Linden Cup is a student-run oral appellate advocacy competition among Gonzaga law students. Join the Gonzaga Law community for the finals of the 2019 Linden Cup at 2 p.m. on March 23 in the Barbieri Courtroom. One two-person team will emerge victorious after they are judged by a panel of legal experts on their forensic performance, including their success in answering questions, their conviction, and their courtroom demeanor.
Holding the Balance Steady and True: An Unclassified Look at the FISA Courts
*This event has been rescheduled for April 10.

The Federalist Society presents: Holding the Balance Steady and True: An Unclassified Look at the FISA Courts on April 10 at 5:30 pm. Judge Richard C. Tallman of the U.S. Court of Appeals for the 9th Circuit will be at Gonzaga Law as the special guest lecturer in the Barbieri Courtroom. To RSVP please contact Bryn Boorman at boorman@gonzaga.edu.
Upcoming Speakers
Dr. Keith E. Whittington
Dr. Keith E. Whittington of Princeton will be in the Barbieri Courtroom at 1:15 pm on April 26. This event is in conjunction with the Washington State University. More information forthcoming.
Let's Talk about the Fourth Amendment
John Kroger of Harvard Law will be at Gonzaga Law to give a lecture on April 25 at noon. Kroger will be speaking about the evolving interpretation of the 4th Amendment, with focus on immigration and searches in public and private spaces. This event will be sponsored by the Center for Civil and Human Rights.
Clarke Prize in Legal Ethics CLE
Registration is now open for the 2019 Clarke Prize in Legal Ethics CLE. This event is free for all Gonzaga Law alumni and $70 for non-alums. More information forthcoming.

The Gonzaga in Florence Alumni Experience
This one-week program begins in Florence with our third-annual International Human Rights Symposium, which will feature world-renowned scholars and professionals addressing this year's theme, Freedom of Expression as a Human Right. Then, escape to the Tuscan countryside, where we will spend three nights in one of the world's most famous wine regions, learning more about the legal and business aspects of wine through on-site visits to wineries along with lectures and tastings by leading experts. Earn 15 CLE credits in beautiful Italy.

3rd Annual Human Rights Conference
June 2-3, 2019
CLE Credits Pending
Florence, Italy

Wine Law Program: The Legal and Business Aspects of Wine
June 4-7, 2019
CLE Credits Pending
Chianti Region, Italy
Recent Photos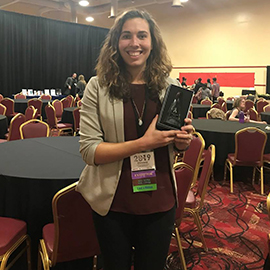 A Passion for Service
A former Thomas More scholar, Christena Georgas-Burns ('16) is continuing her commitment to public service in Nevada. George-Burns recently won the Prism Award for Exceptional Ryan White Services for the free legal help she provides to people who are HIV+ or living with AIDS.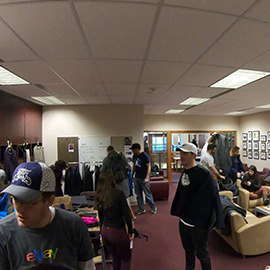 Student Pop-Up Shop
The Center for Professional Development's pop-up shop drew a crowd as our students picked out items from a large selection of donated professional apparel. A free event, the pop-up shop offers a great opportunity for students to build up their professional wardrobes.

Thank you to all our alumni who donated items for the event.