Drew Simshaw Joins Gonzaga Law as New Assistant Professor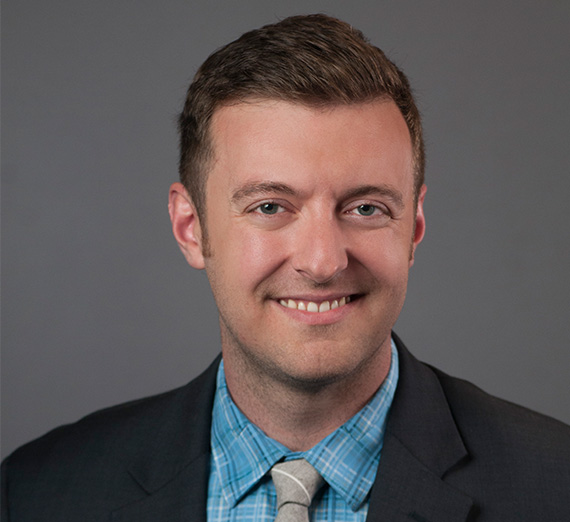 ---
Gonzaga Law is pleased to announce that Drew Simshaw, J.D., L.L.M., will join the law school's faculty as an assistant professor in August 2019. Professor Simshaw earned his B.A. from the University of Washington, his J.D. from the Indiana University Maurer School of Law, where he served as an Articles Editor for the Federal Communications Law Journal, and his LL.M. in Advocacy with distinction from Georgetown Law.

Most recently, Simshaw served as a Visiting Associate Professor of Law, Legal Practice, at the Georgetown University Law Center where he taught legal writing and analysis as well as a legal writing seminar for distinguished upper-level students serving as Law Fellows. In practice, Simshaw was a supervising attorney with the Institute for Public Representation in Washington, D.C., where he specialized in communications and technology law and represented public interest organizations in rulemakings and adjudications before federal agencies and in litigation before federal appellate courts. In recognition of his work on behalf of people with disabilities, Simshaw won the 2017 H. Latham Breunig Humanitarian Award, given biennially by Telecommunications for the Deaf and Hard of Hearing, Inc.

Simshaw's research interests include the regulation of emerging technologies and the interplay between legal technologies and legal ethics, access to justice, and legal education. His article, Ethical Issues in Robo-Lawyering: The Need for Guidance on Developing and Using Artificial Intelligence in the Practice of Law, was recently published in the Hastings Law Journal.
Q&A with Professor Simshaw
There is a wonderful picture of your "signing day" with Dean Rooksby on his Instagram. How did you feel about moving back to the Pacific Northwest, albeit the Inland Empire?

I couldn't be more excited about returning to the Northwest. I was born in western Montana, grew up in the Portland area, went to school in Seattle, and served in AmeriCorps in Everett before moving east. I'm thrilled to be re-planting my roots in the heart of a region that I've always considered home.

I appreciate the Northwest's deeply innovative spirit and culture that values art, active lifestyles, and challenging the status quo. I also look forward to being back on Pacific time and not having to stay up past midnight to finish watching Huskies and Trail Blazers games.

What are some of the reasons Gonzaga Law seemed like a good fit for your teaching and research?

I'm incredibly impressed with Gonzaga Law's commitment to preparing students to succeed as advocates in today's rapidly evolving legal practice landscape. Its humanistic mission and commitment to fostering access to justice resonate with my personal values and academic goals.

I'm especially interested in how technology is changing society, the law, and how lawyers practice. Advancements in machine learning and artificial intelligence will present opportunities and challenges for law students and lawyers, and Gonzaga Law is committed to ensuring that its students will have the substantive knowledge, practical skills, and ethical proficiency to successfully navigate such a complex ecosystem.

At this summer's Institute for Law Teaching and Learning conference, you shared with participants "Eight Tech-Conscious Goals for Law Teaching and Learning." In these recommendations, you encouraged legal educators to elevate a "mindset of creative thinking with the aid technology" while also urging "caution with technology that stunts creativity." Why do you think these goals are important?

Effective advocates must think creatively when analyzing the law and applying it to new situations. Legal technologies now leverage automation and artificial intelligence to review documents, research legal authorities, and even strategize about how to best craft an argument for a specific decision-maker. These technologies have the power to either increase or decrease a lawyer's creativity depending on how the technology is designed and used.

On one hand, technology can automate some mundane legal tasks, giving lawyers more time to think deeply and practice mindfully. On the other hand, these technologies could stunt our creativity if they are used passively to automate the parts of the lawyering process where we engage in critical thinking, like during research, drafting, and re-writing. To use these technologies responsibly, lawyers must be mindful of their process, scrutinize machine outputs, and maintain a client-centered focus.

There always has been and always will be a role for technology in effective law practice, and I strive to teach skills that will enable students to adapt responsibly to the tools they will encounter throughout their careers.

What was your favorite part about law school and how has that informed your teaching style?

I really enjoyed opportunities to engage with my classmates during law school. It helped me start to develop my professional identity and form relationships that have enriched me professionally and personally.

The law is inherently social; it cannot be learned or practiced passively. As a teacher, I strive to foster active learning through exercises that simulate the types of interaction and collaboration that are common in practice. Every student brings a unique perspective to the classroom, and there is a lot we can learn from each other.
"The law is inherently social; it cannot be learned or practiced passively."

What advice do you have for incoming 1Ls?
Get to know your professors and your classmates. You've joined a community that will make up a network of friends and colleagues that will support you throughout your career. I have interviewed former classmates for jobs, and I've been interviewed by former classmates and professors for jobs. The legal world is a small one, and you begin developing your professional network and reputation on day one. Be humble, gracious, and genuinely interested in the people around you. You'll benefit from these relationships not only in law school, but throughout your career.
"The legal world is a small one, and you begin developing your professional network and reputation on day one."