Student Support Offices and Resources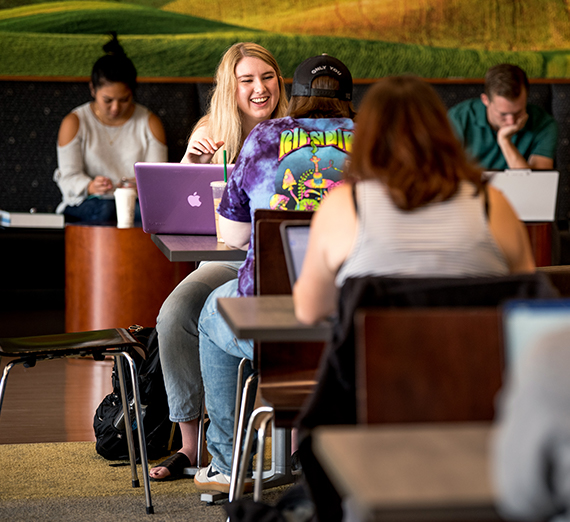 ---
One of Gonzaga's greatest features is its strong community, including offices of staff members happy to support students and help them thrive at GU. With a humanistic, Jesuit mission, Gonzaga works to maintain the spirit of cura personalis, meaning "care for the whole person." Our student support offices work to ensure that this concept is embodied. Here is a list of the many offices on campus, in alphabetical order:
The BIAS Team, with BIAS standing for Bias Incident Assessment and Support, supports students who experience bias incidents, monitors and reports on those incidents, and recommends educational initiatives to minimize bias at GU.
Campus Security & Public Safety is dedicated to providing a safe and caring campus for living and learning. Services include campus patrols, security escorts, responding to incidents, and crime prevention. Gonzaga's
Parking Office
is also located within Campus Security & Public Safety.
CPD supports both current students and alumni in their professional pursuits. Opportunities include career coaching appointments, career fairs and events, resources and templates for building professional documents, and online resources for job and internship postings. CPD has strong relationships with alumni and employers in many fields.
CCE coordinates community and public service programs, including community-based volunteer and outreach programs, community-engaged learning courses, and external volunteer projects. Zags are known for their community engagement and CCE can help students find the best volunteer pathway for them.
The staff at CCP work to support students, connect them to resources, and empower them to become their best and healthiest selves. With non-clinical case managers available to help students, the Center for Cura Personalis works to ensure that students are holistically cared for.
This center works to create an intercultural, global community on campus. Within this center, there are two offices. First,
International Student & Scholar Services
works to support international students through immigration support, helping students transition to GU, and advocating for students' holistic success. Gonzaga also has an
English Language Center
for students learning English. Second, our
Study Abroad
office offers a variety of programs for diverse academic pursuits and majors. Gonzaga even has its very own
campus
in Florence, Italy!
The center includes the following offices:
Academic Advising & Assistance
,
Disability Access
, and
Learning Strategies
. AAA is comprised of professional academic advisors who assist students with their academic planning, removing and adding majors and minors, and other academic management and guidance. Disability Access has professional staff available to help students and staff with creating and implementing disability accommodation plans. Learning Strategies is comprised of both professional learning specialists and peer tutors to assist students with subject-specific tutoring, academic skills (studying, testing, reading, notetaking, etc.), and time management and organization skills.
DICE is comprised of two spaces on campus. First, the
Lincoln LGBTQ+ Resource Center
provides resources for people of all sex, gender, sexual, and asexual identities. The center works to accept and support queer students on campus and provide educational opportunities for all students on campus. Second, the
Unity Multicultural Education Center
seeks to advocate for underrepresented students, create a safe space for students, and provide educational opportunities for GU community members. This center creates programming that is not only deeply influential to campus culture, but incredibly popular.
Health & Counseling Services is able to function as students' healthcare provider and as a counseling center. This office defines its core purpose as enhancing the physical, emotional, relational, and psychological wellbeing of students.
Our Housing professionals work hard to ensure that students' transition to campus living is seamless, that facilities' are well-maintained, and that students have positive campus living experiences. Gonzaga requires first-year student to live on campus their first two years. During that time, students will live in a residence hall (see GU's housing options here). Many of our students will also opt to live in a Learning Living Community.
We have many on-campus dining options for GU students. If students have any dining concerns, such as allergies, our staff are happy to assist.
New Student & Family Programs is comprised of two offices. First Year Experience Programs supports first-year students as they transition into their college career at Gonzaga. They provide orientation programming as students move onto campus. They also provide some pre-orientation programs.
DEI works to make Gonzaga a safe, inclusive, and multicultural institution. This office, in alignment with Gonzaga's humanistic and Jesuit mission, promotes healthy and mutually respecting dialogue in the GU community in the effort to ensure that human differences thrive on our campus, helping attract and retain students, faculty, and staff members from diverse backgrounds. DEI plays a crucial role not only in student development, but in campus culture and University initiatives.
OHP supports students in their health, including through
their relationship with alcohol and/or other drugs
,
the Collegiate Recovery Community (OUR House)
,
mental and emotional wellbeing
,
healthy relationships and violence prevention
, and
Zags Help Zags (GU's active bystander training programming)
.
The Office of Mission and Ministry supports students in their faith and spiritual journeys. This office provides sacraments and worship opportunities, retreats, Christian Life Communities (CLCs), and support to students of all faith backgrounds.
The Resolution Center is comprised of staff supporting campus in maintaining the Student Code of Conduct and supporting students in co-creating positive resolutions in response to incidents.
Student Financial Services seeks to remove financial barriers to a Gonzaga education. This office includes services in
Student Accounts
,
Financial Aid
, and
Student Employment
.
CSI is home to many offices and centers. First, the Center for Student Involvement includes clubs and student organizations, Gonzaga Student Body Association (GSBA), iZAG Internet Radio, Kennel Club, and SpikeNites weekend programming. Second, Gonzaga Outdoors provides students the opportunity to engage safely and respectfully with the outdoors through trips, activities, and available rentals. Next, the Payne Center for Leadership Development seeks to support students in the development of practical leadership skills and is home to the Experiential Leadership Institute (ELI). Next, Student Media includes GU's newspaper The Gonzaga Bulletin, Spires Yearbook, and a variety of journals. Lastly, Transfer, Veteran, & Returning Adult Students provides a space for these students with events and programming and staff available to help students succeed at GU.
While this comprehensive list showcases many formal offices that exist to support students, Zag support is also deeply integrated into the community. Faculty and students build positive relationships, Zags create long-lasting relationships with their peers, and the University is always seeking to better incorporate cura personalis into all we do.