2023-2024 core hours:
Tuesday-Friday - 8:00am-4:00pm staff working in-office
Crosby Center 202.
Monday - 8:00am-4:00pm staff are remote.
The Zag Way
A Commitment to Community
Because Gonzaga is committed to the growth and formation of the whole person, the ties that bind members of our community go beyond the basic standards of society. As we seek to create an environment conducive to living and learning together, our standards of conduct reflect a deep commitment to these ideals where each member of the Gonzaga community plays an active role.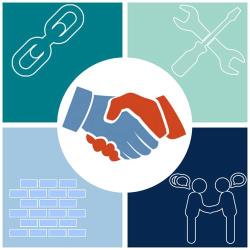 We want our students to be the leaders of tomorrow and the Resolution Center for Student Conduct and Conflict is committed to cultivating character through transformative engagement that empowers students to be a positive influence in the world. Our staff encourage students to respond with honesty and integrity as well as learn how to accept responsibility for their actions. Guided by our Jesuit identity and contemporary student conduct and conflict resolution practices, we balance the needs of each student with those of the larger Gonzaga community.
The Zag Way is a commitment to community where learning the code is important, but living the code is what we are all about. We are committed to respecting the dignity of all members of our community. When relationships and our community experiences an incident that causes harm, we want students to help co-create the solution. By telling their story and expressing their needs, we can work together to identify how to make things right.
Our website has been designed to provide information about the policies and expectations within the Student Code of Conduct, as well as the programs, processes, and services facilitated by the Resolution Center for Student Conduct and Conflict. Contact our office with questions or to request more information by emailing resolutioncenter@gonzaga.edu or calling 509-313-4009.