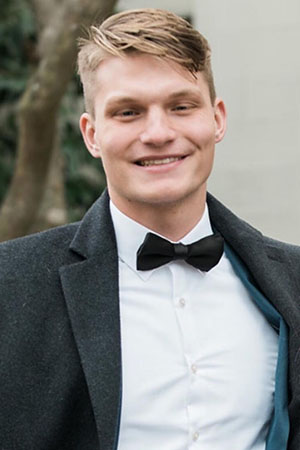 Andrew Newman
When I enrolled at Gonzaga University as a freshman, law school was going to be my next step. When I graduated in 2016, law school wasn't even on my mind. My passion for working with adults with developmental disabilities and marginalized groups that had developed during college pushed me to apply for the Jesuit Volunteer Corps and all the way to Atlanta, Georgia to work for Cristo Rey Atlanta Jesuit High School.
The Cristo Rey model of education is a way for students with limited economic means to obtain a college prep education, while working a corporate entry level job once a week. I had the wonderful opportunity to work in the Corporate Work Study department, helping students in their job placements across Atlanta during the 2016-2017 school year. Throughout the year I constantly had my eyes opened and my bubble of comfort burst as I experienced things that changed the way I see the world. It was in these moments and through special conversations with United States Representative and Civil Rights hero John Lewis and Bryan Stevenson, founder of the Equal Justice Initiative, that I began to see my path a bit clearer.
It was during my time as a Jesuit Volunteer and working with the most dedicated and driven students I've ever met that pushed me to want to be and do more on behalf of the marginalized and voiceless. It was my time as a Gonzaga political science undergrad, working for the Center for Community Engagement, playing for the Gonzaga men's soccer team, and helping run Gonzaga University Specialized Recreation that showed me Gonzaga was the perfect place for me to continue to grow as a servant leader and lawyer for and with others.
Some of the most important moments in my life have come at Gonzaga University and I can't wait to see how the next three years unfold. If the next few years are anything like my first go around in Spokane, I'll have changed my mind about my future a hundred times before Christmas, but the one constant of being a person for and with others will have been engrained even more.