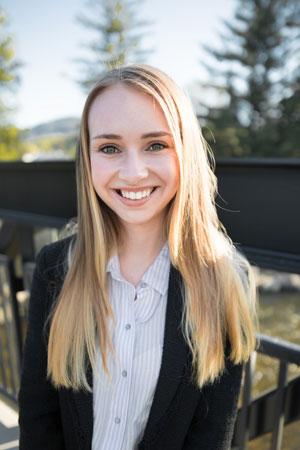 Macy Disney
Before attending the University of Washington, I grew up in the small town of Onalaska where the values of compassion, hard work, and family were instilled in me. Moving to Seattle, I was fortunate to find a community full of passionate, like-minded individuals in the Law, Societies, and Justice Department at UW. This community combined with experiences throughout undergrad propelled me towards a future in law. Through my time at UW, I quickly discovered that my values and passions collide in the sector of public interest law.
Through public interest law, I hope to address social inequalities through advocacy and empower individuals to successfully speak up for themselves. My passion for advocacy was confirmed when I won a case competition at UW. For the competition, my team and I developed a multifaceted plan to address sexual assault on college campuses. Motivated by the astounding number of students this affects, I focused on proactive solutions centered around legal rights education and reducing the need for retroactive services. Designing this plan inspired my ambition to promote education and become a legal advocate for individual's rights.
After college I moved to Bennington, Vermont to serve as an AmeriCorps VISTA. This experience gave me a new perspective on poverty, policy, and what it means to be truly invested in your community. Collaborating with government agencies, private companies, community organizations, and nonprofits has taught me the importance of understanding social inequalities first hand. While in Vermont, I have sat on panels for the Center of Restorative Justice and learned first-hand how dialogues between offenders and their communities can allow amends to be made. Additionally, I volunteered on a hotline for Prevention Against Violent Encounters as an advocate for people in need. These experiences have affirmed my belief that education and advocacy are powerful tools.
I'm excited to join the Gonzaga community and honored to have been selected as a Thomas More Scholar. I will uphold the program's values of integrity, leadership, and public service and strive to alleviate social inequalities through legislative advocacy. In my free time, I'm looking forward to exploring Spokane and spending time outdoors hiking, hunting, and camping.