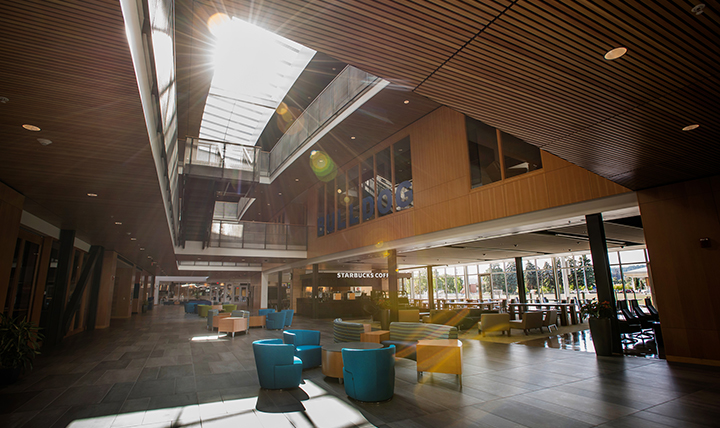 At its core, the Hemmingson Center is an imaginative place reflecting our vision of what it means to support students who attend a premier Jesuit university. Its intentional design showcases the Gonzaga experience with exciting, innovative opportunities to live in community, and meet, learn, discover, and grow in every aspect of life: mind, body and spirit.
The Hemmingson Center is a place built to...
Nourish
Choose from two floors of diverse community dining options made up of six restaurant-style platforms, many inspired by regions around the world. Eat in with friends or grab a coffee or snack on the go.
Play
Live the Northwest life - explore the region's great outdoors and get active. Take part in the arts, entertainment and student activities.
Grow
Enrich your life with opportunities for service, travel and discovery on campus.
Connect
Meet and relax at one of the many indoor and outdoor gathering spaces. Get involved with the Zag campus community.
Reflect
Deepen your faith, quiet your mind and take time out of your busy schedule to relax.
Create
Learn in an inspiring, interconnected environment. Get absorbed in your studies and work, collaborate with others and exchange ideas with those around you.
Departments Located Within Hemmingson
Center for Community Engagement (CCE)
Empowering students to take action through community involvement, education and public service.

Zakheim Center for Global Engagement (CGE)
Engaging students and scholars around the world in intellectual educational experiences, building intercultural skills, foster dialogue, mutual understanding, and peace.

Center for Student Involvement (CSI)
Center for Student Involvement includes 140-plus clubs and student governments that encourage students to get involved in campus life.

Gonzaga Outdoors
Keeping the outdoors accessible by providing inexpensive gear rentals, subsidized outdoor adventures, bike and ski repair, and educational clinics.

Gonzaga University Event Service Team (GUEST)
Manages the Hemmingson Center and the central resource for conferences, events and service management on campus and Bozarth Mansion.

LGBTQ+ Resource Center
Supporting community, networking, research and education of concerns shared by Gonzaga community of diverse sexual orientations, gender identities and expressions.
Mission and Ministry
University Ministry provides a wealth of opportunities for students to participate in retreats, liturgies and events that illustrate the connections between faith and life

Next Gen Tech Bar (NGTB)
An open space with the intended goal of getting Students, Faculty and Staff interacting with and around advanced technology.

Payne Center for Leadership Development
The Payne Center for Leadership Development engages and supports all students seeking to develop their leadership potential and inspire positive change on campus and in their local and global communities.

Transfer, Veteran, Returning Adult Services (TVRAS)
We work to connect you with all the available support services and resources that best meet your needs. We also serve as a place for you to connect with other transfer, veteran, and returning adult students at Gonzaga.

Unity Multicultural Education Center (UMEC)
Our purpose is to advocate for underrepresented students and provide experiential learning opportunities for all students in order to create a university community that integrates and values multiple perspectives and cultural narratives.