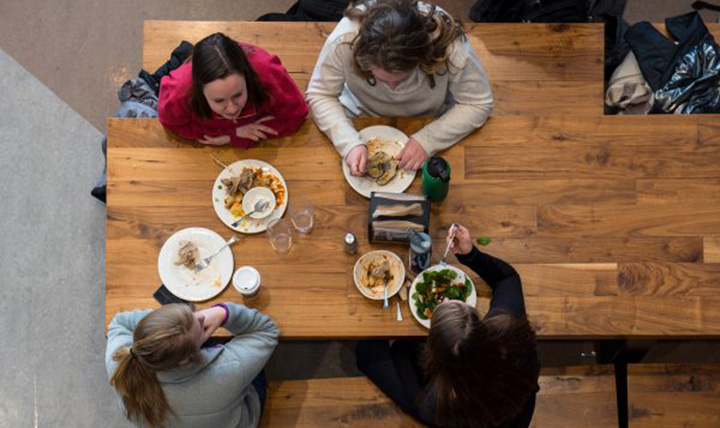 The John J. Hemmingson Center offers a variety of dining options including The COG with six restaurant-style stations, grab-and-go items from Starbucks, Handcrafted, The Marketplace, and The Bulldog, a full-service restaurant.
John J. Hemmingson Center Dining
The Hemmingson Center offers a variety of dining options from resident dining, grab and go items and a full-service restaurant. Find hours of operation and menus under each location.
The COG
The COG, Circulus Omnium Gonzaga-orum, roughly meaning 'a meeting place for all Gonzagans,' is the resident dining hall located on both the first and second floors. Gonzaga residents, faculty, staff and guests are all welcome to dine, socialize and explore our expanded dining options.
The COG offers six unique restaurant-style stations ranging from Classic Americana comfort food at Spike's Diner to flavors from around the world from the World's Fare and Mediterranean Coast to vegetarian, vegan and allergy-free options at Zagriculture which offers seasonal produce from our own rooftop hydroponic greenhouse:
Daily Bread: Fresh deli-style sandwiches featuring house-baked breads, homemade soups and baked goods from our own bakery.
Spikes: Classic American comfort food 360 Degrees: Mongolian-style grill stationed at the center of the COG serving fresh stir fry custom-made for each guest.
Zagriculture: Plant-based meals featuring sustainable, seasonal food and produce from the campus greenhouse.
Mediterranean Coast: Dishes inspired by the cultures surrounding the Mediterranean Sea, including pizzas and flatbreads from the wood fired oven.
World's Fare/Simple Servings: Serving cuisine inspired by dishes around the globe. This station also features our Simple Servings platform – menus designed free of the 8 most common food allergens – allowing students with food allergies to dine with confidence and convenience.
Check the Bite University app and Zag Dining's Instagram for daily menus! The COG Hours and Menu.