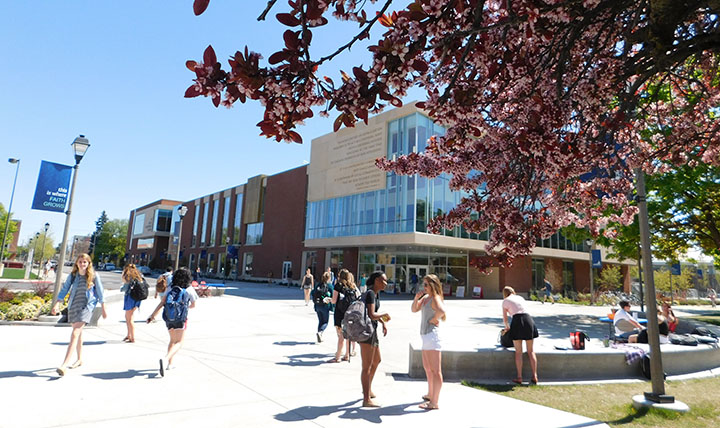 The mission of the John J. Hemmingson Center is to provide a warm and inviting atmosphere to all. The University Center is a meeting place for all students as well as faculty, staff, alumni and the guests of Gonzaga University. Providing dining options, meeting space, lounge, and programming facilities, the Hemmingson Center is a great place to study, meet with friends, relax or be entertained after a long day of classes.
Built in 2015, our university center brings to life Gonzaga's rich history, educational experiences and serves as a gathering place for students, staff, faculty and the greater Spokane community.
Visit Us
702 E. Desmet Ave.
Spokane, WA 99202
Summer Building Hours
Monday-Sunday: 7:00 AM - 7:00 PM
Memorial Day and 4th of July: Closed

Academic Building Hours
Monday-Friday: 7:00 AM - 12:00 AM
Saturday: 8:00 AM - 12:00 AM
Sunday: 9:00 AM - 12:00 AM

We Welcome Service Animals
Service animals are dogs or miniature horses that are individually trained to do work or perform a task for an individual with a disability. Please note: pets and other animals whose sole function is to provide comfort, companionship or emotional support do not qualify as service animals under the Americans with Disabilities Act or state law, and they are not allowed in the Hemmingson Center. Please contact the Welcome Desk with questions, 509-313-6942.
John J. Hemmingson Center Guidelines and Procedures Manual
This Guidelines and Procedures Manual is the official source for direction regarding the Hemmingson Center at Gonzaga University.