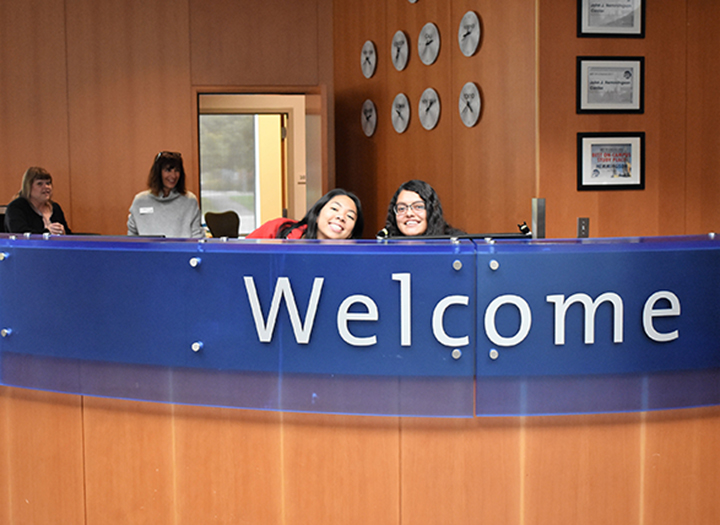 The Welcome Desk at the John J. Hemmingson Center can provide information and resources to most questions you have about Gonzaga University and the Spokane area.

Fall Hours:
Monday-Friday: 7am-12am
Saturday-Sunday: 8am-12am
Monday Holidays (Labor Day, Founders Day): 8am-12am
Thanksgiving week:
Monday 11/21: 7am-12am
Tuesday 11/22: 7am-12am
Wednesday 11/23: 7am-7pm
Thursday 11/24: Closed
Friday 11/25: Closed
Saturday 11/26: Closed
Sunday 11/27: 8am-12am
Finals Week:
Monday 12/12: 7am-12am
Tuesday 12/13: 7am-12am
Wednesday 12/14: 7am-12am
Thursday 12/15: 7am-9pm
Friday 12/16: 7am-7pm
Saturday 12/17: 8am-5pm
Sunday 12/18: 8am-5pm
Information
Campus directions and maps
Learn about departments in the Hemmingson Center
First aid supplies
Get Spokane-area information such as dining, shopping and entertainment

Lost & Found
Lost an item? Come check at the Welcome Desk. Even if we do not have it, we will take your name and number in case it is turned in. If your ZAGCARD, debit card, or wallet are turned in, we will notify you via zagmail. Not in or around the building? Take a look at Gonzaga's Lost and Found Page, to see if your item has been turned in.

Reservations
Reserve - study/project rooms on the second and third floor (you can reserve up to 3 days in advance)

Contact Us
Questions, comments, or concerns?
Email us: Hemmingson Welcome Desk
Call us: 509.313.6942
John J. Hemmingson Center Guidelines and Procedures Manual
This Guidelines and Procedures Manual is the official source for direction regarding the Hemmingson Center at Gonzaga University.
We Welcome Service Animals

Service animals are dogs or miniature horses that are individually trained to do work or perform a task for an individual with a disability.
Please note: pets and other animals whose sole function is to provide comfort, companionship or emotional support do not qualify as service animals under the Americans with Disabilities Act or state law, and they are not allowed in the Hemmingson Center.
Please contact the Welcome Desk with questions, 509-313-6942.