About This Program
The Master of Arts in Teaching English to Speakers of Other Languages (MA/TESOL) Program prepares you for a career as an ESOL teacher or language specialist who helps students develop skills for diverse and global societies. The program also offers opportunities, especially at Gonzaga's English Language Center (ELC), for current and future foreign language teachers who want to more deeply explore how language is learned and taught.
Courses integrate theory and practice to build your knowledge on language and its use, the interrelationships of cultures, teaching methods and language acquisition. You will work collaboratively with faculty and classmates to explore new ideas on learning and teaching. Hands-on projects and other field-based learning opportunities prepare you to plan, teach, reflect, research and lead in schools and the community.

Our multicultural learning community is made up of students of all backgrounds, professional goals and language abilities, and we offer partnership with Gonzaga Global for students who wish to work on their language skills before joining the program. This exposure to diverse perspectives will help you better understand issues of second language acquisition and learning and teaching in a global society.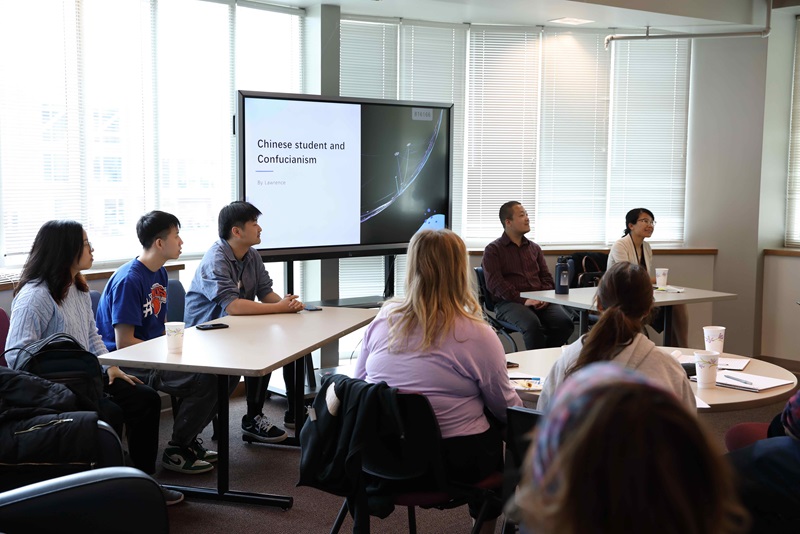 MA/TESOL students (l-r) Qiqi Cheng, Steph Hua, Lawrence Zhang, and Roger Wang present on a panel discussing the Chinese educational system: 中国教育,你不知道的那些事儿

We also encourage student and faculty research and critical reflection on the form and substance of language learning and teaching. Through these projects, you could help contribute to the field's understanding of language, the factors of communication and community building.
Listen to Sara Hanson-Lynn, a recent graduate of the program, reflecting on why she choose Gonzaga and what she got out of the program:
Note: The MA/TESOL degree is not the same as K-12 teacher certification. If you are interested in becoming a K-12 teacher, our Master in Teaching program (MIT) leads to state certification as an elementary or secondary teacher, with optional K-12 English Language Learner endorsement.