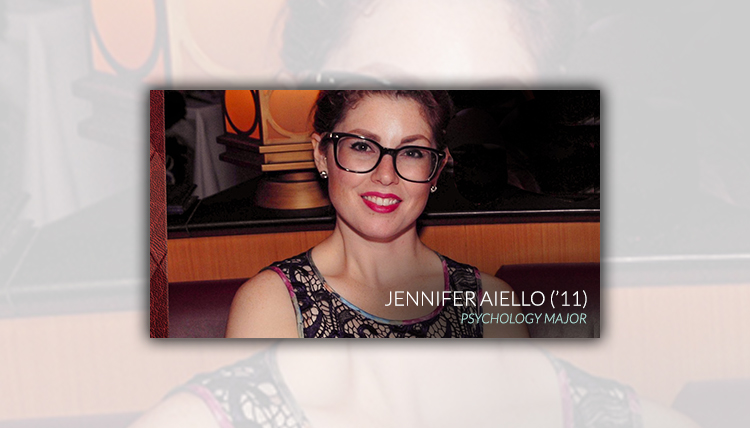 When I was preparing to graduate from Gonzaga in 2011, a feeling of impending-doom was overwhelming. After four years of meticulously planning my path to graduation, I reached the end to find a cliff. What was my next step and, more importantly, where was my course catalogue! I seriously contemplated graduate programs, but my favorite psych professor's advice kept popping into my head: do not go to grad school just because you don't know what to do. She said this to my entire class, but it felt like she was speaking only to me so I thought it might be applicable. My final semester, I was enrolled in Mindfulness in Psychology, so I meditated on the matter, found my zen and came up with an amazing, long-term, fool-proof plan: I'm going to Disney World.
"My degree in psychology has served me well in the Human Resources field. Whether it is using behavioral psychology to conceptualize what is truly a 'reward' for an employee or thinking back to my abnormal psych class when dealing with a peculiar designer, my psychology degree influences my decisions every day."
I enrolled in the Disney College program to continue living outside the real world…for 6 months. When my mickey-shaped protective bubble popped, I joined my fiancé/future husband who was attending a doctoral program in Manhattan. After a long sentence in retail, a lot of thinking (panicking) about what I enjoyed doing and how I would incorporate that into my professional life, I began a Master's Degree Program in Human Resource Management at Stony Brook University. Shortly after starting my program, I was able to successfully transition my career into Human Resources in the fashion industry.
My degree has also helped me in my personal life, specifically learning how to live in the moment. This has helped with my previously mentioned feelings of impending doom, as life is full of unexpected surprises. For example, when my husband Mike (another Gonzaga alumnus) was offered an Assistant professor position in a village of 11,000 people in Western New York, I was able to view this option as a new and exciting chapter in our lives rather than a panic inducing, unknown future in the frozen tundra. In a way, I will never be able to forget my psychology education at Gonzaga. It feels as though I am in an episode of the Twilight Zone in which I wake up every day only to relive my research methods course as I chose to marry an academic who sweetly believes I still recall every facet of study design. I don't have the heart to tell him I received a B in research methods.