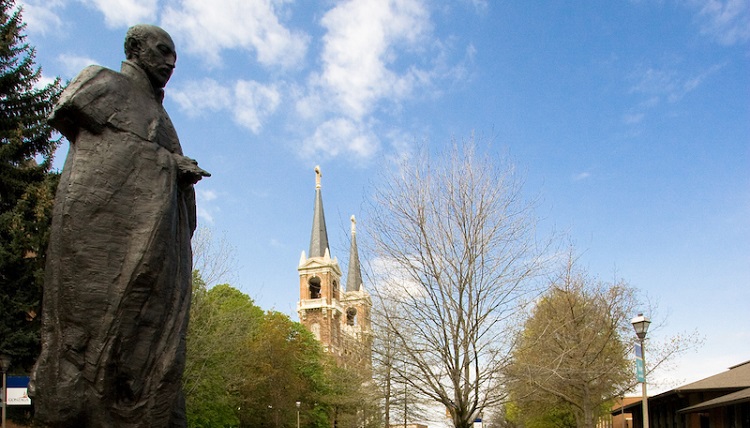 Degree Information
The Chinese language is offered at the elementary and intermediate levels (Chinese 101, 102, 201, and 202).
Asian Studies is offered as a major and minor in the International Studies Department. Chinese is one of the three areas of focus that compliment that major/minor. Students interested in the Chinese language are encouraged to consider a major and minor in Asian Studies offered through Gonzaga's International Studies Department.
You can study the Chinese language during your time at Gonzaga in the following ways
Via the Whitworth/Gonzaga classroom exchange enrollment agreement, also known as the HyFlex model. You

can stay on the Gonzaga campus and participate via Zoom OR you

can travel to Whitworth University's campus in North Spokane and take the course in that classroom.

Since Fall 2018, Gonzaga has successfully implemented a cross-enrollment agreement with Whitworth University to offer Chinese. That means that the Gonzaga student remains on the Gonzaga campus and takes the Zoom Chinese class in one of the Modern Languages and Literature specially equipped classrooms to allow for synchronic instruction by a Chinese professor and synchronic practice of all modes of communication (interpersonal, presentational, interpretive). This course is NOT an online course. The Gonzaga students will be part of the Whitworth 'classroom'. A couple caveats:




A student must be enrolled at Gonzaga as a matriculated full-time undergraduate student.

Students cannot exceed the maximum number of credits allowed under the flat tuition rate of their home institution (18 credits) when all credits are combined.
The courses will be recorded on transcripts at both institutions.
There will be no additional tuition cost to cross-registered students.
Contact Dr. Christina Isabelli, Modern Languages & Literature Department Chair, by email or phone at (509) 313-6723 if you're interested in this option.

Via a study abroad program for a semester.
Via an intensive, beginning to advanced Chinese language program in the United States, such as the 8-week

Middlebury

Summer Language School
Study Abroad
In addition to our Chinese classes, Gonzaga students can also study Chinese for the semester while being immersed in Chinese culture via two programs in Beijing and Shanghai. A summer opportunity is also available via the Gonzaga in China program. Visit the Study Abroad office in Hemmingson, first floor, for more information.
Scholarship Opportunities
Many government and private agencies offer scholarships to students studying Chinese. Opportunities include:
Spring 2021 class times:
Chinese 102 Elementary Chinese II (Remote/Synchronous) MWF 9:05-10:15am