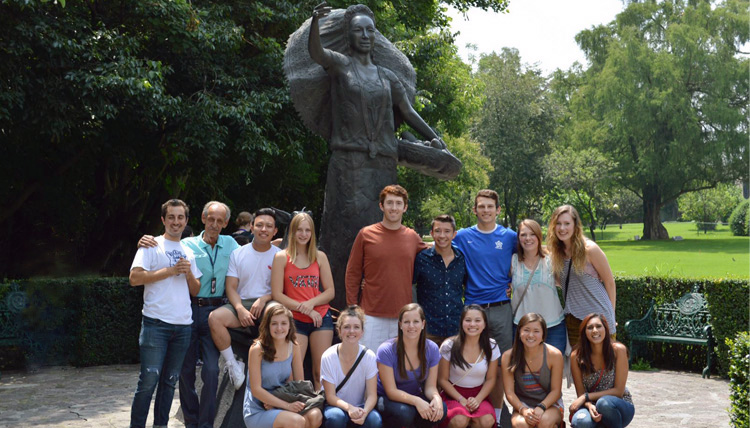 The information found in the Study Abroad web pages will help you throughout your experience. This Step-by-Step guide is a general overview of the initial process you will undertake as a Study Abroad student.
Planning
EXPLORE & RESEARCH available programs: use the website, attend information sessions & study abroad events throughout the semester. Application deadlines can be anywhere from 1-2 semesters ahead, so plan accordingly.
TALK to your academic advisor about the best time for you to study abroad, and arrange your academic plan around a study abroad experience. Decide what requirements you'll fulfill while studying abroad, be sure to check any pre-requisites as this may affect your choice of program.
MEET with a Study Abroad staff member. Your Study Abroad advisor can help you choose a program that meets your academic, financial, and professional needs and goals. To make an appointment with an advisor, please call (509) 313-3549 or email studyabroad@gonzaga.edu.
Application Process
APPLY. Go to the Study Abroad application portal and find your program to start an application. If you don't find your desired program, contact the Study Abroad office.
COMPLETE the GU Study Abroad online application and the requirements.

If applicable, COMPLETE the 2nd program application required by host institution or program provider (not required for Short Term programs or Gonzaga in Florence). The Study Abroad office will work with students to make sure you complete the right applications.
Semester Program Participants (NOT Gonzaga in Florence):
Request from your program course descriptions, syllabi, and other course materials.
Visit your academic advisor(s) and department chairs to discuss the program courses and request approval using the Course Pre-Approval Form.
Try to get a least 8 to 10 classes approved for semester programs and 2 to 4 for summer program.
Course equivalency should be approved by the Academic Department from which the student wants credit. (i.e. History approves History, Civil Engineering approves Civil Engineering classes.)
Sponsored credit is posted on your Gonzaga transcript with a letter grade and ARE factored into your cumulative GPA. Grades of "Pass/Fail" and "Credit/Non-credit" are not accepted.
Once Accepted
Although each program's requirements will be slightly different once you've been accepted to your study abroad program, ALL participants must:
Pay $500 program deposit online.
Complete additional Post-Decision items which could include inputting Emergency Contacts and signing Releases.
Attend Pre-Departure Orientation sessions.
Check Zagmail for program related announcements, deadlines, other requirements, and activities from Faculty Leader or Study Abroad Office.
Pre-Departure
TRAVEL DOCUMENTS—apply for or renew your passport and research and make arrangements for a student visa.
Contact HOUSING to plan for your semester housing after your program.
PURCHASE airfare. Shop around for the best price. We recommend checking STA Travel or Student Universe, Kayak.com & airline carrier websites.
READ the orientation materials and participate in any orientation sessions offered to you by the program provider/Study Abroad office.
Make a BUDGET for personal spending, weekend travel, meals and social activities.
Check the Center for Disease Control (www.cdc.gov) website for IMMUNIZATIONS.
For Gonzaga in Florence and Short Term Programs, complete your Gonzaga HEALTH FORMS.
RESEARCH the countries and cities where you will live and travel. Purchase travel guides for your host country/region. We recommend Lonely Planet, Let's Go or The Rough Guide. Learn the regulations of your host country, university or program. Ignorance of the rules is no excuse.
PACK lightly! You won't need as much as you think.
KNOW the course registration process.
PAY your program fees
Special Reminders
Remember that YOU ARE A LEARNER—keep your eyes and ears open to the new world around you.
You serve as an AMBASSADOR of Gonzaga, your family, and your country. As a Gonzaga student, you are subject to the Student Code of Conduct while abroad.
Download this Step-by-Step Guide to Studying Abroad!