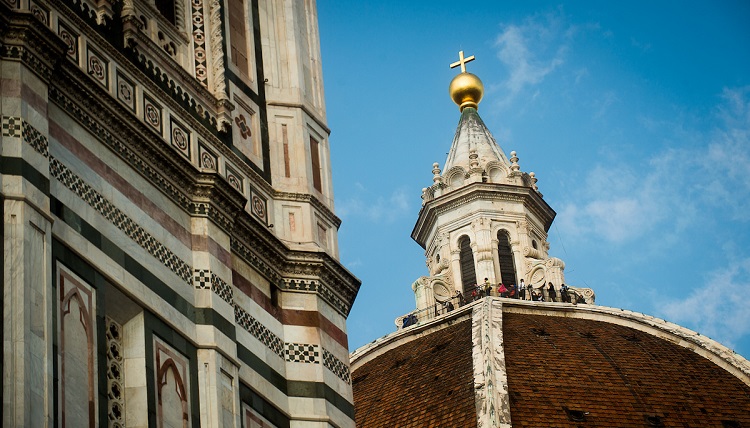 Italian is offered as a minor in the Department of Modern Languages and Literature at Gonzaga University. A major and minor are offered in Italian Studies.
Benvenuti! Gonzaga is one of few universities in the West that offers the opportunity to study Italian language, culture and literature as an undergraduate.
Our program prepares you to fluently speak, read, write and comprehend the Italian language. Classes not only teach you to communicate confidently in Italian, but also provide a strong understanding of life in Italy. These skills can position you for jobs with American companies interested in the Italian market and other international career opportunities in government, education and business. Students with an intrinsic interest in the country of Italy may be interested in learning more about the major and/or minor in the Italian Studies Degree Program.
Study Abroad!
If you are interested in Gonzaga in Florence — Gonzaga's flagship study abroad program — our program offers the chance to learn the language skills and cultural knowledge you need to make the most of your experience in Italy. Italian studies majors who participate in Gonzaga in Florence often develop a deep appreciation for the country and return to Italy after graduation.
Florence Scholars Program
The
Florence Scholars program
was designed to make the distinctive Gonzaga in Florence (GIF) program accessible to all, as well as prepare students for a more immersive experience in Italy. Students complete (at minimum) both ITAL 101 and ITAL 102, as well as engage with the Center for Global Engagement (CGE) and department of Modern Languages & Literature for cultural activities, all prior to departing for GIF. In addition to the up to $5,000 award for the semester or summer they study at GIF, students are also automatically admitted to the program (provided they complete an application and maintain minimum requirements) and have first choice of GIF Travel Learning trips, which connect academics to the global classroom. Eligibility is based on financial information provided in the FAFSA and incoming freshmen that meet the requirements will receive a personal information.
Past activities:
Gelato! Social: October 6, 2018 with Dr. Gabriella Brooke and GIF Dean Jason Houston
Che cosa sapete dell'Italia?: October 31, 2018 with Dr. Torunn Haaland
Let's Play Briscola (Italian card game)!: December 4, 2019 with Dr. Christina Isabelli
Let's Make Spaghetti!: February 29, 2020 with Drs. Christina Isabelli and Torunn Haaland
Let's Make Gnocchi!: March 19, 2021 with Dr. Isabelli
Let's Play Bocce: September 29, 2021 with Drs. Isabelli and Enrico Zammarchi
Hip-Hop Culture in Italy: October 10, 2021 with Dr. Enrico Zammarchi
Let's Play Scopa (Italian card game)!: November 17, 2021 with Dr. Isabelli
Let's Make Gnocchi!: November 2022 with Dr. Isabelli
Are you a current student looking for Fellowship, Work, and/or Research Opportunities in Italian?