Overview
Gonzaga University is building a new, collaborative science and engineering facility
82,679 square feet will be added to the 29,138 square feet of PACCAR, the 78,240 square feet of Herak and the 80,433 square feet of Hughes to create a 270,490 square-foot combined science and engineering space
Connecting the west end of PACCAR Center to the south end of Hughes Hall
Dedicated to innovation in teaching, learning and undergraduate research
Transparent spaces will put science and engineering on display, encouraging engagement with the entire community
Students of all majors will experience this facility through core curriculum classes
Intentionally placed near the headquarters of the College of Arts and Sciences — home to the University core — elements of the core curriculum will be delivered in this facility, allowing students the opportunity to engage in integrated environments to solve problems, create commerce, and explore disciplines of innovation and entrepreneurship, all balanced with a heart and mind for the common good
Architects
SRG Partnership Inc. of Portland, Oregon is the lead architect, along with Integrus Architecture of Spokane, Washington; Research Facilities Design of San Diego, California; MW Engineers of Spokane, and DCI Engineers of Spokane.
Contractor
Walker Construction, Spokane

(Computer rendering of the facility's south-facing entrance)
Spaces
Laboratory spaces including:

Future research labs
CS/CPEN senior project lab
Engineering research lab
Mechanical research labs
Circuits lab
Innovation lab
Student projects wet lab
Electronics student projects lab
Molecular biology biochem lab

Faculty student research labs
Student projects dry lab
Structures lab
Math lab
Environmental biology lab
Engineering wet lab
Computing spaces
Advanced computing
Optics lab

An innovation studio
Open study spaces
Classrooms
Faculty offices
A conference room
A terrace
A lobby
Naming opportunities are available for many of the spaces listed above. Please contact us for information about how you can support Gonzaga student impacts through benefaction.
Aerial rendering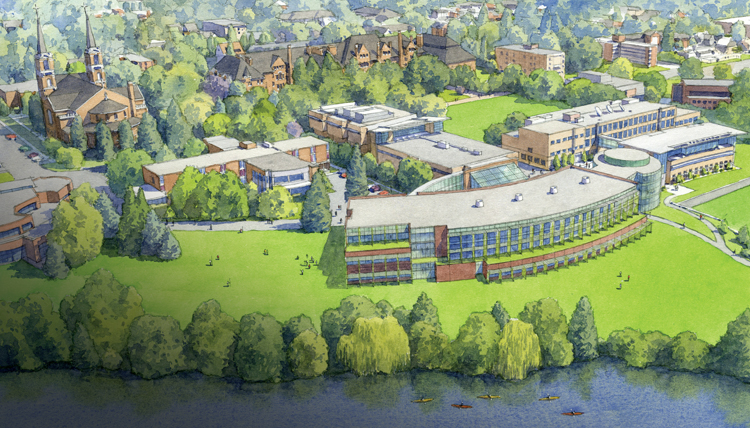 Exterior rendering (along Cataldo Way)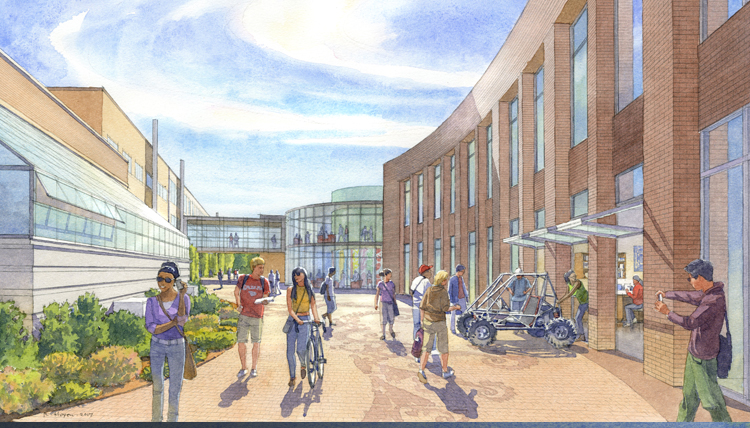 Student project space rendering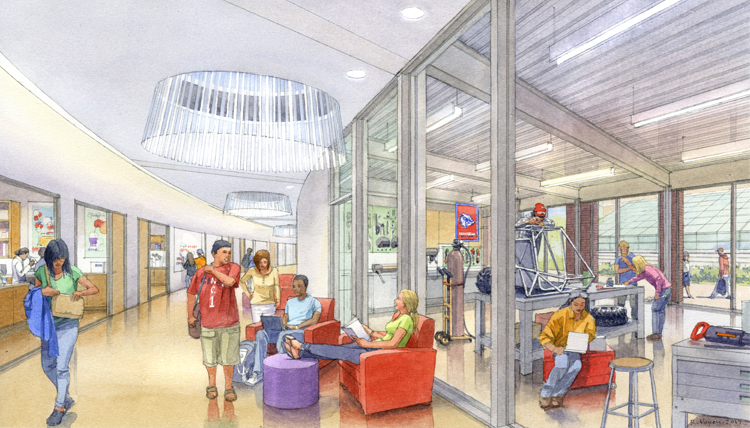 Innovation studio rendering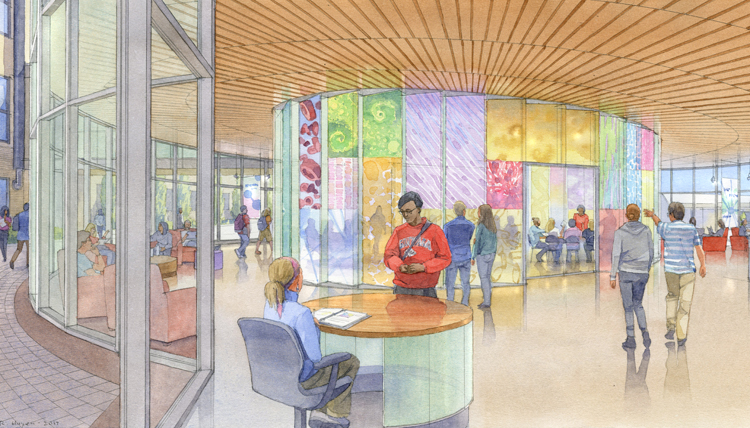 Computer rendering - south aerial view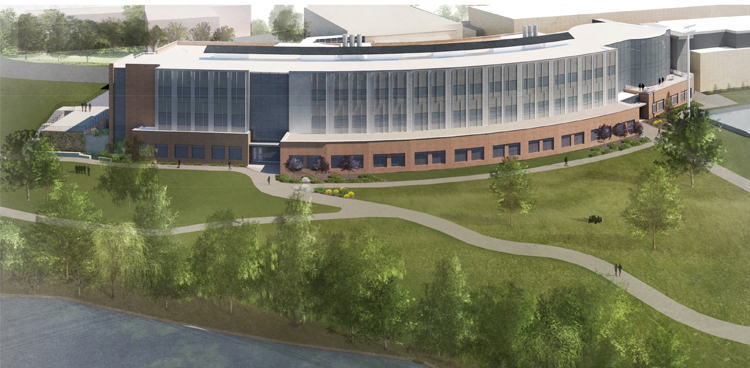 Computer rendering - Cataldo Way view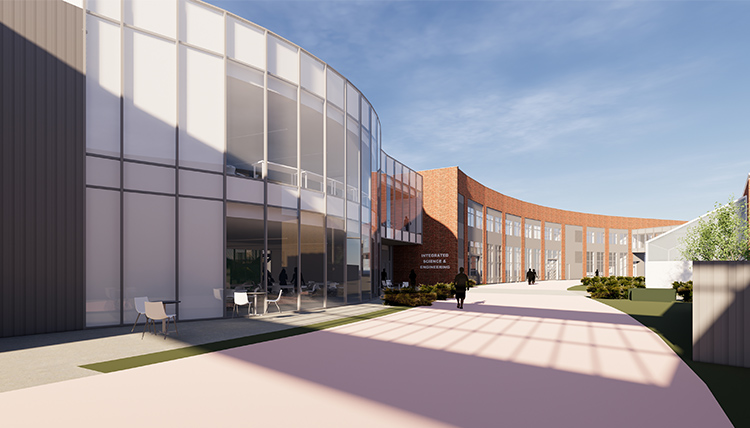 Computer rendering - alternate Cataldo Way view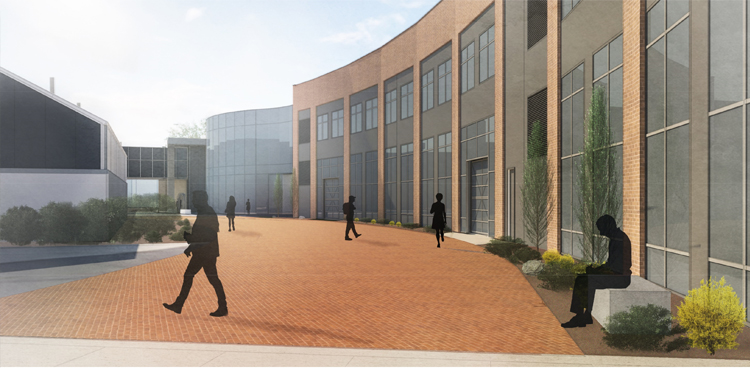 Draft upper level floor plan
Draft ground level floor plan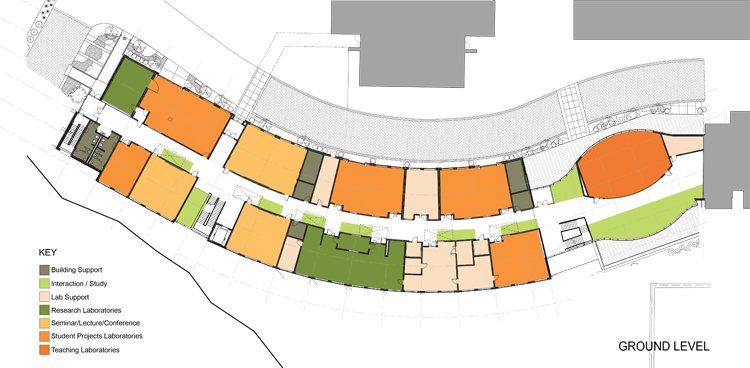 Draft lower level floor plan