Introducing the John and Joan Bollier Family Center for Integrated Science and Engineering
Creating opportunities in science, technology, engineering and mathematics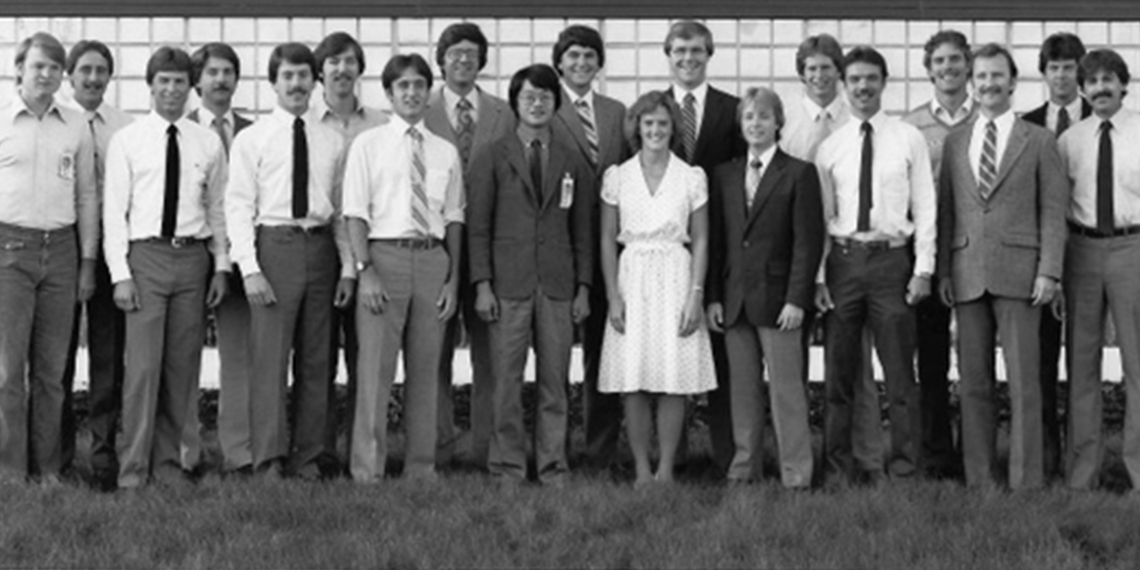 "No one told me engineering would be hard," said Joan Bollier, recalling how her adolescent interest in math evolved into a civil engineering major in college. "Nobody told me it was unusual for a woman to be a civil engineer or that I couldn't do it. I just went to school and started studying."
With a smile, John Bollier produced a photograph of his wife (above). It was taken during her graduate engineers' program at Lockheed after receiving her degree from Oregon State University in 1983. Joan stood front and center in a white dress, the only woman amid nineteen male engineers.
While diversity among students pursuing futures in science, technology, engineering, and mathematics (STEM) is becoming more common, the Bolliers believe that it is not enough. Most important to the Bolliers is that young people who have an interest in science, technology, engineering, and math hear, "you can do anything you want to."
Four of the five Bolliers are engineers — in addition to John and Joan, their sons Brett ('13, right below) and Nolan (GIF '15, left below) each have degrees in mechanical engineering from Gonzaga and Marquette, respectively, while Emily ('15, center below) is a graduate of Gonzaga's School of Business Administration. The entire family believes in the importance of STEM education and careers.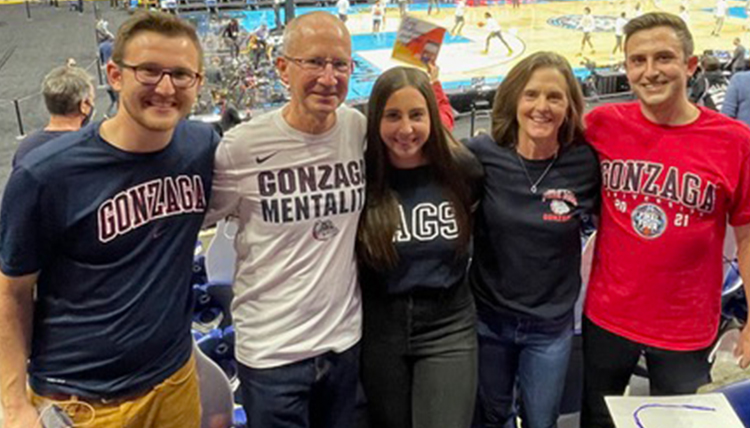 "Every single student can succeed," emphasized Joan. And the Bollier family's generosity is making sure that message is loud and clear.
That is why John and Joan, along with their children Brett, Emily, and Nolan, made the decision as a family to support Gonzaga University's new Integrated Science and Engineering (ISE) facility with a significant donation. When it opens its doors in Fall 2021, the John and Joan Bollier Family Center for Integrated Science and Engineering will play a critical role in inspiring a new generation of STEM professionals.
Like Joan, John also grew up with an aptitude and interest in STEM.
"If it involved math or science, I was all over it," John said.
In his teens, John inherited a 1941 Plymouth, which he restored and parlayed into a lifelong hot rod hobby. He genuinely enjoyed hands-on work.
John was more interested in being involved in the work than designing, which led him to pursue construction engineering management as opposed to a civil engineering degree. He graduated from Sacramento State University and took an internship with Stacy and Witbeck, Inc., (SWI) the same company from which he recently retired as CEO after 35 years of service building rail lines throughout the United States. John continues to serve as Chairman of the Board of SWI.
Joan and John were both working on a light rail project in San Jose when they met. Joan was working for the owner (the City of San Jose), and John for the contractor. Joan went on to run the engineering division of the public works department for the City of Campbell, California, for five years, during which time their first two children, Brett, and Emily were born.
Then, John's work with Stacy and Witbeck moved the family to Oregon near the area where Joan had grown up. She retired from engineering to stay home with their children, and the family grew by one more with the birth of Nolan in 1995.
"I was heavily involved in the kids' Catholic grade school," said Joan, who served on boards and helped to sew more than a dozen quilts for the school's fundraising auctions. She also began supporting causes that matter deeply to the family — specifically, those that benefit children. The Bolliers are grateful to be able to make a difference, and view philanthropy as a natural reflex.
"We had the ability to help others," Joan said, "so how could we not?"
John added, "We never thought we'd have the opportunity to do the same thing that others did for us. It's great to be able to give to organizations that serve."
Helping Gonzaga students has become something the Bolliers enjoy as well. It started when Brett and Emily were students, as Joan would bring her mother to Spokane to attend Gonzaga basketball games. Over the years, the whole family became remarkably close with the Gonzaga community, providing another reason to give back.
"Everyone has been so friendly and welcoming," said John, who has served on the Board of Regents since 2018. "We feel right at home."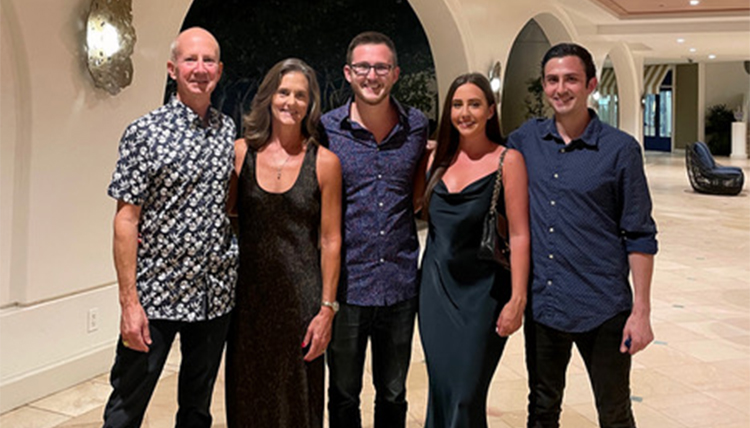 The Bolliers have supported Gonzaga Athletics and scholarships, in addition to the Bollier Center gift. John and Joan are also excited about the impact that the University and its students are having through the Opportunity Northeast (ONE) initiative and the chance to be involved in something so meaningful to the lives of Gonzaga neighborhood families.


Gonzaga University President Thayne M. McCulloh shared his gratitude, saying, "The Bollier family exemplifies the values, commitment, and spirit of this community. John, Joan, Brett, Emily, and Nolan's thoughtful and generous leadership makes a significant difference in ensuring the University delivers on its mission. Because of the Bolliers, Gonzaga's commitment to Jesuit STEM education and research will have an impact on the Inland Northwest and beyond for generations to come. I am truly thankful for the support and Zag spirit with which they show up each day."
The Bollier Center will add over 82,000 square feet of space dedicated to student learning in the sciences, technology, engineering, and mathematics on the Gonzaga University campus, with special attention given to providing opportunities for cross-disciplinary collaboration. Students of all majors will experience the impact of the Bollier Center through core curriculum classes. Additionally, the Bollier Center will allow students to engage in integrated environments to solve problems, create commerce, and explore disciplines of innovation and entrepreneurship, all balanced with a heart and mind for the common good. Opening Fall semester, 2021; fundraising for the facility is ongoing.