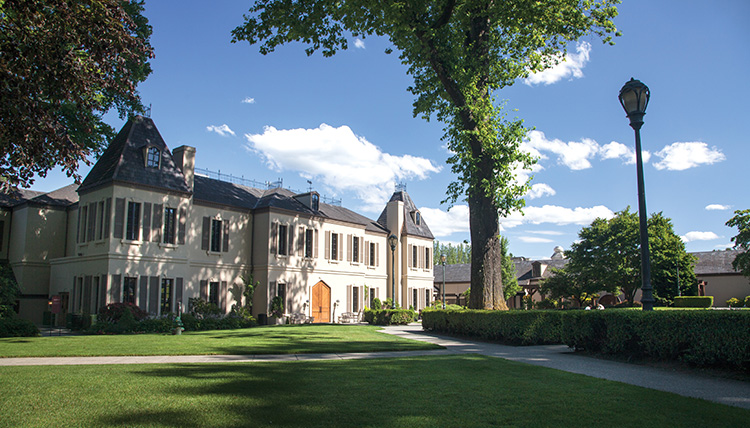 Immersion Events are generally in-person events that takes place at the location of that event's winery host. The host will offer tours of their facility and presentations by their own winemakers. Those demonstrations will be complemented by educational presentations that will vary depending on the location and on the "hot issues" facing the industry at that time.
Spring 2021 Immersion Event
The first Immersion Event will take place on March 27, 2021, and will be entirely online with Chateau Ste. Michelle Winery in Woodinville, WA. The Immersion Event will begin at 10:00am (PT) and end by 2:00pm (PT).
Chateau Ste. Michelle has planned an exciting, virtual, interactive event that allows participants to hear from the winery's experts about the unique challenges of growing grapes in Washington and engage with its winemakers on their full "Vine to Wine" winemaking process. Chateau Ste. Michelle has been hosting virtual events throughout the pandemic and has cutting-edge insights and resources to share, including a 3D virtual tour of its facilities. The immersion will culminate in a Wine Blending virtual course and tasting experience. All materials for this immersion will be shipped to your door.
Because Chateau Ste. Michelle will have to ship wine and necessary supplies to all participants for the Wine Blending Experience, anyone interested in participating is asked to register and purchase the Wine Blending package as soon as possible. Registration before March 15 is highly recommended, as Chateau Ste. Michelle cannot guarantee that shipments will arrive in time for the March 27 event if purchased after that date.
** Please note that all Certificate participants must attend at least one Immersion Event (before the end of three semesters) in order to complete the program requirements. This virtual Immersion Event is a rare chance to complete this requirement without having to pay any additional travel costs.
You do not need to be part of our certificate program to join us for this unique and exciting experience!
Register for this Immersion Event on the Chateau Ste. Michelle website.
To learn more about this event, contact Gonzaga Wine Institute Director Jessica Kiser.
Immersion Event Schedule
10:00 am (PST) – 11:30 am (PST)
Introduction by Gonzaga University Wine Institute
3D Tour of Chateau Ste Michelle's Facilities
"The Washington Wine Paradox"
Vine to Wine – Ste Michelle's Winemaking Process
Q&A with Ste Michelle winemakers and educators
11:30 am (PST) - 12:30 pm (PST)
Break for Lunch (on your own)
(Participants should also set up supplies for Wine Blending Experience)
12:30 pm (PST) – 2:00 pm (PST)
Virtual Wine Blending Experience (and tasting)
Q&A with Ste Michelle winemakers and educators
Wrap Up Remarks (and Q&A) with Gonzaga University Wine Institute
Future Immersion Events
We are planning to have our next Immersion Event in the Charlottesville, Virginia area in July or August 2021. It will be a wonderful opportunity to hear about the history of winemaking in the United States while visiting several of the areas fabulous wineries! If foreign travel becomes more possible, we hope to have an Immersion Event in Florence, Italy in the fall or spring of this year that will focus on international wine and import/export issues.
Do you have an idea for an Immersion event location? If you would love an excuse to revisit a favorite winery from your past, or you have connections that you would like to share, we are always on the search for new Immersion Event locations.