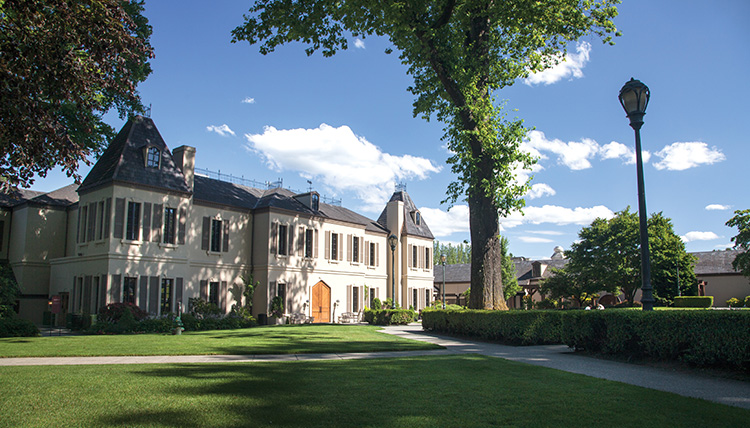 Immersion Events are generally in-person events that takes place at the location of that event's winery host. The host will offer tours of their facility and presentations by their own winemakers. Those demonstrations will be complemented by educational presentations that will vary depending on the location and on the "hot issues" facing the industry at that time.
Summer 2021 Immersion Event
*Registration for this event is closed*
We are planning to have our next Immersion Event in person in the Charlottesville, Virginia area over the weekend of July 23-25, 2021. It will be a wonderful opportunity to hear about the history of winemaking in the United States while visiting several of the areas fabulous wineries!
On July 23, 2021, we will be visiting Barboursville Vineyards where we will learn from Luca Paschina about the history of winemaking in the area and this winery's unique connection to both Thomas Jefferson and Italy. This will be followed by a wine tasting and lunch.

On July 24, 2021, we will explore the grounds of Pippin Hill Farm and Vineyards where we will discuss terroir and luxury branding followed by a tasting and charcuterie picnic.

Cost: $300 registration fee (which will cover the cost of lunches and tastings for the two days).

Registration is capped at a small number of participants in order to best accommodate expected COVID-19 protocols. For the most up to date information on the COVID-19 safety measures in place, please consult each winery's website.

Participants are responsible for making their own travel arrangements. Because July is wedding season (and given the limited number of registrations permitted), we highly recommend registering for this event and your preferred hotel as soon as possible.
Questions? Contact Wine Institute Director Jessica Kiser.
Future Immersion Events
We are in discussions with wineries in Napa, CA and Walla Walla, WA about hosting Immersion Events in those areas over the course of the next academic year. If foreign travel becomes more possible, we hope to have an Immersion Event in Florence, Italy in May or June of 2022 that will focus on international wine and import/export issues.
Do you have an idea for an Immersion event location? If you would love an excuse to revisit a favorite winery from your past, or you have connections that you would like to share, we are always on the search for new Immersion Event locations. Feel free to reach out to the Wine Institute Director, Jessica Kiser.
Past Immersion Events
Spring 2021 Immersion Event
Our Spring Immersion Event took place virtually on March 27, 2021 and was hosted by Chateau Ste. Michelle Winery in Woodinville, WA.
Chateau Ste. Michelle organized an exciting, virtual, interactive event that allowed participants to hear from the winery's experts about the unique challenges of growing grapes in Washington and engage with its winemakers on their full "Vine to Wine" winemaking process. The immersion culminated in a Wine Blending virtual course and tasting experience.