The Future of College Sports: Examining Legal Issues Today for the Leadership of College Sports Tomorrow
Presented by
The University of Washington Center for Leadership in Athletics
Gonzaga University School of Law Center for Law, Ethics & Commerce
Knight Commission on Intercollegiate Athletics
May 25-26, 2021
This event is approved by the Washington State Bar Association CLE: 4.5 Law & Legal credits and 1 Other credit. Credit for this event is $50.
Watch the recordings of this event here!
Colleges and universities have long struggled with the financial demands necessary to operate their athletic programs at a high level. Institutions have also wrestled with the tensions between these economic realities and their educational values. Today, legal issues are at the forefront of these economic and educational tensions in college sports.
How do leaders in athletics and higher education make sense of the forthcoming state and federal legislation over name, image, and likeness compensation in the midst of the Supreme Court's review of the 9th US Circuit Court of Appeals decision in the NCAA vs. Alston antitrust lawsuit?
This forum convenes legal experts and college and athletic department leaders from our campuses, our region, and beyond to examine the legal and legislative issues and offer practical perspectives on the swiftly changing environment that college and university athletic programs must prepare for.
Recordings, transcripts and a summary report will be made available to the audience and panelists at the conclusion of the forum.
Forum Handouts
Forum Agenda
Subject to change. All times in Pacific Time.
Tuesday, May 25
| 8:45 AM – 12:45 PM PDT
Opening Remarks | 8:45 AM
Keynote Address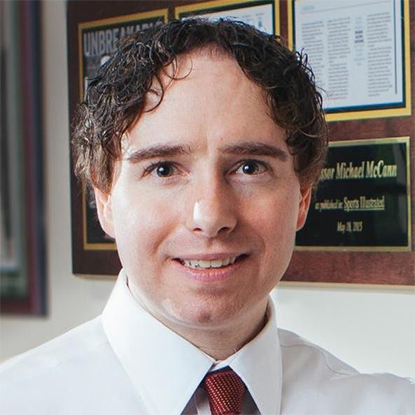 Michael McCann, Founding Director of Sports & Entertainment Law Institute & Professor of Law, University of New Hampshire School of Law
Situate the current college sports landscape around a specific set of legal topics - state and federal, NIL, 'collective licensing,' and NCAA vs. Alston. Perspectives for how university leaders, athletic administrators, law and higher education scholars, college athletes, law students and sports management students, can prepare for the swiftly changing legal landscape.
Legal Perspectives Panel | 9:30 AM
Focus on understanding the uncertain and quickly changing legal terrain of college sports. This panel discussion highlights the legal perspectives of current state and federal legislation and current status of the NCAA vs. Alston case before the Supreme Court. Panelists discuss the legal implications for college athletes, athletic administrators, and NCAA governance.
Moderator: Agnieszka McPeak, Associate Professor and Director, Center for Law, Ethics & Commerce, Gonzaga University School of Law, Gonzaga University
Practical Approaches in Leadership Panel | 11:15 AM
Featuring athletic program leaders, this addresses how to prepare for implementing legal and legislative changes under NIL, the upcoming NCAA v. Alston case, and bills proposed in the U.S. congress. This panel sets an agenda for how college athletic program leaders can respond, while still advancing the educational mission of institutions in these new times.
Moderator: Dr. Karen Weaver, Adjunct Assistant Professor and Academic Director, Graduate School of Education, University of Pennsylvania
---

Wednesday, May 26
| 9:00 AM – 11:30 AM PDT
Welcome
The Future of College Sports in Higher Education Panel | 9:00 AM
Perspectives and strategies for moving institutions forward through this new legal milieu and how to shape the future of college athletics in higher education. This panel discussion highlights the leadership perspectives for steering institutions through these changing legal and legislative influences on colleges sports and their universities.
Moderator: Dr. Carol A. Cartwright, President Emeritus, Kent State University and Bowling Green State University
Closing Keynote | 10:45 AM
Ramogi Huma, Executive Director, National Collegiate Players Association
Laws and Lawsuits: The Path Toward Racial Justice, Gender Equity, and Key Athlete Protections in College Sports
Closing Remarks
Amy Perko, Chief Executive Officer, Knight Commission on Intercollegiate Athletics
Dr. Jeff

Geldien,

Assistant Vice President, Academic

Advancement, Gonzaga University