First Fridays at Gonzaga Law
First Friday (FF) series showcases the vibrant and growing Spokane art and retail scene. As one of the FF venues, Gonzaga Law will feature a rotating exhibit by a local artist in the lobby of the law school for a month. FF are sponsored by the Downtown Spokane Partnership.
Gonzaga Law will officially take part in First Fridays in January, March, April, June, August, September, and November. The upcoming First Friday dates for 2019 are as follows: September 6 | November 1 | December 6.
Questions? Please contact Anna Creed at 509-313-3864 or creeda@gonzaga.edu.
February 2020 Artist - Manal Deeb
Manal Deeb is a Palestinian-American artist who was born in Ramallah, Palestine, and currently resides in Fairfax, VA, USA. Manal studied Studio Arts at the University of Illinois in Chicago and got her Bachelor's Degree in Interdisciplinary Studies with a concentration in Psychology of Art from George Mason University in Virginia. Her artwork has been featured in magazines, journals, radio interviews, TV interviews, and newspapers throughout the world. Her main subjects are humanity, Palestine, the Palestinian people, global cultures, creating bridges between religions, Arab women, global women issues, and identity. Visit marmotartspace.com to learn more and inquire about pricing.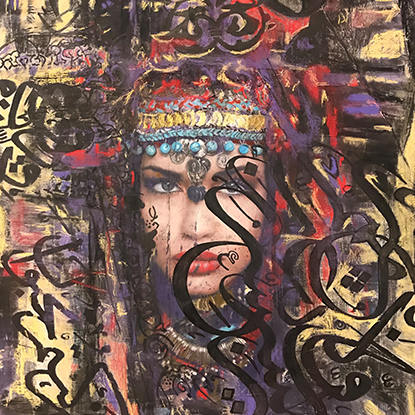 Check out our past featured artists: