Shelle Lindholm - 2020 Artist in Residence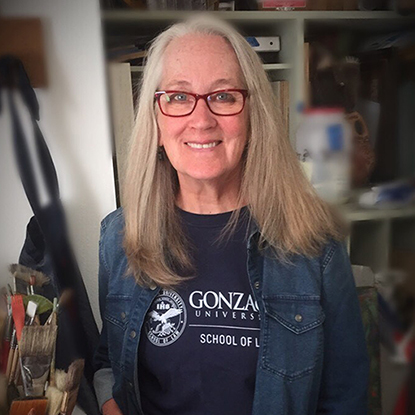 Known for her vibrant and high energy depictions of wildlife, Shelle Lindholm's work brings with it a sense of experimentation and exploration. Lindholm describes herself as a storyteller, combining colors, shapes, patterns, and textures to create a world where her animals are the star. In her artist statement, Lindholm notes that she often asks herself, "how can I make this animal different," as a way to craft her whimsical pieces. With 15 pieces on display within the Law School building, Lindholm's work brings a spectacular vibrancy to rooms and halls it inhabits.
Lindholm's work is on display through the spring semester at the law school, although the building remains closed to the public. However, all are welcome to view Lindholm's work on the Art Spirit Gallery website at theartspiritgallery.com/exhibition/299. A portion of the proceeds from the sale of Lindholm's artwork will benefit the School of Law.
For additional information regarding Lindholm's work, please contact Blair Williams at The Art Spirit Gallery at info@theartspiritgallery.com.
Check out our past featured artists: