Kathy Gale - 2021-22 Artist in Residence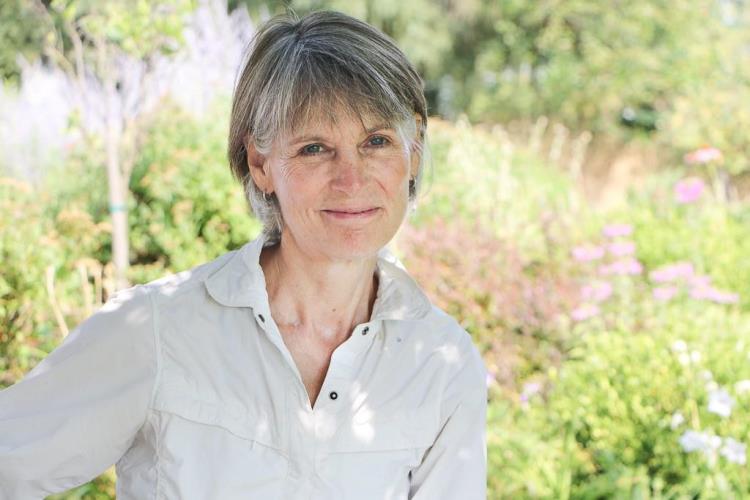 Over the course of just a few moments, you will travel from a field of daffodils to a gorgeous sunset over the mountains, all while planting your feet in the Law School's Building. The halls of Gonzaga School of Law are brighter than before, thanks to 2021-2022 Artist in Residence Kathy Gale.
Gale is a Spokane local and Zag Alum (B.A.'78). Her work is best described as "Impressionism with a strong abstract quality." Using oils, watercolors, or pastels, Gale derives inspiration for her paintings from pictures she has taken on her travels throughout the Pacific Northwest. Her specific collection of paintings featured in her residency are "a response to my first viewing of the Skagit Valley Tulip Fields in the Spring of 2015."
She states that the paintings featured in her residency acknowledge and pay tribute to field workers in the Skagit Valley. "Whether a migrant worker or day laborer, their physical resilience and emotional grit are the qualities that keep agriculture productive every day, throughout the world."
Gale's work is on display through the spring semester at the law school, although the building remains closed to the public. However, all are welcome to view her pieces on the Art Spirit Gallery website on the Art Spirit Gallery website.
Gale and the Art Spirit Gallery will be donating a portion of the artist-in-residence stipend to the Immigrant Resources and Immediate Support Foundation in the Skagit Valley. IRIS serves immigrants in immediate need of health, residential, and clothing assistance. Additionally, Gale will also be donating a portion of the sales to the School of Law's student emergency fund, which gives students resources and assistance during unexpected and unavoidable life emergencies.
For additional information regarding Gale's work, please contact Blair Williams at The Art Spirit Gallery at info@theartspiritgallery.com.
Check out our past featured artists: