Center for Civil and Human Rights Art Competition
Request for Proposals | Summer 2021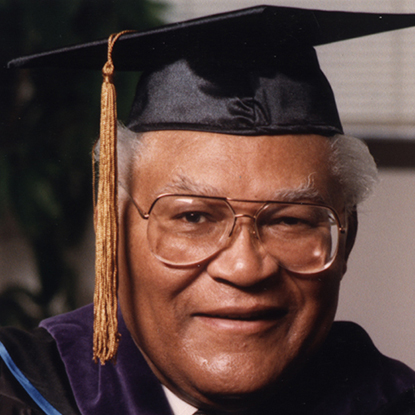 The Center for Civil and Human Rights (CCHR) invites Spokane and Coeur d'Alene (CdA)-area artists to submit proposals to the CCHR Art Competition. The purpose of the competition is to build bridges between the Law School and the local community by supporting Spokane and CdA-area artists pursuing social justice themes.
The theme of the 2021 Competition is to commemorate the life of civil rights leader and Gonzaga Law School graduate, Carl Maxey ('51, JD).
The artwork shall:
Make an artistic impact and capture the social justice achievements of Carl Maxey;
Serve as a positive symbol for the Law School and the community;
Enrich the aesthetics of the Law School and serve as a reminder of the theme of the art project;
Connect the community to the CCHR and give local artists the opportunity to display creative and thoughtful work that has a lasting and powerful imprint on social justice.
The competition is open to a broad range of artistic work from Spokane and CdA-area artists at various points in their careers, from amateurs to professionals. A distinguished panel – including the Law School's current and past artists-in-residence – will judge the competition. The winner will receive a prize of $5,000 and will have their artwork displayed in a dedicated space on the second floor of the Law School.
Please refer to the full RFP for more details.
Timeline
Application deadline: June 25, 2021
Selected artwork announced: July 9, 2021
Artwork installation: September 10, 2021
Each proposal must be original in concept, design, and execution and may not violate U.S. copyright laws. Uses that incorporate copyrighted material (e.g., historical photographs or other written works) are permitted provided that such uses are protected by fair use.
About Carl Maxey
Carl Maxey was a giant in civil rights, law, sports and politics. Orphaned at the age of two and growing up in a predominantly white community, Carl's first-hand experiences of racism and inequality were the seeds that fueled his passion for social justice. He was the first African American man in Eastern Washington to pass the bar and become an attorney. During his career of over 40 years, Carl earned a well-deserved reputation as an exceptional trial lawyer and a nationally-recognized civil rights leader. You can read more about Carl Maxey and his legacy here.
Eligibility
The Center Art Competition is open to all Spokane and CdA-area artists and collectives, 18 years or older.
Proposal Submission Guidelines
Please refer to the full RFP for more details regarding size, materials and other specifications.
Interested artists must submit a proposal which includes the following:
Biographical Statement: Describe in 500 words or less your work and how it furthers the objective of the Art Competition and CCHR's mission (you are encouraged to visit the CCHR website);
Proposed Artwork: provide a sketch of the proposed artwork or image of the finalized piece in JPEG format;
Portfolio: submit at least one but no more than ten digital file images in JPEG format of completed works that are representative of the proposed project.
All required materials must be submitted via email to civilrightscenter@gonzaga.edu by 5:00 pm on Friday, June 25, 2021. Please use the phrase "CCHR Art Competition" in the subject line. Please email questions to CCHR Assistant Director Michele Fukawa at fukawa@gonzaga.edu.