120-Hour TESOL Certificate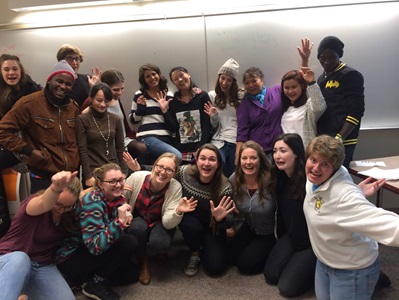 For those thinking of teaching English (or other languages) either in the USA or abroad, the 120-hour TESOL Certificate is the minimal qualification accepted by most language schools. Our TESOL Certificate students have found teaching positions all over the world, including China, Saudi Arabia, Indonesia, Spain, Germany, Taiwan, and Japan. If you are considering applying for the JET Program, EPIK, or a Fulbright ETA position, the 120-TESOL Certificate is essential - both to strengthen your application and to make your teaching experience richer!
This course is designed to help you acquire the basic skills you need to teach language in all kinds of situations anywhere in the world. Through readings, discussions, and hands-on activities, you will explore concepts, techniques, and skills of language teaching. The primary focus of the class is how to put principles of effective language teaching into practice. We offer this course three times a year: as a 15-week (3 hours/week) in fall and spring, and as a 4-week intensive course in summer.
Note: this course is part of the MA/TESOL and the ELL Endorsement - but we welcome Gonzaga students from any major and non-Gonzaga students as well! If you are not sure how to apply, please contact James Hunter.
The curriculum for the TESOL Certificate includes:
Building a Community of Learners – collaboration, classroom management, interaction; how to break the ice and get students ready for English
The Basics – principal (second) language acquisition perspectives (Skinner, Chomsky, Krashen, Piaget, Vygotsky, usage-based approaches)
Approaches and Methods in Language Teaching – Grammar Translation, ALM, Total Physical Response, Communicative Language Teaching, Content and Language Integrated Learning
Culture – intercultural communication; culture in the classroom; teaching monolingual/monocultural classes
Oral Communication – how to teach conversation; "active" listening; balancing accuracy, fluency, and complexity
Planning lessons – "Have Text, Will Travel" and the Engineering Design Process; covering the 4 skills; learning styles & other learner considerations; observing & critiquing lesson plans and teaching practices
Teaching listening – teaching with songs; creating (digital) materials
Materials development – evaluating textbooks; adapting authentic materials to provide context and language practice
Differentiation for multi-level classes – different tasks for the same activity; stations; teaching grammar communicatively
Promoting interaction – using language games to promote acquisition and fluency; establishing a learner-centered classroom
Vocabulary Acquisition – how to teach words and constructions; lexico-grammar; dual/multiple coding of vocabulary input
Teaching Reading I - intensive and extensive reading; building reading stamina, speed, and comfort
Teaching Writing - analyzing multilinguals' writing; cultural considerations; corrective feedback options
Corrective Feedback - on oral production; "Grammar Spot"- language awareness activity
Teaching Pronunciation – basic phonology; "best" pronunciation teaching practices
Putting your TESOL Certificate to work - how to get a job teaching English
Teaching practice
The course includes a minimum of 20 hours of observation and teaching practice in a variety of ESL settings, both online and face-to-face. The summer course includes a 30-hour structured teaching experience on Gonzaga's campus with a trained ESL instructor/mentor. Each teaching session is followed by a debrief and reflection on the learning and engagement of the students.
What our students say
There was a lot of student–centered, praxis–oriented projects that were both entirely pragmatic and helpful to think conceptually about teaching. The course was very reflective as well, which encouraged students to think deeply about their own learning and establish their own objectives beyond the prescribed ones. Anonymous course feedback, 2019
This class was so useful as a class to learn how to teach and as a transition from being a student to being a teacher. 100% recommend to anyone and everyone seeking to become a teacher of any subject! Anonymous course feedback, 2017
Thank you Gonzaga!! Because of you, lesson planning isn't a hard task any more! Mohsen Ibrahim, 2016
Just wanted to say your training has been absolutely phenomenal. I've observed some of the other teachers at the school I'm currently at and (no offense to them) felt like they lacked a lot of what you provided. Our DoS [Director of Studies] observed my class and was blown away--but really it was just practicing things we learned a few months ago. Wenyu Zhang, 2013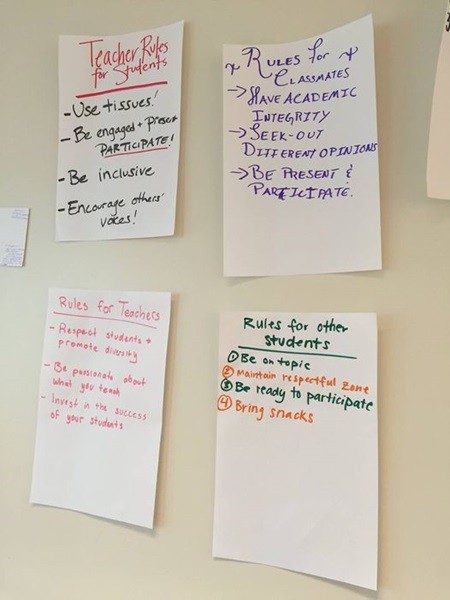 Building a Community of Learners