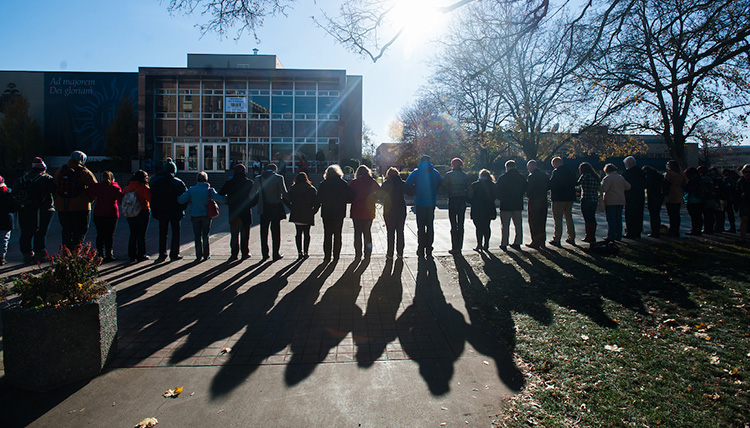 While numerous government and non-governmental organizations are working against hate, the Institute is a globally unique organization for its focus academic resources in interdisciplinary fashion on the causes and effects of hate as well as potential strategies for combating hate.

Your gift in support of the Gonzaga Center for the Study of Hate allows us to fulfill our mission and engage our audience in the following ways:
Publishes the international scholarly Journal of Hate Studies.
Convenes the biennial International Conference on Hate Studies.
Organizes and sponsors special workshops, symposia, lectures, and mini-conferences.
Hosts distinguished visiting fellows.
Catalyzes interdisciplinary research teams.
Supports interdisciplinary courses in Hate Studies and the production of promising model projects and student research.
Presents annually the Eva Lassman Take Action Against Hate Awards.
Advocates for the field of Hate Studies and encourages increased discussion about hate across disciplines.
Integrates theory and practice through an active International Council of Experts and roster of Gonzaga affiliates.
Fortifies connections of knowledge, skills, and service via student employment and internships.
Answers inquiries from the media, government, and civil society organizations.


How to Give
Enter your donation amount in the top field.
When you reach the Gift Designation portion of the form, choose how to distribute your funds between the Eva Lassman Memorial Student Research Award Endowment and Gonzaga Center for the Study of Hate (GCSH) Events Fund. You may opt to split your donation in any percentage, or to only donate to one fund or the other.
Fill out the rest of the form with your information and continue.
If you have questions about making a gift, or would like to send a check through the mail, please contact us:
Gonzaga Center for the Study of Hate
502 E. Boone Ave
AD Box 99
Spokane, WA 99258
Phone: (509) 313-3665