The Center of the Study of Hate and director are currently guided by an Advisory Board, Editorial Board, and Council of Experts, charged with the purpose of providing research and education about key hate related issues, and actively participating in the creation of social justice as mandated by the University mission, strategic commitments, and strategic objectives.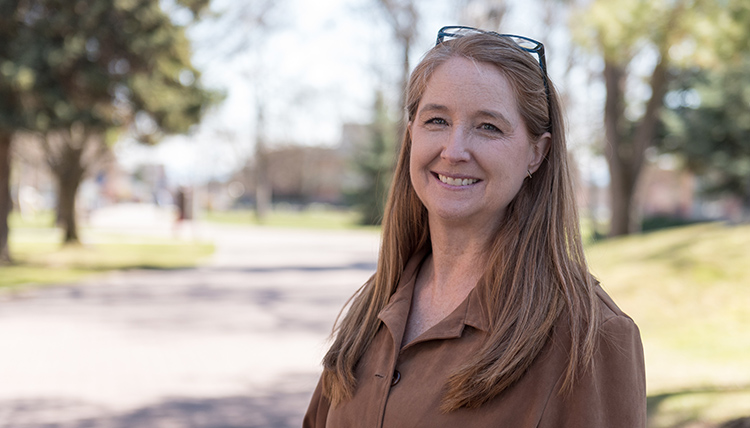 Contact Information
Kristine Hoover, Ed.D.
Past Director, Gonzaga Center for the Study of Hate
Professor, Department of Organizational Leadership
Email
(509) 313-3831
About the Past Director
Dr. Kristine F. Hoover is a Professor in the Master of Arts in Organizational Leadership program at Gonzaga University. She came to Gonzaga in 2009, drawn by its Catholic, Jesuit, Humanistic mission. Her service as director of the Center for the Study of Hate began in the spring of 2016. Academic Vice President Patricia Killen and Associate Academic Vice President Ron Large of Religious Studies say the institute is unique, adding value to conversations on hate through research and teaching.
Dr. Hoover earned a Master of Business Administration, Master of Organization Development, and Doctorate in Leadership Studies degrees from Bowling Green State University. Her research in applied ethics, diversity, and service learning has been published in the Journal of Business Ethics, Personnel Review, and the Organization Development Journal and has been presented at the International Leadership Association (ILA) and the Annual Colleagues in Jesuit Business Education (CJBE) conferences. She is concerned with questions regarding language and images that organizations use to shape the inclusion and dignity of people, a dynamic that can create hate or respect through the power of self-worth, social identity, and economic opportunity.
"Why do we see some people through a lens of fear and others with an assumption of goodness or neutrality?" Questions such as this became salient early in Dr. Hoover's life. She became acutely aware of inequities when interviewing an African-American nurse who shared stories about frequent experiences in the 1980s of people crossing to the other side of the street when they saw him coming. Even though she had walked the same paths, she had not been aware of anyone crossing the street just because they did not want to share the sidewalk with her. It was a formative experience that spurred her curiosity and concern. While growing up with her grandparents on a dairy and grain farm, the dinner table had been shared with family and farm workers alike, regardless of background. She was later also influenced by her mother-in- law, who started an immigrant education program in Ohio for people who came from Mexico and Texas to pick tomatoes. The children in these families did not have access to textbooks or consistent time to go to school, because they migrated with their families. She finds these and many other stories and experiences compelling to this day.
As an active member of the community, Dr. Hoover's leadership roles and awards include being a former Chair of the Washington State Legislative Ethics Board, a Community-Engaged Learning Faculty Fellow, and a Career and Professional Development Faculty Fellow. She has been certified as a Senior Professional in Human Resources (SPHR) and has been a trainer for SHRM, the Society for Human Resource Management. She teaches courses in Leadership and Imagination, Organizational Ethics, Organizational Development, Organizational Change and Transformation, and Human Resource Management. Her classes are offered at the doctoral, graduate and undergraduate levels, in on-campus, blended/intensive, and online formats. When not involved with academia, Dr. Hoover enjoys spending time with her husband and three sons.
Select publications
Hoover, K. F. & Pepper, M. (2015). How did they say that: Ethics statements at Best Companies to Work For. Journal of Business Ethics, 131(3), 605-617. DOI: 10.1007/s10551-014- 2255-z

Hoover, K.F. & O'Neil, D.A. (2015). Leading by example: Images of diversity and collaboration on university web pages. International Leadership Journal, 7(2), 46-66.

Hoover, K. F. (2015). Reflections on student affect in group projects: Are we encouraging our students to be in community with others? Jesuit Higher Education: A Journal, 4(1), 63-71.

Wallace, H., Hoover, K. F., & Pepper, M. (2014). Multicultural ethics and diversity discourse. Equality, Diversity, and Inclusion – An International Journal, 33(4), 318-333. DOI 10.1108/EDI-05- 2013-0035

Hoover, K.F., O'Neil, D.A., & Poutiatine, M. (2013). Gender and leadership: A frame analysis of university home web page images. Journal of Academic Ethics. DOI: 10.1007/s10805-013- 9197-4

Hoover, K. F., Topuzova, L., & Wallace, H. (2013). The "little white lie:" An exercise to explore the relevance of diversity curriculum. Jesuit Higher Education: A Journal, 2(1), 78-89.