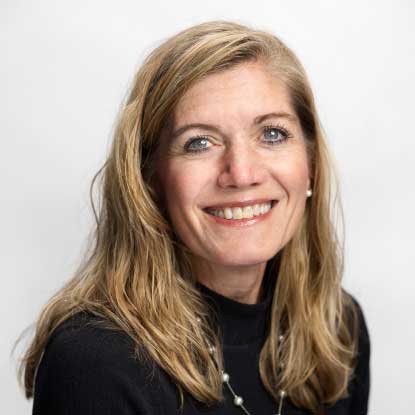 Faculty Affairs Administration:
Advancing the mission and development of faculty.
Click to learn more about Dr. Bertagnolli
Hometown: Spokane, WA
Degrees:
Ph.D. in Biology, University of Utah
B.S. in Biology, Gonzaga University
With Gonzaga Since: 1993
Dr. Bertagnolli, Professor of Biology, started as Vice Provost for Faculty Affairs in January of 2023 but has taught at Gonzaga and held several administrative roles since 1993. A graduate of Gonzaga, she earned her PhD in biology from the University of Utah (Dr. Mary Beckerle, mentor) and was fortunate to return to Gonzaga to begin her teaching career.
Dr. Bertagnolli was jointly appointed to the Biology and Chemistry Departments and taught for both departments for many years as the Clare Boothe Luce Professor of Biochemistry before moving fully to the Biology Department. She has since served as Chair of the Biology Department, Chair of the Department of Chemistry & Biochemistry, and the Director of the Center for Teaching and Advising (2020-2022). She also spent several years as an Associate Dean in the College of Arts and Sciences. Throughout this time, she has helped departments develop guidelines for reappointment, promotion and tenure, developed resources and training that support faculty development and promote equitable, inclusive, antiracist pedagogy, provided leadership training for department chairs, and mentored faculty across the University. She has also been co-directing a multi-institutional ADVANCE Partnership grant from the National Science Foundation focused on creating peer mentoring networks that encourage and support equity and diversity, and that improve the advancement and retention of women in STEM disciplines.
As Vice Provost for Faculty Affairs, Dr. Bertagnolli will build on her experience to support the Provost in advancing the mission and development of faculty by working on initiatives that foster a supportive, inclusive environment and excellence in scholarship and teaching.
Have a question or comment for Faculty Affairs?
About Faculty Affairs
Our office offers opportunities for faculty to better connect with their students and to develop academically, professionally and in their personal and spiritual lives.
Dr. Bertagnolli oversees Instructional Design & Delivery as well as the Center for Teaching & Advising.