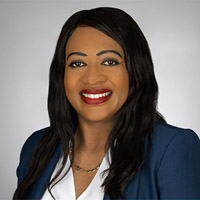 Dr. Robin Kelley is currently the Chief Diversity Officer for Gonzaga University and leads the Office of Inclusive Excellence. She is a transformational equity, diversity, and inclusion leader. For over 22 years, she has served as a senior higher education administrator in the roles of Associate Vice Provost of Equity and Equal Opportunity at North Carolina State University, Director of the Office of Equal Opportunity at Iowa State University, and Assistant Director of Equity, Diversity, and inclusion as well as Assistant Director of Employee Relations at the State University of New York at Buffalo. Dr. Kelley's experience outside of higher education includes independent consulting for Kelley Consulting Firm, of which she is the founder.
Dr. Kelley has presented for numerous groups and higher education conferences such as the 2021 American Association of Colleges & Universities Conference on Diversity, Equity and Student Success, the Black Women in Higher Education Leaders Forum, Association of Title IX Administrators ATIXA, University of North Carolina System annual Title IX Coordinators' and Clery Administrators' Conference and Retreat, State University of New York Research Foundation, the Triangle Society for Human Resources Management TSHRM, and the National Diversity Council.
She holds a Ph.D. degree from Iowa State University in higher education administration with an educational leadership emphasis. She earned a Masters' degree, Ed.M. in Higher Education Administration from the State University of New York at-Buffalo, and a B.S. in Economics and Finance from the State University of New York College at Buffalo. She is a graduate of the American Council on Education, ACE, Women Leadership Forum. Dr. Kelley holds a Diversity Management Certificate from Cornell University ILR School, and several certifications and professional credentials in the disciplines of program evaluation/assessment, equity, diversity and inclusion, equal opportunity, bias incidence response, restorative practices, Affirmative Action, Title VI, Title VII, Title IX, ADA, the Rehabilitation Act, mediation, sexual harassment/sexual misconduct, employee/labor relations, mediation, EEO investigations, and the Senior Professional in Human Resources (SPHR) certification.
Dr. Kelley is a member of a number civil and professional organizations including the National Diversity Officers In Higher Education (NADOHE), National Association for the Advancement of Colored People (NAACP), The Honor Society of Phi Kappa Phi, New York State Dispute Resolution Association (NYSDRA), Triangle Society for Human Resource Management (TSHRM) Board Member (Diversity Chair), Society for Human Resource Management (SHRM), National Diversity Council, and the Urban League, State University of New York at Buffalo Alumni Association.