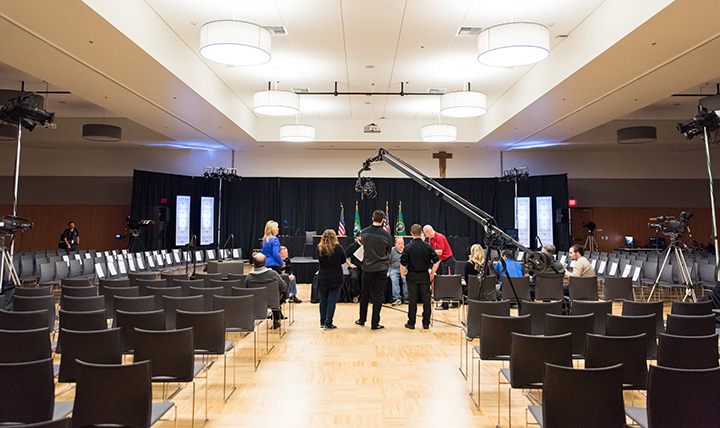 Q: What is Gonzaga's address?
A: 502 E. Boone Ave, Spokane WA 99258
Q: I lost my cell phone/credit card/wallet/jacket/ etc. What do I do?
A: Lost and found is at the Welcome Desk in the John J. Hemmingson Center. Please stop by or visit Gonzaga's Lost and Found Page, to see if your item has been turned in.
Q: Where can I get parking and directions to campus?
A: Parking is available in the BARC and on the street between white lines. Download a parking and directions map.
Q: How do I reserve a room or event space on campus?
A: Go to schedule.gonzaga.edu
If you have any questions, please give us a call: 509.313. 6854
Q: Do you have on-site catering?
A: Yes, full-service catering is available through Flavours by Sodexo. Give them a call at 509.313.6902. *Please note: any event on campus involving the sale or service of alcohol is required to use the services of Flavours by Sodexo, 509.313.6902.
Q: What dining options are available in the John J. Hemmingson Center?
A: The John J. Hemmingson Center offers a variety of dining options including The COG with six restaurant-style stations, grab and go items from Starbucks, Wolfgang Puck Pizza, The Marketplace, and The Bulldog, a full-service restaurant.
Q: Do I need proof of insurance for my event?
A: You must provide a certificate of liability insurance naming The Corporation of Gonzaga as additional insured with a minimum of $1 million per occurrence ($2 million aggregate). The certificate must clearly state the event date and location. Insurance must be provided at a minimum of 30 days prior to the event. GUEST can assist with acquiring a convenient, low-cost coverage policy for an event if preferred.
Q: What is Gonzaga's Mission?
A: Please visit our Office of Mission and Ministry page.
Q: I have a billing question. Who can I talk to?
A: Please contact our Business Service Manager at 509.313.2665 with your billing and contract questions.
Q: Who is GUEST?
A: The Gonzaga University Event Service Team (GUEST), provides management of the John J. Hemmingson Center as well as other publicly used venues on campus (with the exception of the Jundt Art Museum, McCarthy Athletic Center, Foley Center Library and Gonzaga University School of Law). GUEST is the central resource for management and information of most events and services on the Gonzaga University campus as well as the Bozarth Mansion and Retreat Center.