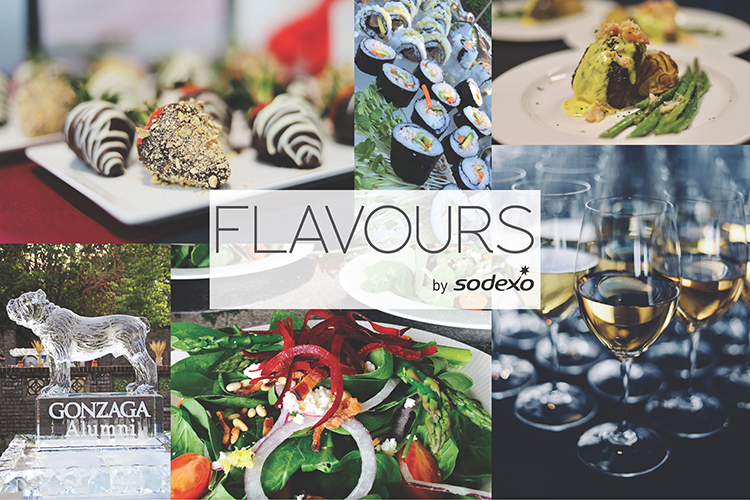 Once you have received an event reservation confirmation from GUEST, you can start planning event details such as catering. Flavours by Sodexo is the preferred caterer for Gonzaga University. A team of catering professionals are available to assist you with planning every aspect of your event. Their culinary team has designed a variety of menus to fit a wide range of tastes and budgets, including regional ingredients, university favorites and specialty items.
*Please note: any event on campus involving the sale or service of alcohol is required to use the services of Flavours by Sodexo, 509.313.6902.
John J. Hemmingson Center Dining
The Hemmingson Center offers a variety of dining options from resident dining, grab and go items and a full-service restaurant. Find hours of operation and menus under each location.
Starbucks - Located on the first floor, this full-service Starbucks serves high-quality whole bean coffees along with fresh, rich-brewed, Italian style espresso beverages, premium teas, a variety of pastries and confections, and coffee-related accessories and equipment. Starbucks Hours and Menu

The Marketplace - Located on the first floor, the Marketplace store focuses on local, fresh and seasonal products. Soups, sandwiches, salads and even sushi will be made from scratch daily. Gluten free, dairy free, organic and GMO free products will be featured along with typical convenience items such as candy, gum and chips. The Marketplace Hours and Menu

The Bulldog - Located on the second floor of the John J. Hemmingson Center, The Bulldog features a full sit down restaurant experience, a quick service takeout menu, as well as local wines and draft beers in a safe and healthy environment. The Bulldog Hours and Menu

The COG - The COG (Circulus Omnium Gonzaga-orum) is a two-level facility with six restaurant-style stations located in the John J. Hemmingson Center. Gonzaga students, faculty, staff and guests are all welcome to dine, socialize and explore our expanded dining options at the COG. Menus at each station change for breakfast, lunch and dinner, as well as on a daily basis throughout the semester. Check the Bite app and Zag Dining's Snapchat for daily menus! The COG Hours and Menu

Daily Bread: Fresh deli-style sandwiches featuring house-baked breads, homemade soups and baked goods from our own bakery.
Spikes: Classic American comfort food 360 Degrees: Mongolian-style grill stationed at the center of the COG serving fresh stir fry custom-made for each guest.
Zagriculture: Plant-based meals featuring sustainable, seasonal food and produce from the campus greenhouse.
Mediterranean Coast: Dishes inspired by the cultures surrounding the Mediterranean Sea, including pizzas and flatbreads from the wood fired oven.
World's Fare/Simple Servings: Serving cuisine inspired by dishes around the globe. This station also features our Simple Servings platform – menus designed free of the 8 most common food allergens – allowing students with food allergies to dine with confidence and convenience.