Learn About Events & Initiatives at Gonzaga
---
Transfer, Veteran & Returning Adult Services (TVRAS) Ambassador Program
The TVRAS ambassador program teams up new transfer and veteran students with current transfer or veteran students. When a new student is admitted to GU, an ambassador will reach out to the student, share resources and invite them to a personal lunch. We hope this program gets new students started on the right foot! If you'd like an ambassador email Colleen at Vandenboom@gonzaga.edu .
TVRAS Orientation and Orientation Events
Welcome New Zags to Gonzaga University!
Gonzaga University hosts a special orientation program for our new transfer, veteran and returning adult students. We recognize that you have special needs and many of you have attended college prior to coming to GU.
The TVRAS Orientation will take place on Friday, August 28th on the Gonzaga University campus. All new students are highly encouraged to attend orientation, please sign up below. There will be a special parent/family orientation for your interested family members.
Tentative TVRAS Orientation schedule
2020-2021 Events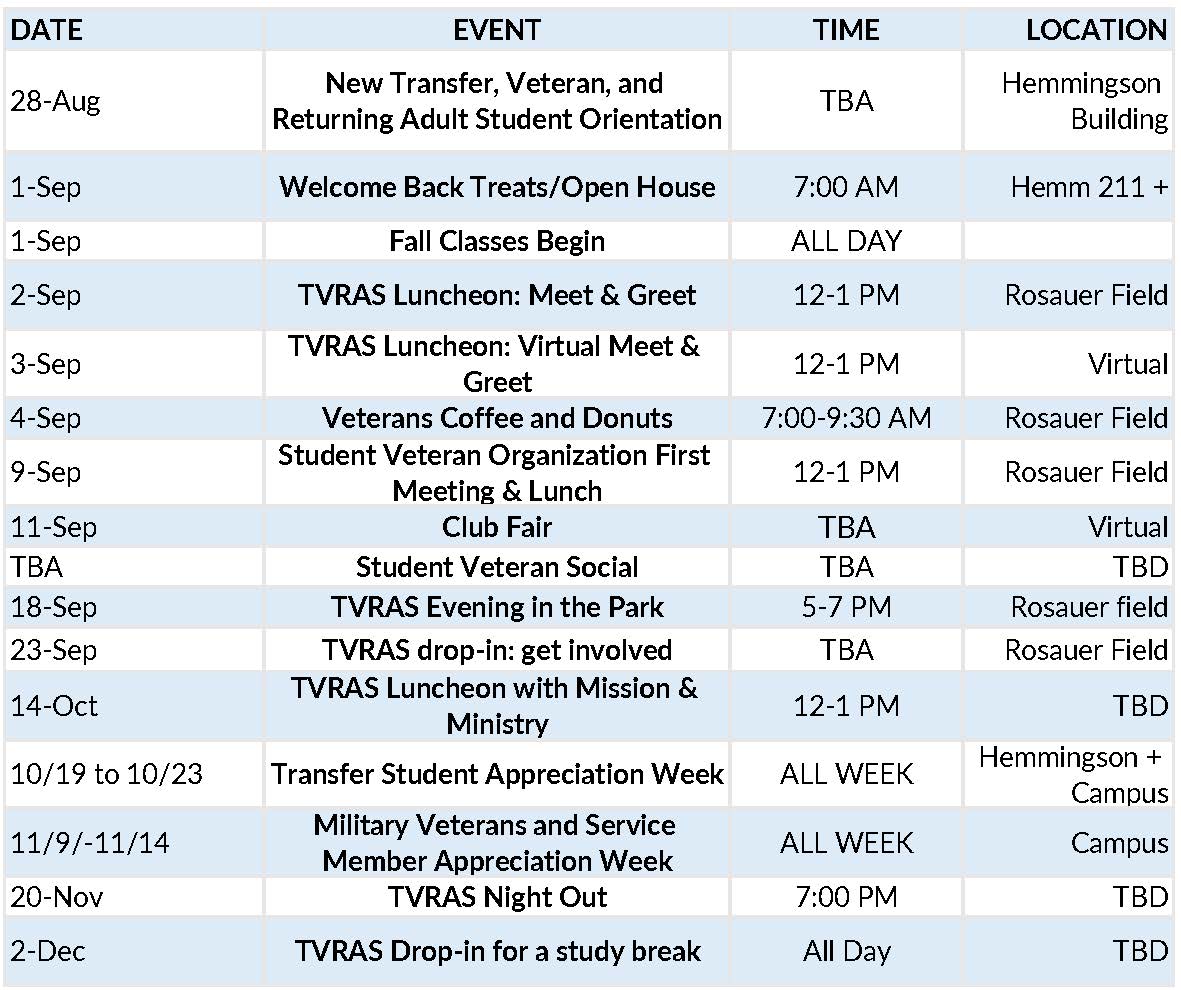 SpikeDays: Family Friendly Events for Student-parents
SpikeDays is a fun event catered to our students with children. Roughly once a month, in the Hemmingson, we will feature arts and crafts and other fun events for you and your family!
TVRAS GU Outdoor Trips and Adventures
TBD
Veteran Graduation Celebration
In an attempt to find ways to honor our student veterans and our allies, we are in the process of designing our own Gonzaga coin, which will be given to student veterans and allies on special occasions. Additionally, for the first time, starting in 2018, our graduating student veterans will have the option of wearing a red, white and blue cord at graduation (our office is providing these for free).
We are celebrating 2020 graduates virtually this year!
Resources to Create a More Supportive Campus Community
TVRAS has been working with colleagues across campus to create resources to educate the campus community about military culture. See our website designed for faculty and staff.
Veteran Supportive Campus WDVA Designation and Military Supportive Campus
The Veterans Supportive Campus Rating is awarded through the WDVA to campuses that are working to be a supportive environment for our veterans.
Gonzaga received the WDVA designation of "Veteran Supportive Campus" at a ceremony on September 29, 2017.
In February of 2020 we also received the Military Supportive Campus National designation.
Student Veterans of America Gonzaga Chapter
Student Veteran Organization Meetings - All SVO meetings are held in the TVRAS office. To connect with the chapter email Brenda Vogel at vetcorps@gonzaga.edu.
Gonzaga Veteran Advisory Group
This group will be formed from Gonzaga faculty, staff and students and community members. We plan on meeting about 6 times per year. If you are interested in sitting on the Advisory Group please email Colleen at vandenboom@gonzaga.edu.