CLOSE IN: "Drawn to the Wall VII" Exhibition
Exhibition: June 15 through August 17, 2019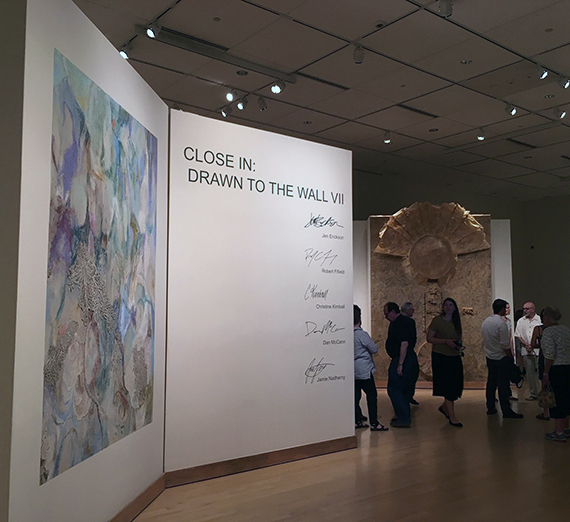 Every three years, five artists are invited to spend two weeks at the Jundt Art Museum to create a drawing on one side of an 8-by-11 foot museum wall. The unusual component of this project is that the drawings will be removed and painted over at the end of the exhibit and the walls returned to their normal use as gallery partitions. Artists selected for "Drawn to the Wall VII" were asked to find individual, workable solutions to large-scale drawings and to the constraints of working in a "common" environment.
Drawn to the Wall VII Artist Profiles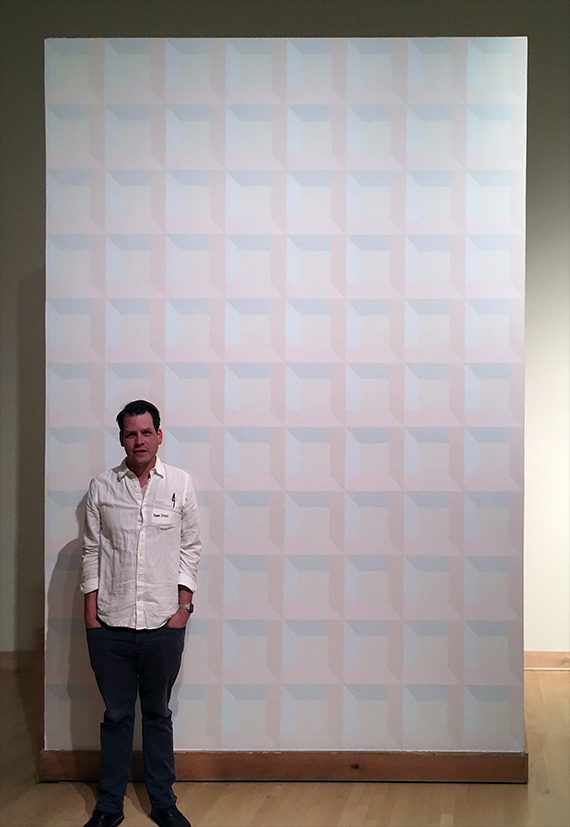 Latex paint
Quilts hold us close, and keep us warm wrapped in our beds. They are an ever present reminder of the loved ones who crafted them as quilts connect human beings in ways that few objects can. At the time of the birth of my first child, Locea, I was struck with my desire to make these kinds of connective objects. Through this work I am demonstrating the warmth I find in Geometric Abstraction through the use of familiar, well established quilt patterns.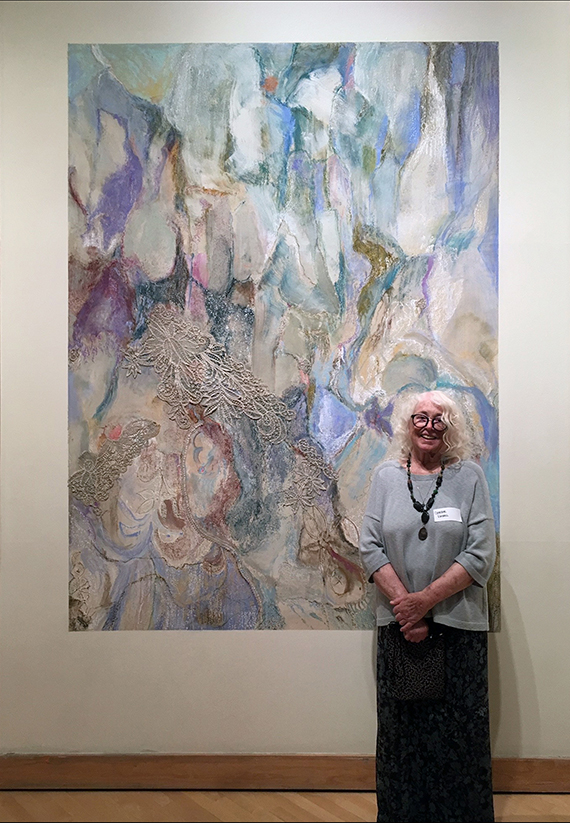 In honor of Debbie Finley Justus and Candace Spitzer.
Pastels with water, vintage lace
Here is what I think: Approaching the end of middle age and facing the last third of my life, I've recently begun to ask myself a few questions. "With the time I have left to me, what can I do with art? Especially, how will I paint as my body is finding it more and more difficult to move those eighteen-foot paintings? Do I want to keep placing my work out there anymore?"
Here is what I know: I am an artist, through and through. Even if I never painted again, it's what I am. I can go a year without doing much in the studio, and the next few months produce enough good work for an exhibit. My "being" is an artist, my soul is art. With its despair, love, hate, and passion, bitterness and contentment, all of this intensity of feeling and thought come from my mind, heart, and soul and becomes part of my paintings.
Here's what I hope: I hope my daughter continues her newfound passion in design and that my two grandchildren will find "their gifts." I hope that my work continues to change and prosper. I am a huge believer in change, and I hope that my work becomes more fun and less work. I don't feel like worrying so much about it anymore. I've reached a place where I'm feeling good about my paintings. I have more confidence about the quality and now I am starting a new series. How much more hopeful can one be?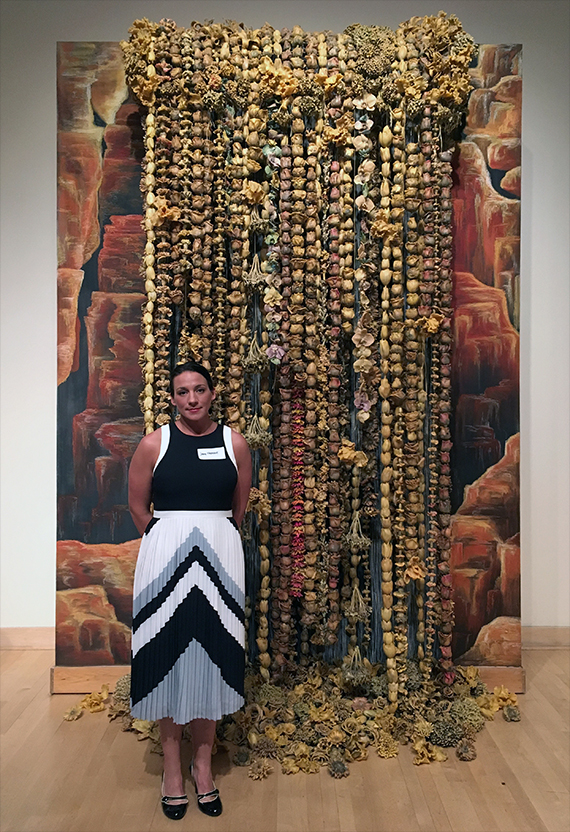 Fresh flowers, beeswax, artificial sinew, charcoal, white charcoal, soft pastels
My project for Drawn to the Wall VII has been made possible through the generous donation of flower bouquets received from friends, family, and local stores, in addition to beeswas received from Highland Honey Farms. Each bouquet took about 1.5 hours to prepare and dip in 2-3 coats of warmed beeswax. The process for dipping all the flowers took approximately 988 hours and counting.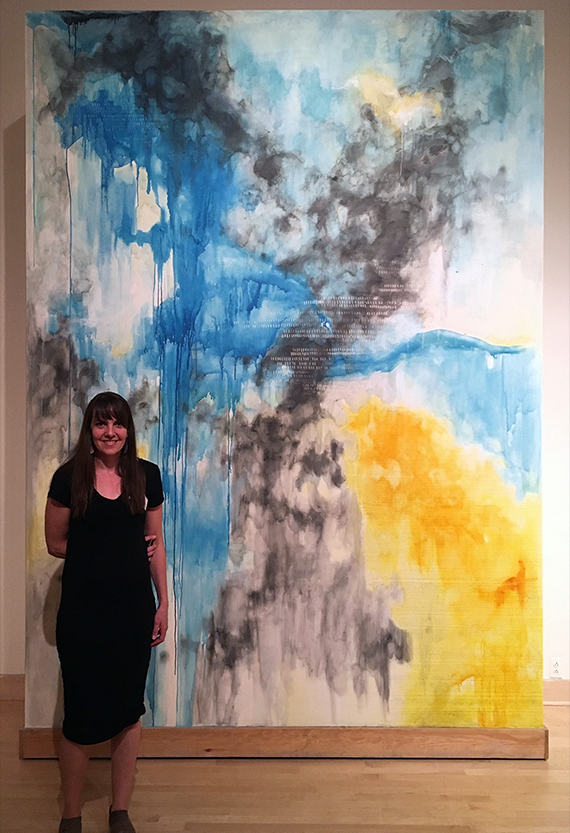 Watercolor and graphite
Scientific theories, memories, and the visualization of data and biological systems inspires and informs my art. I use this inspiration to create atmospheric mixed-media paintings featuring forms created from the abundant accumulation of handmade marks. Layers of paint and graphite are built up, buried, and re-exposed through carving and sanding to reveal and conceal text and data from different stages of my process. As in memory, this painted information comes together and disperses, engaging in a constant continuum of growth and decay.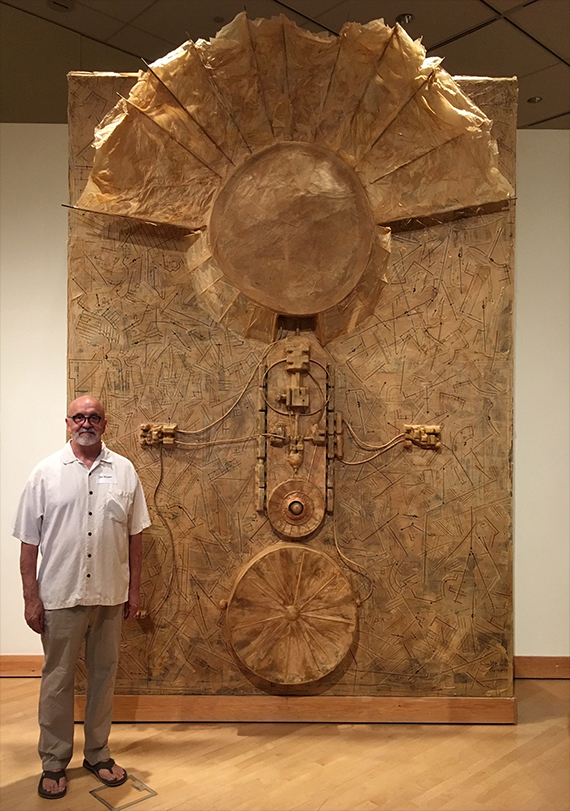 Dress patterns, wood, glue, surgical tubing, packing materials, embroidery hoops, wiggle board
I have been working and exhibiting in the fine arts field for 30 years. The work uses variety of materials tailored to the intent and content of the art. Being self-taught, I began in the early 70's working with glass, designing and building stained glass windows and fused glass, creating a line of fused glass jewelry. The move into mixed media began in the early 90's when I felt my glass work began to stagnate, I started using arbitrary objects to create order with a visual impact, establishing relationship with the objects.
Arbitrary Order
---
Northwest Profiles: Drawn to Draw
A documentary about Drawn to the Wall IV.
---