We invite you to visit us beginning Monday, August 30, 2021.
All visitors to the museum, including students, faculty, and staff, are required to wear personal protective masks or face coverings at all times while at the Jundt Art Museum.
All visitors are expected to abide by the other rules and protocols for campus visitors to Gonzaga University. Please review our campus visitor guidelines.
The Jundt Art Museum will also be CLOSED the following days in the remainder of 2021:
August 14 through August 29
September 4 through September 6
October 25
November 25 through November 28
December 20 through December 26
From the Collection: Art in the 19th Century
This exhibition presents works of art—all created by European or American artists during the nineteenth century—featuring paintings, sculptures, and prints from the permanent collection of the Jundt Art Museum at Gonzaga University. The display highlights several significant artists, including Honoré-Victorin Daumier, Eugène Delacroix, Francisco José de Goya y Lucientes, Winslow Homer, James Abbott McNeill Whistler, and others, of the era. Some of the themes and subject matter offered by the artists in these images include landscape, the impact of technology, war, history, Romanticism, gender identity, urbanization, and many other topics. These specific works of art have also been chosen by Dr. Paul Manoguerra, director / curator of the Jundt Art Museum, for use in teaching and research by students in VART 395: Art in the 19th Century this fall semester here at GU.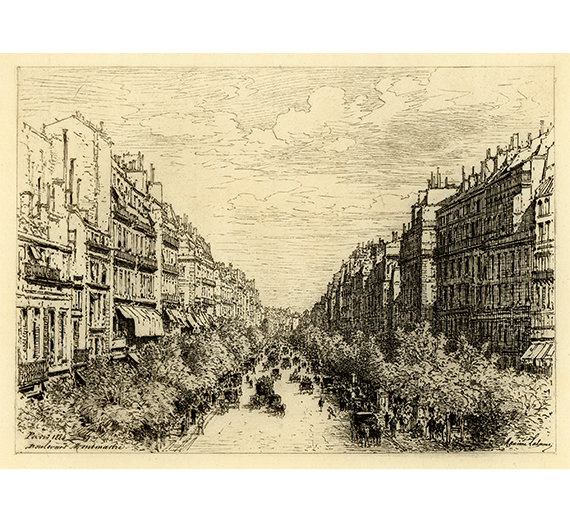 Francois Antoine Maxime Lalanne (French, 1827-1888)
Boulevard Montmartre (detail), 1884
Etching on paper
Jundt Art Museum, Gonzaga University; Bolker Collection; Gift of Norman & Esther Bolker
1984.5.160