Please join us for our exhibition opening reception: Friday, January 17, 2020, 4:00 pm - 7:00 pm. This event is free and open to the public.
A Grand Tour: Images of Italy from the Permanent Collection of the Jundt Art Museum
January 18 to May 9, 2020
Walk-through and tours with Dr. Paul Manoguerra, Director/Curator, Jundt Art Museum:
Friday, January 17, 6:00 pm
Tuesday, January 21, 10:30 am
Friday, February 7 (First Friday), 4:00 pm
Friday, February 14, 12:00 noon
Thursday, March 26, 3:00 pm
Sunday, April 19, 2:00 pm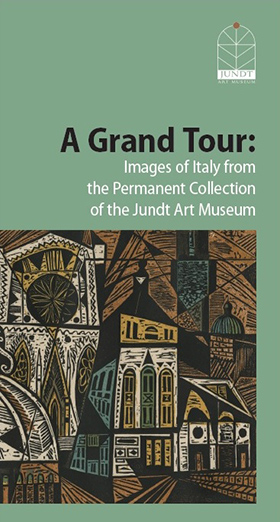 In his book
Italian Hours
, author Henry James often commented on the tourist sites of urban Italy. In 1882, he noted, "The only way to care for Venice as she deserves it is to give her a chance to touch you often—to linger and remain and return." James and other late-nineteenth–century Americans were continuing the British tradition of the Grand Tour in Italy, centered on its most important cultural cities and historic sites. This exhibition functions as a visual travelogue of the Italian peninsula using works of art from the collection of the Jundt Art Museum at Gonzaga University.
Both the exhibition and an accompanying book begin with sixteenth-, seventeenth-, and eighteenth-century European prints, byproducts of artists' visits mostly to the urban centers of Rome and Florence, and conclude with twenty-first-century images. Significant portions of the objects in this exhibition result from the Bolker Collection and from the Fredrick and Genevieve Schlatter Endowed Print Fund. A Grand Tour utilizes the Jundt Art Museum's collection to present artistic imagery of the canals of Venice, the Renaissance architecture of Florence, and the classical remains of Rome, but also sites in Milan, Pisa, Assisi, Naples, and Palermo as well as other cities and towns. We hope that this selection of 76 images of Italy will give pleasure as one introduction to a wide-ranging and astonishing topic and as an opportunity, as James writes, "to linger and remain and return."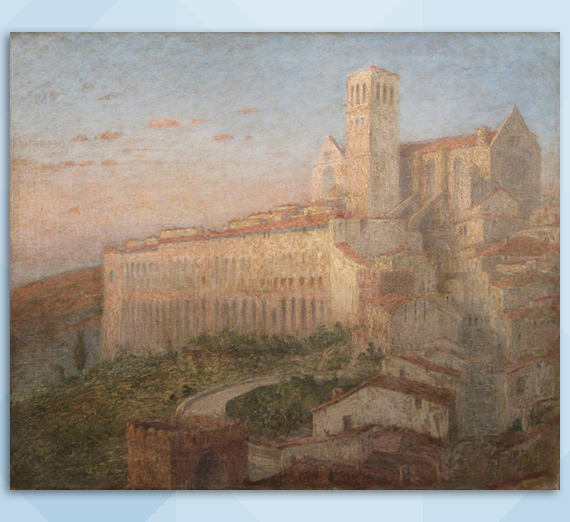 John Ferguson Weir
(American, 1841–1926)
Basilica of San Francesco d'Assisi, Italy, 1902
Oil on canvas, 25" x 30.75", 2018.3
Museum purchase with funds provided by the Jundt Art Museum Annual Campaign and Tula & Max Patterson (class of 1977)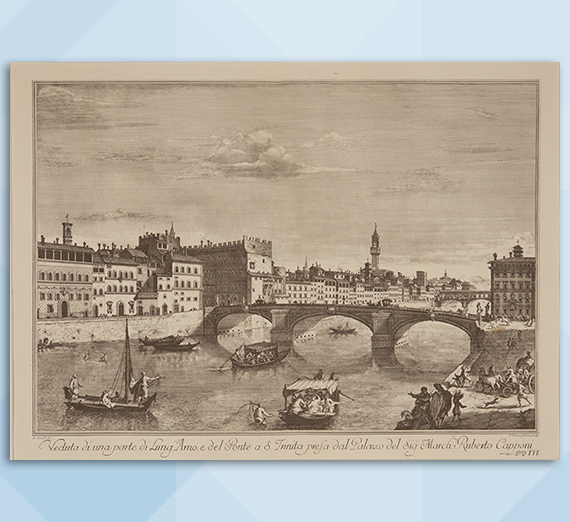 Giuseppe Zocchi (Italian, 1711–1767)
Veduta di una parte di Lung Arno, e del Ponte a S. Trinità,
presa dal Palazzo del Sig: March. Ruberto Capponi, 1754
Engraving on paper,10.75" x 15.5", 2016.6.2
Museum purchase with funds provided by the Fredrick & Genevieve Schlatter Endowed Print Fund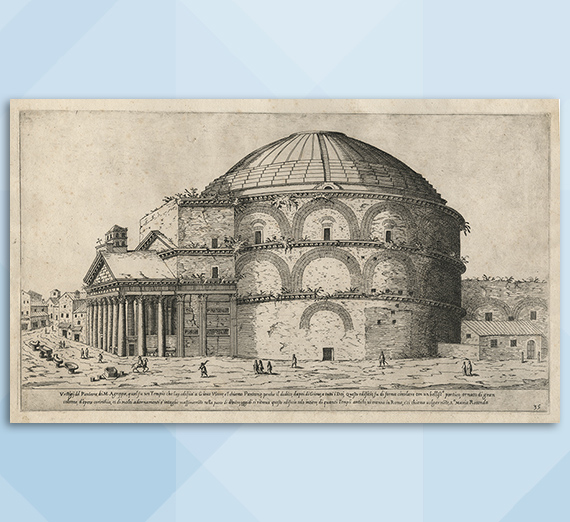 Étienne Dupérac (French, ca. 1535–1604)
Vestigii Panteone di M. Agrippa (Remains of the Pantheon of Marcus Agrippa), 1575
From the Veduta tratta dall'opera I vestigi dell'antichità di Roma raccolti et ritratti in perspettiva
Engraving on paper, 8.5" x 15", 2019.2
Museum purchase with funds provided by the Fredrick & Genevieve Schlatter Endowed Print Fund