Jundt Art Museum at Gonzaga University Closed to the Public
The Jundt Art Museum at Gonzaga University, in consultation with the Dean's office in the College of Arts and Sciences, and with the health of museum staff, student employees, and our visitors in mind, remains closed to the general public. As Gonzaga University continues its plans to resume campus operations, including course instruction, co-curricular activities, on-campus housing, dining, and the full array of students services, for Fall Semester 2020, the Jundt Art Museum is working toward re-opening with the arrival of the semester at the end of August.
Learn more about the Gonzaga University Fall 2020 Campus Reopening plan at ZagOn2020.
The museum will publicize our plans, procedures, and guidelines for re-opening as we get closer to the start of the semester. In this challenging time, all of us at the Jundt Art Museum send best wishes to our students, faculty, visitors, supporters, and colleagues.
MATRIX PRESS: 20 YEARS OF COLLABORATION
August 28, 2020 – January 2, 2021, Jundt Galleries and Arcade Gallery
MATRIX Press was founded in 1998 by Professor of Art James Bailey, at The University of Montana-Missoula, for the purpose of education, development and promotion of printmaking and fine art prints while remaining dedicated to supporting the development of artists working within the printmaking discipline.
As part of its mission MATRIX Press brings in nationally and internationally known artists to produce limited edition prints in collaboration with students and printmaking faculty. Prints produced through MATRIX Press are available for purchase through the Print Studio with all proceeds going to benefit the continuing efforts to produce limited editioned prints and the education of students and the community with regard to printmaking. (from the Matrix Press website)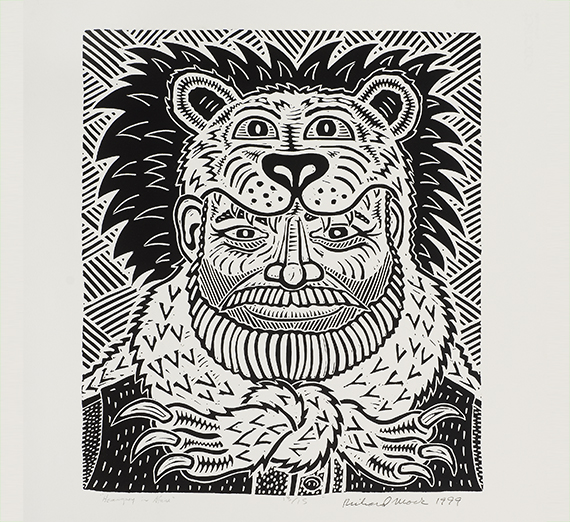 Richard Mock (American, 1944-2006)
Hemingway in Africa, 1998
Linoleum cut, 19" x 16"
2002.15
Museum purchase with funds provided by the Fredrick & Genevieve Schlatter Endowed Print Fund