The Jundt Art Museum at Gonzaga University remains CLOSED to the general public.
Open September 1, 2020, for Gonzaga Community ONLY by Appointment.
Visits are limited to current Gonzaga University community members for educational purposes
Appointments for individuals or groups of 5 people or fewer
All visitors are required to wear personal protective masks or face coverings while at the Jundt Art Museum
Visitors are required to sign in and provide contact information per county, state, and Gonzaga University required contact tracing efforts
Faculty are invited to split their classes into groups of 5 students for back-to-back visits, and both self-guided and staff-guided tours are available.
Appointments are available Mondays through Fridays, from 10 a.m. to 3 p.m.
Please call Anna Stiles at 509-313-6611 to schedule an appointment.
Appointments for the GU Community will be officially approved ONLY with a confirmation e-mail from a museum staff member.
The museum will publicize our plans, procedures, and guidelines for reopening to the general public when circumstances permit. Please also follow the Jundt Art Museum on Facebook or Twitter for up-to-date information.
Learn more about the Gonzaga University Fall 2020 Campus Reopening plan at ZagOn2020.
Seven Years of Acquisitions, 2013-2020
January 16 through May 8, 2021, Jundt Galleries and Arcade Gallery
In celebration of its 25th anniversary, the Jundt Art Museum has organized a special permanent collection display. Thanks to the benevolence of many donors, the vigilance of the museum staff members, and the museum's relationship with collectors and galleries, the collections of the Jundt Art Museum remain constantly growing, improving, and expanding in support of Gonzaga's Jesuit and Humanistic mission. The function of collecting represents one essential attribute of a healthy, active, academic museum. Seven Years of Acquisitions, 2013-2020 features a sampling of more than 100 works from the wide range of objects the museum has obtained since the appointment of Dr. Paul Manoguerra as director/curator in 2013. The exhibition celebrates the donors who have been generous to the art museum over the last seven years, and includes works by Ansel Adams, Harold Balazs, George Bellows, Alexander Calder, Marc Chagall, Corita Kent, Dorothea Lange, Andy Warhol, and many others.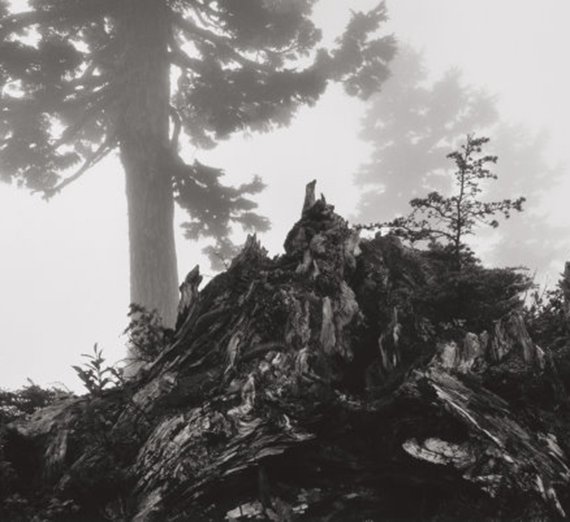 Ansel Adams (American, 1902–1984)
Tree, Stump and Mist, Northern Cascades, Washington, 1976 Gelatin silver print
Jundt Art Museum, Gonzaga University; Museum purchase with funds provided by the Jundt Art Museum Annual Campaign
2014.6