Jundt Art Museum at Gonzaga University Closed to the Public
The Jundt Art Museum at Gonzaga University, in consultation with the Dean's office in the College of Arts and Sciences, and with the health of museum staff, student employees, and our visitors in mind, has made the difficult decision to close to the public until further notice. All public programs and tours, including the announced gallery walk-through on March 26, 2020 at 3 p.m., are canceled. As Gonzaga University continues to assess and to announce its intentions for the remainder of the spring semester 2020, the museum may need to publicize adjustments and changes to our plans.
In this challenging time, all of us at the Jundt Art Museum send best wishes to our students, faculty, visitors, supporters, and colleagues.
Watch a Virtual Gallery Walk Through of Our Current Exhibit,
A Grand Tour: Images of Italy from the Permanent Collection of the Jundt Art Museum
From the Collection on the 100th Anniversary of the 19th Amendment: Prints by Women
January 18 to May 9, 2020
The year 2020 marks the 100th anniversary of the formal ratification by the states of the 19th Amendment to the US Constitution, guaranteeing and protecting women's right to vote. This historic centennial offers an unparalleled opportunity to commemorate a milestone of democracy and to explore its relevance to the issues of equal rights today. Gonzaga University is embracing the opportunity to honor this milestone, explore relevant issues, and enliven the tenets of Gonzaga's mission for social justice and care for the whole person. The 19th: For Her, For All is Gonzaga's Committee to recognize the centennial. The Jundt Art Museum celebrates the 100th anniversary of the 19th Amendment with this special exhibition, Prints by Women, featuring 20 images created by American female artists from each decade since 1920. The display includes prints created by several internationally-known artists such as Dorothy Dehner, Corita Kent, Alice Neel, Alison Saar, and Cindy Sherman.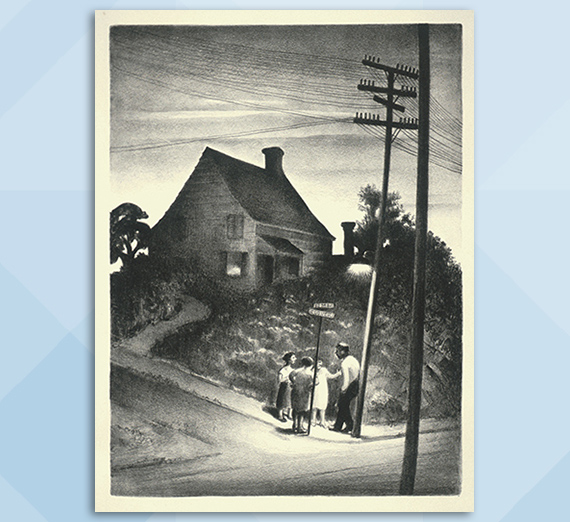 Mabel Dwight (American, 1875–1955)
Dusk, 1929
Lithograph on paper,13" x 9.75"
Jundt Art Museum, Gonzaga University; Gift of Weyhe Gallery
1998.1.3
Riva Helfond (American, 1910–2002)
Midway, 1945
Screenprint on paper, 17.5" x 14.25"
Jundt Art Museum, Gonzaga University; Museum purchase with funds provided by the Fredrick and Genevieve Schlatter Endowed Print Fund
2001.22