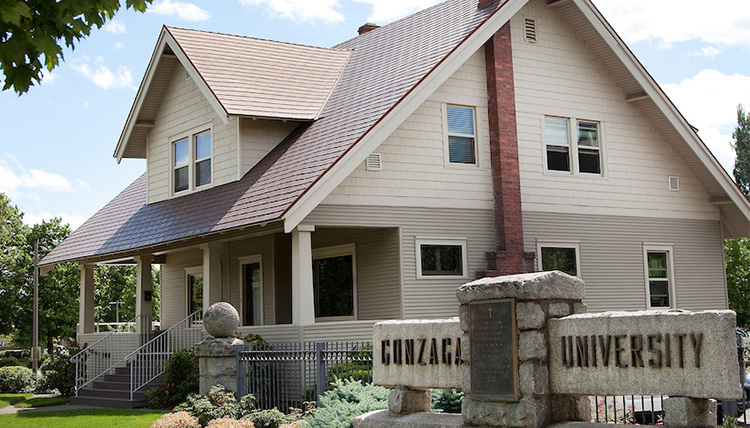 The Crosby House Museum will be closed Wednesday November 22 - Friday November 24th.
Normal hours will resume Saturday November 25th.
Crosby House Museum
Hours
Monday 1 pm - 4 pm

Wednesday 1 pm - 4 pm

Friday 1 pm - 4 pm

Saturday 1 pm - 4 pm
Overview
Gonzaga University houses a large collection of material relating to 20th Century singer and actor Harry Lillis (Bing) Crosby, a native of Spokane and alumnus of Gonzaga. Now part of Gonzaga, Crosby's childhood home was built in 1911 and still stands at its original location. The main floor houses over 200 Crosby items including gold records, trophies, awards, and his Oscar for Going My Way (1944). What is not on display is stored in the University Archives and Special Collections' vault in the Foley Center Library.
The museum is free and open to the public.
Location and Parking
508 E. Sharp Avenue
Spokane, WA 99258
Free visitor parking is available behind the Crosby House Museum.
For information, contact 509-313-4064 or email: uasc@gonzaga.edu

Bing and Gonzaga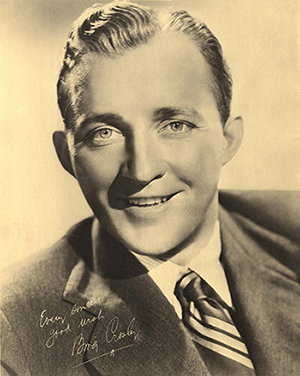 Harry Lillis Crosby was born on May 3, 1903 in Tacoma, Washington, to Harry Lowe and Catherine Harrigan Crosby.
Young Harry and a neighbor, Valentine Hobart, shared an interest in the comic feature "The Bingville Bugle," in which the lead character was named Bingo. In 1910 Valentine began calling Harry "Bingo." This caught on with his friends and family, and eventually the name was shortened to "Bing."
Bing graduated from Gonzaga High School in 1920 and in the fall began attending Gonzaga University with the intention of becoming a lawyer. Because Bing and his family lived so close to Gonzaga, Bing and his brothers were day students.
While at Gonzaga, Bing began playing drums and in 1921 joined a six piece combo group called The Musicaladers. They played at dances and private parties, and other places around town, and eventually Bing left school to focus on music.
A life-long supporter of Gonzaga University, Bing received an honorary degree from Gonzaga in 1937 and contributed to its library campaign in 1957. Gonzaga honored him with its highest award, the DeSmet Medal, in 1968.
He died October 14, 1977 from a heart attack while playing golf near Madrid, Spain.
Key facts:
He made more studio recordings than any other singer.
He recorded the most popular record ever, "White Christmas", the only single to make American pop charts twenty times.
Between 1927 and 1962 he scored 368 charted records under his own name, compared to Elvis (149), Beatles (68).
He scored the most number one hits ever, 38 compared to the Beatles (24), Elvis (18)
Appearing in 104 films, he was nominated for an Academy Award for best actor three times and won for Going My Way in 1944.
He financed and popularized the development of tape, revolutionizing the recording industry.
(Giddins, Pocketful of Dreams, 2001)
The Crosby family sold their home in 1936 for $3,500 to C.P. and Margaret Higgins. Later on, Mrs. Higgins rented out rooms to Gonzaga students. After her death, the family sold the house to the Gonzaga Alumni Association in 1980. When the Alumni Association moved across the street to the former Bishop White Seminary in 2009, ownership was transferred to the University, which uses the second floor bedrooms for offices.
More information, and the remainder of the vast Crosby collection, is available through the University Archives and Special Collections Department (UASC) at Foley Library.
Bing Crosby Collection at Foley Library.