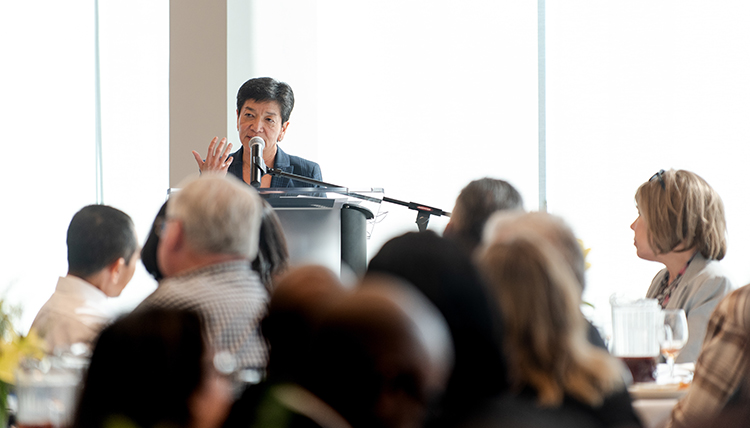 Upcoming Events
January 22 - February 26, 2019
Forgotten Prison Podcast
KNKX Radio

The Center for Civil and Human Rights is sponsoring Forgotten Prison, a new podcast about McNeil Island in the South Puget Sound. Dubbed "the Alcatraz you've never heard of," the six-part series, starting January 22, explores a now-abandoned prison on the island that operated for 136 years.
February 28, 2019
An Evening with Kimberlé Crenshaw
Hemmingson Center, 7 p.m. - 8:30 p.m.
For full information, including where to obtain complimentary tickets, please click here.

Join the Center for Civil and Human Rights at Gonzaga Law as it welcomes famed legal scholar Kimberlé Crenshaw to Gonzaga University. Crenshaw is a major scholar in race and the law, feminist legal theory, and Critical Race Theory. She is best known for having coined the term and theorized the concept of Intersectionality.

This event is co-sponsored by Gonzaga's Center for Public Humanities and the Office of Diversity and Inclusion.
March 18-23, 2019
Jurist-in-Residence John Charles Thomas
Law School

The 2019 Jurist-in-Residence, Justice John Charles Thomas, will be on campus the week of March 18 to teach a one-credit short course titled "Civil Rights Lawyering." Justice Thomas was the first African American appointed to the Supreme Court of Virginia, in 1983. After 7 years, Justice Thomas retired from the Supreme Court and he is now a senior partner at the Virginia firm of Hunton Andrews Kurthwhere he focuses on appellate practice, general litigation, and alternative dispute resolution. In addition to teaching his course, Justice Thomas will also be delivering the annual William O. Douglas lecture.
April 1-15, 2019
Holocaust Art Contest: "Speaking Up for the Other"
3rd Floor of the Law School

The Center for Civil and Human Rights is co-hosting the 2019 Spokane Community Observance of the Holocaust Art Contest: "Speaking Up for the Other." Following lessons on the Holocaust, Spokane middle school and high school students created works of art addressing the meaning of "the other," both historically and today. Their work will be displayed on the 3rd Floor of the Law School, and will include a reception for students and guests on the evening of April 15th from 7:00-8:00pm.

This event is co-sponsored by Temple Beth Shalom and Gonzaga's Institute for Hate Studies.
April 2-4, 2019
Building Peace through Kindness, Dialogue, and Forgiveness
Gonzaga University

The Center for Civil and Human Rights is participating in the Fifth International Conference on Hate Studies at Gonzaga University, one of the leading interdisciplinary academic forums on hate, related social problems, and ways to create socially just and inclusive communities.

This event is sponsored by the Gonzaga Institute for Hate Studies. Proposal submissions accepted until February 1. Sponsorships are available. Community non-profits and volunteers can register at a discounted rate. Students welcome. Register at www.gonzag.edu/hatestudies.
June 2-3, 2019
Gonzaga University School of Law's Third Annual Human Rights Symposium
Freedom of Expression as a Human Right
Florence, Italy

The Center for Civil and Human Rights is partnering with the Gonzaga in Florence program to hold a Human Rights Symposium on June 2-3, 2019. The Center is sponsoring University of Virginia President Emerita Teresa A. Sullivan, who led UVA for eight years and was the University's first woman president, to give the evening keynote.

This event is co-sponsored with Gonzaga University's Center for Global Engagement and Robert F. Kennedy Human Rights Italia.
Past Events
Justice Steven González Spends Week with Gonzaga Law Community