By Law Zags, For The ZagLaw Community
Welcome to All Rise: The Gonzaga Law School Podcast. Each episode, All Rise invites a special guest to discuss their legal career and relationship with Gonzaga. Season 1 will contain five thought-provoking episodes. Check back on Fridays throughout November and December to catch up with the latest episodes.
A special thanks to Gonzaga Law alumnus Ryan McNeice ('05) for hosting Season 1 of All Rise: The Gonzaga Law Podcast.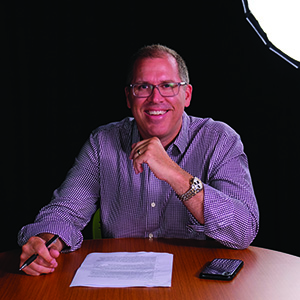 For the last decade and a half, McNeice has been an active and supportive member of the ZagLaw community. He is the founder of McNeice Wheeler, PLLC as well as Fifty7media, a local media company.
Episode 1: Bob Ferguson: Washington State Attorney General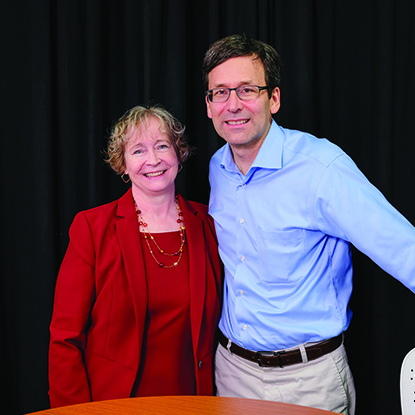 Bob Ferguson with episode interviewer Professor Ann Murphy
Released Friday, November 8, 2019
Long before he was the Attorney General of Washington, Bob Ferguson was a passionate law student dedicated to increasing access to justice in his home state of Washington. Listen to our first episode of All Rise to learn about Ferguson's journey to the office of the Attorney General of Washington. Ferguson also reveals which historical person he greatly admires, as well as his all-time favorite Supreme Court Justice. "If I could teach one thing, as my job as a lawyer, it would be the importance of listening because it's undervalued and underappreciated," Ferguson said.
Episode 2: Trey Dolezal ('92): Breaking into the World of Sports Law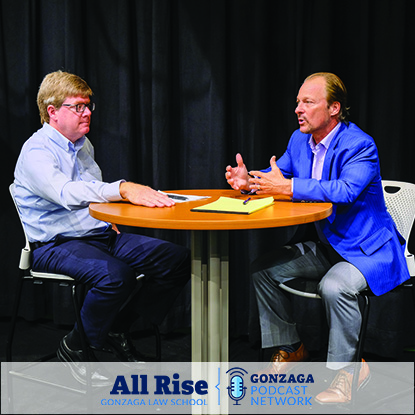 Trey Dolezal with episode interviewer Professor Patrick Charles
Released Friday, November 15, 2019
Gonzaga Law alumnus Trey Dolezal ('92) wears a multitude of hats. Husband, father, practicing attorney, and experienced sports agent, to name a few. Dolezal's interest in sports law goes all the way back to his days at Gonzaga Law and he has represented various athletes for the last twenty years. Interested in breaking into sports law yourself? According to Dolezal, "Sports law is probably the hardest thing to figure out how to get into. Building connections is important. Beat down doors and never give up." Listen to the newest episode of All Rise: The Gonzaga Law Podcast to learn more about the highly competitive world of sports agents.
Episode 3: Sather Gowdy: A Transformative Journey Through Law School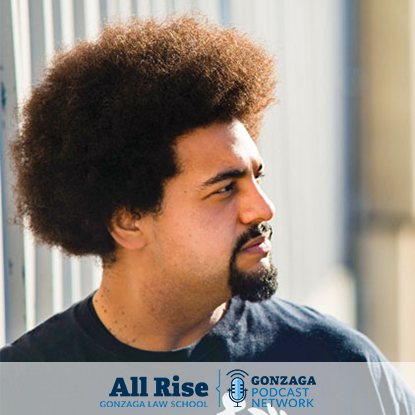 Sather Gowdy was interviewed by Ryan McNeice
Released Friday, November 22, 2019
Sather Gowdy ('19) knew from the age of seven that he wanted to pursue a career as a lawyer. This dream proved to be a winding and difficult road but he would be the first to tell you that it was a worthwhile one. While still in law school, Gowdy founded HealSpokane, a nonprofit that strives to support the Spokane community through small acts of kindness. Listen to this week's All Rise episode to hear Gowdy's transformative journey through law school.
Episode 4: Emily Hazen: Advocating for Vulnerable Populations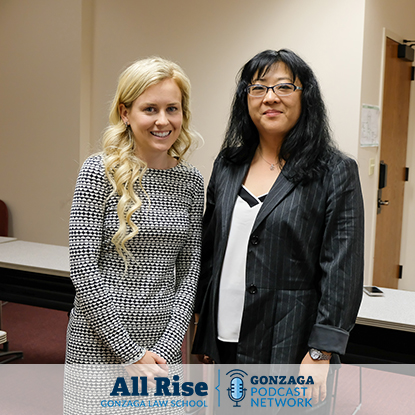 Emily Hazen with episode interviewer Professor Kim Hai Pearson
Released Friday, December 6, 2019
Emily Hazen ('19) grew up with a dream to graduate from the U.S. Air Force Academy. However, Hazen left the Academy to pursue her degree elsewhere and became an advocate for military members who are survivors of sexual assault. Hazen's passion for advocating for vulnerable populations guided her law school journey, and she was a Thomas More Scholar while at Gonzaga Law. Hazen is particularly interested in researching eating disorders and their relationship to military sexual trauma.

"Gonzaga gave me the support and confidence to share my story," Hazen said.

Listen to this week's episode of All Rise to learn more about Hazen's harrowing story and the strength she found at Gonzaga Law.
Episode 5 – John Kroger: From Politics to Prosecuting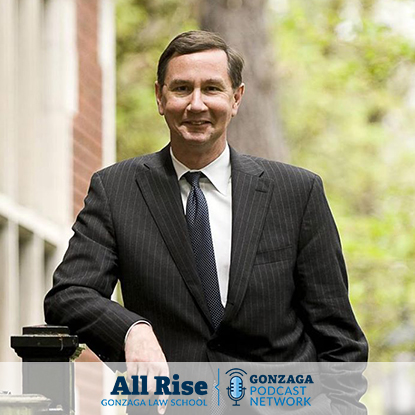 Released Friday, December 13, 2019
John Kroger is a former President of Reed College in Oregon, but before his career in academia, Kroger got his start in politics. He worked with powerful politicians such as President Bill Clinton and U.S. Senator Chuck Schumer but quickly realized that he felt called to a higher form of public service. In this week's episode of All Rise, Kroger shares about his struggles to fully comprehend the ethical implications of being a prosecutor. To help answer this question, Kroger embarked on a cross-country bike trip to reflect on his life and career and eventually found fulfillment in teaching the law to the next generation. "Law school is the very best way to prepare for a life committed to social change," Kroger concluded.