Many public and private entities sponsor and support Gonzaga senior projects. During the past 25 years of the CEDE program, students have benefited from the guidance and expertise of the liaisons that the companies have provided and the resources they have supplied.
Sponsor Benefits: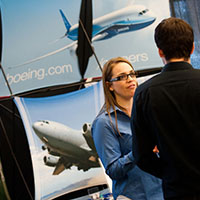 Sponsors receive a practical project completed by students and faculty members.
Sponsors have the opportunity to evaluate bright, innovative senior students as prospective employees throughout the design process.
Our up-to-date technology and facilities, including an in-house machine shop and a well-equipped electrical engineering test shop, add to the capacity of the sponsoring company.
Senior Projects provide sponsors a way to explore a technical challenge or idea for a relatively small investment.
Sponsor Provides: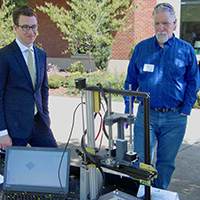 A liaison engineer, offering technical direction and advice to the student team, monitoring the project's progress and ensuring that the project meets the needs of the sponsor. The liaison should anticipate contact with the team at least twice per month via telephone.
Access to sponsor resources.
Sponsorship fees are determined based on company size and project scope.
Sponsor a Senior Design Project
Past Sponsors
Assured Independence
ATC Manufacturing
AVISTA
Boeing
Buck Knives
City of Spokane
Comsem.net
DOWL
Gonzaga University Academic Departments
Gonzaga University Athletics (Baseball)
Haakon
Immobiliare
Integrus Architecture
Kaiser Aluminum
Knife River Prestress
KREM 2
Lands Council, The
Lung Technologies LLC
NIOSH
Niricson Software
Oregon State University
Osborn Consulting
Quanta Subsurface
Rudolf Fitness Center
SAE Baja Club
Smart Antenna & Radio Lab (SARL)
Spokane County
Spokane Wastewater Management
Verint
WaltJay Consulting
xpollin