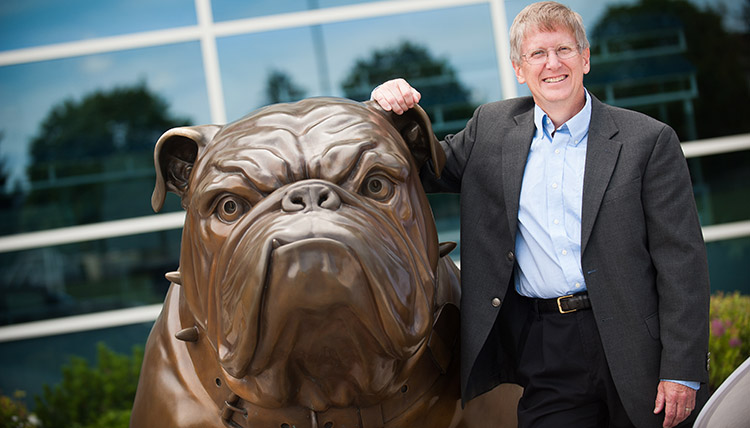 Welcome to Gonzaga University's School of Engineering and Applied Science (SEAS)
SEAS is a vibrant place to study the engineering and computer-science disciplines with strong student enrollment, continuing expansion of an exceptional faculty, increasingly rich student experiences both inside and outside the classroom, and a faculty / staff dedicated to supporting those experiences through personal support of our students and their projects.
Our Students
The SEAS faculty share a deep pride for our students. Our student body is entrepreneurial, focused on excellence, and dedicated to serving humanity and the natural environment. All of our students complete senior design projects that, whether based on industry ideas or the entrepreneurial ideas of teams of our students, are often extraordinary and creative. These projects reflect close collaboration among the students, their advisors, liaisons from industry, and professionals volunteering their time to work with these teams.
We currently have more than a dozen active student clubs and chapters of professional societies. These organizations are very active, including efforts to mentor freshman SEAS students, bring industry professionals in for formal discussions on career opportunities, pursue community service both locally and internationally, and (of course!) participate actively in multiple, national competitions such as the Autonomous Submarine and the Baja Car competitions. Our students are also active in such activities as music, sports teams, and part-time employment. They are a busy crew!
Our Faculty
I am excited to note that, once again this year, we are seeking two new tenure-stream faculty positions – this year in Mechanical Engineering. If we are successful in these hires, we will have added 12 new tenure-stream faculty over the past five years! In addition, we have several lecturers who are excited to share their expertise and industry experience with our students.
Our faculty are also increasingly involved in research efforts that directly involve our students both in the project efforts themselves and in presentation of this work at regional and national conferences.
Our Facilities
While we continue our dedication to maintain quality laboratories associated with each of our engineering and computer science programs within the current PACCAR and Herak Buildings, we are extremely excited by the opportunities represented through our expansion into the new Integrated Science and Engineering (ISE) Building that is in the final stages of architectural design. This building will provide state-of-the-art laboratories in the engineering and science disciplines, two innovation centers, sophisticated student project spaces, faculty offices, and substantial open sharing space for students in engineering, computer science, and the natural sciences. Please watch our web site over the coming year to find updates on this innovative new facility.
Our Alumni and Industry Friends
I continue to be extremely grateful for our close relationship with both alumni and friends of the SEAS. Through the combined efforts of our Executive Council, Design Advisory Board, and a number of alumni and friends supporting our programs through stories of their careers, volunteering to guide our undergraduates, and providing critical financial support, our School remains a healthy and dynamic place where those serious about engineering and computer science can learn, grow and thrive.
Please reach out to us if you have questions or work with our Office of Admissions if you would like to arrange a visit. Thank you for the privilege and honor of allowing me to share our School with you.
Stephen E. Silliman
Dean, School of Engineering and Applied Science