CURCI Fellows and Research Assistants
The Center for Undergraduate Research & Creative Inquiry (CURCI) aims to support the scholarly and creative works of students majoring within the College of Arts and Sciences (CAS). Support comes in the form of academic year fellowships or assistantships arising from a mixture of benefaction, internal funding, and federal work-study positions.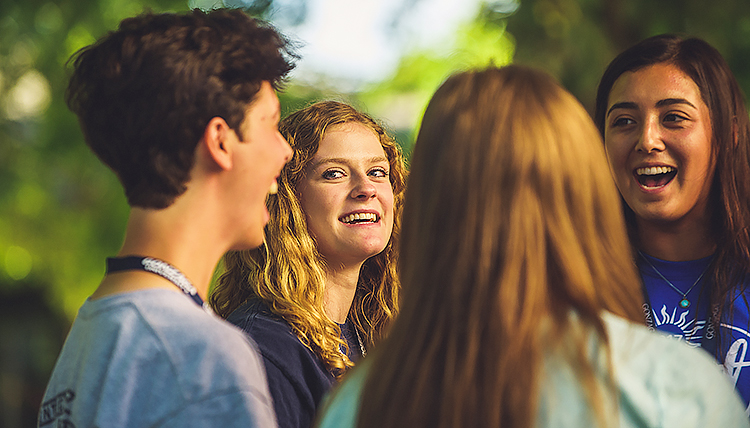 For eligibility information and application, please visit myGU.
CURCI Fellows & Research Assistants
2020-2021 CURCI Research Assistants
Meghan Brown, Class of 2024, Psychology Major, (faculty supervisor: Dr. Casey Schmitt)
Blake Fry, Class of 2022, Business Administration Major, (faculty supervisor: Dr. Kathleen Jeffs)
Christa Langdon, Class of 2023, Criminology Major, (faculty supervisor: Dr. Melissa Click)
Kylie Paquette, Class of 2021, Psychology Major, (faculty supervisor: Dr. Melissa Click)
Harleen Randhawa, Class of 2024, Biology Major, (faculty supervisor: Dr. Ann Ostendorf)
Isabelle Robinson, Class of 2021, Criminology Major, (faculty supervisor: Dr. Kathleen Jeffs)
Rhian Thomas, Class of 2021, Biology Major (faculty supervisor: Dr. Raven Maragh-Lloyd)
Samuel McLaughlin, Class of 2024, English Major (faculty supervisor: Professor Jeffrey Dodd)
SP van Niekerk, Class of 2021, English Major (faculty supervisor: Professor Jeffrey Dodd)
Maren Beauchamp, Class of 2021, Communication Studies Major (faculty supervisor: Dr. Rebecca Marquis)
2020-2021 CURCI Humanities Scholars, funded by the McDonald Work Award Program:
Georgia Cosola, Class of 2022, Psychology Major
Lizzie Vosler, Class of 2021, English Major
2019-2020 CURCI Fellows
Joan-Marie Aoanan, Class of 2021, Math & Computer Science Majors & Caroline Sonnen, Class of 2021, Computer Science & Computational Thinking Majors, (faculty mentor: Dr. Raven Maragh-Lloyd): Black Women and Community Care at GU
Holly Ebel, Class of 2020, Nursing Major, (faculty mentor: Dr. Jeff Dodd): The Use of Differentiated Service Delivery Models in HIV/AIDS Care for Sex Workers in Sub-Saharan Africa
Amy Bruza, Class of 2020, English Major, (faculty mentor: Dr. Chase Bollig): College Health Hacks: A Rhetorical Approach to Student Wellness
Nathan Remcho, Class of 2021, Political Science, International Relations & Spanish Majors, (faculty mentor: Prof. Robert Beverlin): The Guatemalan Impact:
Sociopolitical Impacts of Guatemalan Migration to the United States as a Result of the Guatemalan Civil War (1960-1996)
Emily Klein, Class of 2020, English & International Studies Majors, (faculty mentor: Dr. Ann Ciasullo): Retroactive Representation or Revisionist History?
The Emphasis of Postcolonial and Queer Identities in Films Inspired the Music of the '60s and '70s
Jake Paulin, Class of 2020, Psychology Major, (faculty mentor: Dr. Alexander Bies): Psychedelics Drugs in Medicine: Overcoming the Negative Stereotype Linked to Psychedelics In Order to Gain Social Acceptance and Treat Mental Illnesses
Anna Gade, Class of 2021, Psychology Major, (faculty mentor: Dr. Paul Romanowich): Within-Subject Replication of Social Discounting Magnitude and Culture Effects
Christopher Combs, Class of 2021, History Major, (faculty mentor: Dr. Jessica Maucione): The Sexual Revolution: Queer Identity and the Shaping of Modern Cuba
Tiana Pereira, Class of 2021, Psychology & Criminal Justice Majors, (faculty mentor: Dr. Noralis Rodriguez-Coss): Documentation and digital archive of inaugural conference on Island Feminisms