The Honors Program is more than an academic program; it is a diverse community passionately committed to education and learning from one's peers. Through interaction in the Honors seminars and colloquia, Honors retreats and events, and hanging around Hopkins House, students have ample opportunity to form friendships with their fellow classmates. This creates a unique sense of community, an "Honors family" within the larger Gonzaga community.
The Honors Community
Arguably the best part of being an Honors student is having the Honors family. In the first months of college life, being a part of the program provides a catalyst for forming friendships with classmates, and Hopkins House provides a homey atmosphere that can be a refreshing break from life in the dorms. In sophomore, junior, and senior year, the friendships within the Honors Program are often some of the closest friendships formed during college.
Hopkins House: the Honors House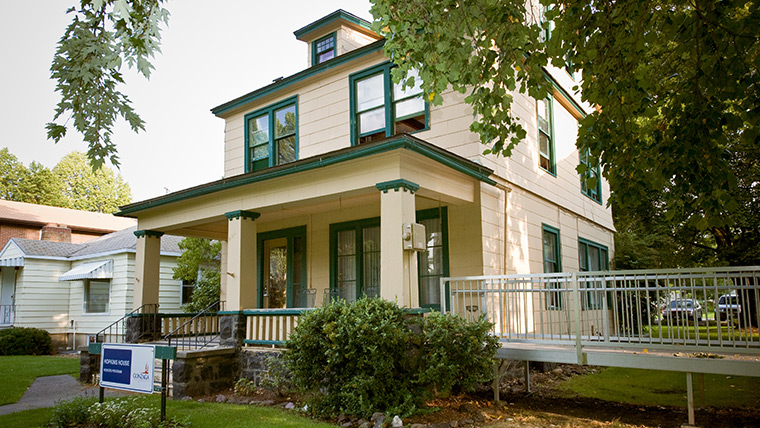 One of the most popular features of the Honors Program is Hopkins House, where students can rest and relax, as well as do homework away from dorm distractions and gather together in small study groups. Hopkins has a warm living room, kitchen and the director's office on the first floor, an electronic seminar room and two study rooms with computers on the second floor, and a study room area with two more computers on the third floor. The third floor, colloquially known as Mt. Olympus, also has an entertainment center. Altogether, Hopkins has five computers available to students all equipped with high-speed internet access through the Gonzaga network as well as access to a network printer, copier, scanner, and fax machine. Hopkins is also wireless for students with laptops to link up to the University network or the internet. Hopkins facilities are accessible 24 hours a day, 7 days a week.
Piraeus
Piraeus is a house available for Honors students. First-year students and sophomores live in the dorms, while juniors and seniors are offered the option of living in Piraeus.
Faculty and Students
Honors students cut across all ideological, geographic, socioeconomic, and ethnic lines. The Program prides itself in its diversity of perspectives and personalities. It includes students from private and public high schools who major in a wide variety of disciplines. Program graduates are regularly placed in highly competitive graduate and professional programs throughout the country.
Honors faculty members are a selectively rotated cross-section of Gonzaga's most experienced professors. These professors' profiles and personalities are as diverse as the students', providing a strong balance between classical and progressive teaching methodologies.
Honors Program in the Gonzaga Community
The Honors Program also cultivates a sense of civic responsibility and service to those less fortunate. Honors students have traditionally been very involved in wider student life, particularly in theater, choir, music ensembles, student government, and the student newspaper. Some Honors students have also played important roles in retreat programs through University Ministry and First Year Student Orientation through the Department of Student Development. All Honors students are expected to have some involvement in the wider University. While most Honors students go on to pursue advanced degrees, a substantial number of students end up deciding to enter the Jesuit Volunteer Corps (J.V.C.) and other service programs before heading off to graduate school. Honors students graduate with BA, Honors or BS, Honors.