Honors allows all students to envision how they can flourish in a complex and changing world.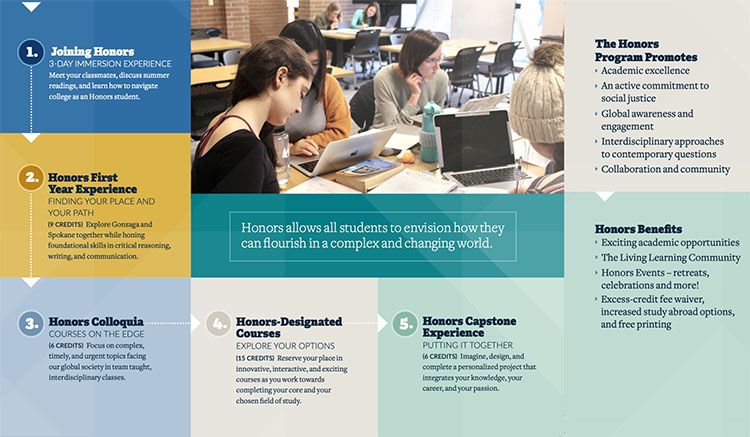 ---
Joining Honors
3-DAY IMMERSION EXPERIENCE
Meet your classmates, discuss summer readings, and learn how to navigate college as an Honors student.
Honors First Year Experience
FINDING YOUR PLACE AND YOUR PATH
(9 CREDITS) Explore Gonzaga and Spokane together while honing foundational skills in critical reasoning, writing, and communication.
Honors Colloquia
COURSES ON THE EDGE
(6 CREDITS) Focus on complex, timely, and urgent topics facing our global society in team taught, interdisciplinary classes.
Honors-Designated Courses
EXPLORE YOUR OPTIONS
(15 CREDITS) Reserve your place in innovative, interactive, and exciting courses as you work towards completing your core and your chosen field of study.
Honors Capstone Experience
PUTTING IT TOGETHER
(6 CREDITS) Imagine, design, and complete a personalized project that integrates your knowledge, your career, and your passion.