Opportunity Northeast, Gonzaga's place-based initiative, is strategically focused on improving outcomes for children, youth and families in Northeast Spokane.
This endeavor engages Gonzaga students in transformative, real-world educational experiences, and offers staff and faculty the opportunity to engage more deeply in the shared work of community development through community-engaged scholarship, teaching, research and implementation.
Opportunity Northeast is housed in the Center for Community Engagement. You can learn more about the Center for Community Engagement here.
Northeast Neighborhoods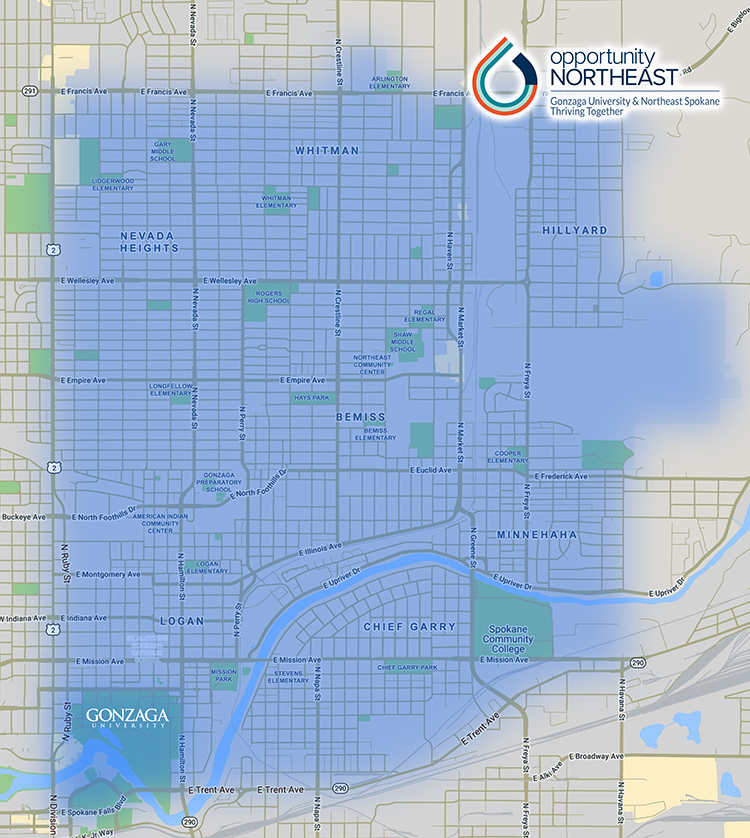 Northeast Spokane includes the neighborhoods of: Bemiss, Chief Garry Park, Hillyard, Logan, Minnehaha, Nevada Heights, Whitman and part of East Central and Shiloh Hills. Many of these neighborhoods are located in the 99207 zip code/District One.
Our Focus Areas
FOCUS AREA I: WHOLE HEALTH
Improve whole health outcomes for individuals and families residing in Northeast Spokane by developing projects and partnerships that increase access to health and wellness services, healthy foods, and high-quality affordable housing while building a more connected community and strengthening social capital.
FOCUS AREA II: EDUCATIONAL OPPORTUNITY
Build a pipeline of support that improves educational access, outcomes, and opportunity for children and youth living in Northeast Spokane. Offer educational opportunities and programs for adults that contribute to job readiness and increased financial security.
FOCUS AREA III: ENGAGED CAMPUS & COMMUNITY
Build campus and community capacity to engage in and sustain community change efforts through innovative programs and partnerships that build community leadership capacity and engage the whole institution in providing transformative learning and engagement opportunities for Gonzaga students, faculty, and staff.
To learn more about this program contact Molly Ayers at ayers@gonzaga.edu.
Have Feedback to Share With Us?