At Gonzaga University, we recognize that education must expand beyond the boundaries of the classroom and out into the world. We also recognize the importance of place, and honor our connection to Northeast Spokane.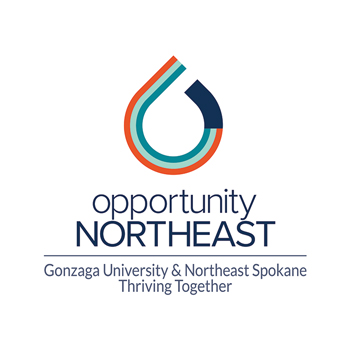 Through our more than 25 years of community engaged programming, we have sought to understand our community's varied needs by listening first, committing to ongoing dialogue with our community, and building partnerships that are responsive to community-identified priorities.
Opportunity Northeast, Gonzaga's place-based initiative, strives to involve students, faculty, and staff in transformative, experiential learning opportunities while engaging deeply in shared community development.
In partnership with our neighbors and local organizations, Opportunity Northeast is committed to improving whole health, expanding access to educational opportunities, and building an engaged campus and community in order to improve the quality of life for individuals, youth, and families in Northeast Spokane.
Our Vision
Together with our Northeast Neighbors, we will foster a thriving community for those who live, learn and work in Northeast Spokane.