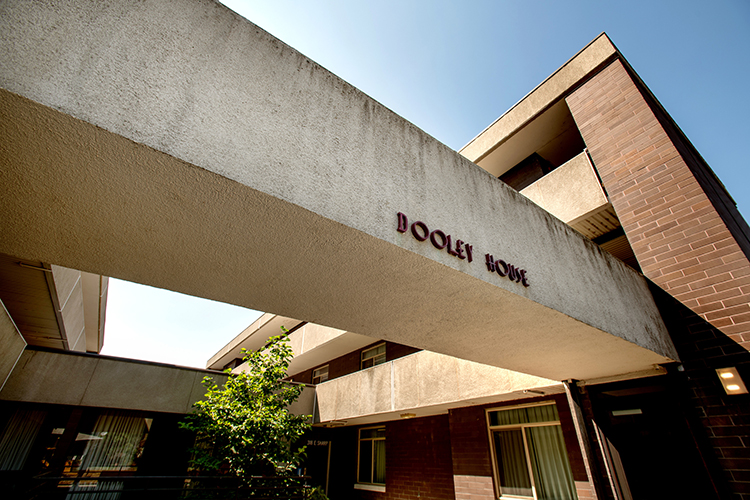 Dooley House is located at 318 East Sharp Avenue. This building is only used during times of over-enrollment.
Dooley House is a suite-style housing option for predominantly first year students. Each suite consists of two bedrooms connected in the center by a full bathroom. One bedroom opens to an exterior entrance, and the other bedroom opens to an interior common room lounge space for the floor. There are two wings in Dooley, East and West, connected by a large first-floor common room and basement.
Co-ed by suite
Suite style (most rooms are double occupancy)
3 floors
2 wings
2 RAs
Pool table, foosball table, ping pong, TVs, and DVD player provided in common room spaces
Study rooms, kitchen, and two laundry rooms are located in the basement; 1 lounge per floor
Carpeting in suites
Common Room
Couches and chairs
TV
Tables and chairs to do homework
Bookshelf and books
Vending machine
Basement Common Room
Ping pong table
Pool table
Whiteboard to keep score (or do homework)
Kitchen with full refrigerator and freezer, oven, stove-top, sink
Dining table and chairs
Piano
Couches
Common Room on Each Floor:
One couch and chair and a window
Basement Study Rooms:
Table and chairs with a plug to do homework
Floorplans
Note: These rooms have moveable furniture. The dimensions are approximate. Exact dimensions may vary slightly.
Additional Photos