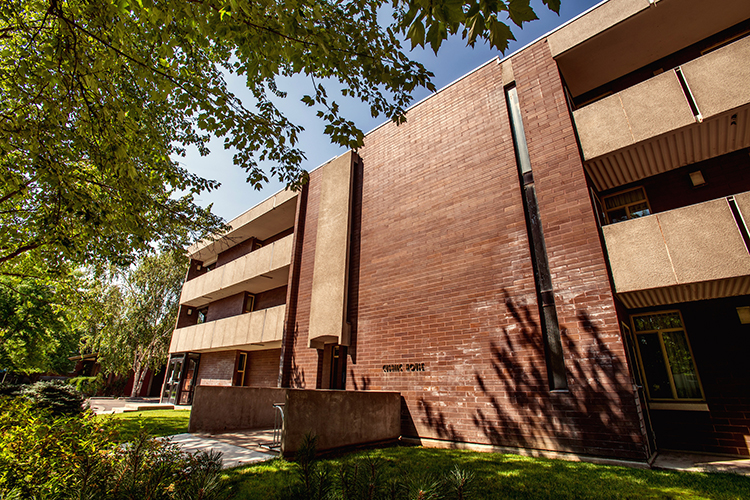 Cushing House is located at 428 East Sharp Avenue.
Cushing House is a suite-style housing option for predominantly first- and second-year students. Each suite consists of two bedrooms connected in the center by a full bathroom. One bedroom opens to an exterior entrance, and the other bedroom opens to an interior common room lounge space for the floor. Cushing is a part of the Midwestern Block, which also includes Dillon, Goller, Dooley, and Crimont Halls.
Basement
Laundry room (2 washers/2 dryers)
Two study rooms
Common are TV
Soft seating
Pool table with ping pong table conversion
Bathroom
Piano
Kitchen (sink, storage, refrigerator, freezer, stove, and microwave)
First Floor
Central common space (two couches and water fountain)
Second Floor
Central common space (three couches and water fountain)
Third Floor
Central common space (two couches and water fountain)
Room Styles:
Suites with four person occupancy. Two double rooms with joining bathroom in the middle. One room with exterior entrance and one with interior entrance.
Two suites that are two person occupancy. Two single rooms with joining bathroom. Both rooms have interior entrances.
Floorplans
Note: These rooms have moveable furniture. The dimensions are approximate. Exact dimensions may vary slightly.
Additional Photos