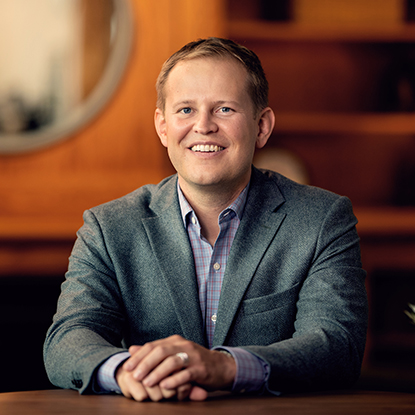 Smithmoore P. Myers Dean of Gonzaga University School of Law
Jacob H. Rooksby, J.D., Ph.D.
Jacob H. Rooksby is proud to be an academic, administrator, and attorney. Appointed Dean of Gonzaga Law School in 2018, Rooksby's focus at Gonzaga has been on innovating the law school's programming, facility, and operations and integrating the school further with the broader university and regional communities. A champion of diversity who established the first LGBTQ+ rights legal clinic at a Catholic law school in the country, Rooksby has worked to establish pay equity for faculty and provide equality of opportunity for students, faculty, and staff alike. He holds a joint appointment as a Professor of Law and Leadership Studies and has taught five different courses throughout his deanship.

Rooksby's scholarship lies in two fields: IP law and higher education law. He published a book with Johns Hopkins University Press in 2016, The Branding of the American Mind: How Universities Capture, Manage, and Monetize Intellectual Property and Why It Matters. He also is co-author of the 6th edition of The Law of Higher Education, the leading treatise in the field. His edited book at the intersection of IP and higher education, Research Handbook on Intellectual Property and Technology Transfer, was published by Edward Elgar in 2020.

Rooksby enjoys a strong connection to the legal profession. He holds law licenses in Pennsylvania, Virginia, and Washington and formerly practiced with McGuireWoods LLP and Dentons Cohen & Grigsby P.C., the latter while a full-time academic. He currently serves as IP Optimization Strategist for FIG. 1 Patents, PLLC, a boutique IP law firm based in Spokane, and is an elected member of the American Law Institute.

Rooksby earned his A.B., summa cum laude, in Hispanic Studies and Government from the College of William & Mary, where he was inducted into Phi Beta Kappa and spent his senior year living amidst costumed interpreters in Colonial Williamsburg. He holds J.D., M.Ed., and Ph.D. degrees from the University of Virginia and completed post-graduate training in higher education leadership and management in 2019 at Harvard University.

An avid enthusiast of the outdoors, Rooksby enjoys hiking, biking, and camping with his daughter throughout the Inland Northwest.

Associate Dean for Academic Affairs and Program Innovation
Kim Hai Pearson
Professor Kim Hai Pearson's current research and writing projects focus on identity and children in international migration streams, including trafficking, adoption, asylum-seeking travel, natural disaster, and economic immigration. In the context of the Convention on the Rights of the Child (CRC), a legal framework exists for extending legal protection based on a child's identity. Combining research on implementing the CRC's legal principles in alignment with children's identities may provide significant interventions in cases of violence and oppression of children. Professor Pearson's expertise includes Contracts, Law & Sexuality, ADR, and Wills & Trusts.

In her earlier work, Professor Pearson's scholarship focused on the impact of identity classification for domestic family law purposes, including unfair outcomes for racial, religious, and sexual minority families. Her work is informed by her practice in a family law firm, critical literary theory, and non-advocacy research and writing at the Williams Institute. Professor Pearson has delivered a Neil Gotanda Lecture at Berkeley Law and presented nationally and internationally on her scholarship. Her scholarship can be found in the Yale Journal of Law & Feminism, the UC Irvine Law Review, the Michigan Journal of Gender & Law, the Oxford Handbook on LGBT Divorce and Relationship Dissolution, and the Cambridge University Press's Feminist Judgments Rewritten Opinions: Reproductive Rights.

Professor Pearson held a Law Teaching Fellowship at the Williams Institute housed at UCLA Law School where she taught Law and Sexuality, Legal Scholarship, and Family Law. She received her J.D. from the J. Reuben Clark School of Law at Brigham Young University, her M.A. in British and American Literature from the University of Utah, and her MSt in International Human Rights Law at Oxford University.

Associate Dean of Faculty Research & Development
Agnieszka McPeak
Agnieszka McPeak is an Associate Professor of Law and the Associate Dean for Faculty Scholarship. She is also the Director of the Center for Law, Ethics, and Commerce. Before joining the Gonzaga Law faculty in 2020, Professor McPeak also taught at the University of Toledo College of Law and Duquesne University School of Law. She began her teaching career at Loyola University New Orleans College of Law as a Westerfield Fellow.

Professor McPeak's research and writing focus on the intersection of law and technology, particularly as it relates to social media, ethics, privacy, and the innovation and sharing economies. Professor McPeak's scholarship has been published in Wisconsin Law Review, Wake Forest Law Review, Connecticut Law Review, and Arizona State Law Journal, among others. Additionally, her work has been cited in several legal opinions, including a recent decision by the highest court of New York redefining the scope of civil discovery of social media content.

Prior to entering academia, Professor McPeak practiced complex commercial litigation in New Orleans and, before law school, negotiated translation rights for a computer book publisher in Alameda, California. As a political refugee from Poland who came to the United States as a child, Professor McPeak grew up in the San Francisco Bay area and is excited to return to the West.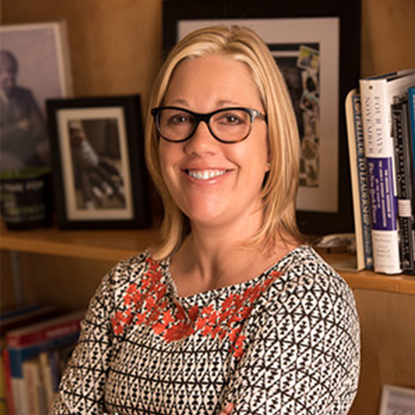 Assistant Dean of Students
Susan Lee
Dr. Susan Lee graduated with her B.A. from Washington State University in 1998 and went on to complete her Ed.M. from WSU in 2000. In 2013, she completed her Ph.D. in Leadership Studies from Gonzaga University. Her area of research focused on peer mentoring for Native American postsecondary students.

After finishing her Master's degree from WSU, she held positions at Scripps College and Eastern Washington University in student services and undergraduate admissions. Today, she works as the Director of Admissions for Gonzaga University School of Law— a position she has held since 2005.

Mentoring has always been a huge part of Dr. Lee's career, specifically for students from underrepresented backgrounds. Since 2005, she has presented and helped coordinate a program entitled "Color of Justice". Based in Alaska, it gathers a group of underrepresented and first-generation high school students to understand the possibilities of a college education. In 2009, Dr. Lee also developed a relationship between Gonzaga Law School and the Pre-law Summer Institute (PLSI) in Albuquerque—a program specifically for Native American students.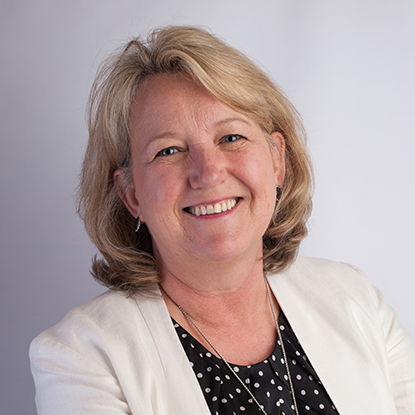 Assistant Dean for Professional Development & Director of the Externship Program
Laurie Powers
Laurie Powers received her B.A. in Philosophy and Economics-Accounting from Gonzaga before serving with the Jesuit Volunteer Corps. In 1991, she obtained her J.D. from the University of Washington, and then practiced law in both western and eastern Washington. She was an associate in private practice for five years prior to working for over 15 years as a civil legal aid attorney representing survivors of domestic violence and unemployed workers seeking benefits.
Ms. Powers joined Gonzaga Law in 2011 as the Assistant Director of the Center for Law in Public Service and the Moderate Means Staff Attorney. She also taught as an adjunct professor in the Externship program. She has directed the Center for Professional Development since August 2012.
She serves as the Vice Chair of the WA Initiative for Diversity, on the Board of Legal Employers Advancing Diversity in WA, and on the statewide Access to Justice Communications Committee. The WA State Bar Association recognized her as a "Local Hero."

Director of Alumni Engagement & Strategic Initiatives
Sarah Guzmán
Sarah Guzmán graduated with her B.S. in Information Technology and Administrative Management from Central Washington University in 2003. She worked for the Yakima Family YMCA and Leonard Rickey Investment Advisors, P.L.L.C before moving to Spokane with her family.

Sarah joined Gonzaga Law in 2010 in an administrative support role and has been promoted multiple times. She most recently was Assistant Director. In 2018, she completed her MA from Gonzaga University. As Director of Alumni Engagement and Strategic Initiatives, Sarah is responsible for developing, executing, and leading a strategic, comprehensive annual-giving program and donor experience, as well as fostering a lifelong alumni connection to Gonzaga Law School. Sarah assists Dean Jacob H. Rooksby with initiating and implementing non-academic brand and innovation initiatives. Guzmán serves on the dean's senior leadership team as well.
Senior Director of Budget, Personnel, and Facilities
Georgia Dunham, CPA
Georgia Dunham received her B.B.A. from Gonzaga University in 1991 (although she was an Oregon State Beaver until she relocated to Spokane). Upon graduation, she joined McFarland and Alton P.S., a regional accounting firm, and soon became a Certified Public Accountant. Because of her love and great pride for Gonzaga University, she joined Gonzaga Law in 1999 as the Budget and Finance Officer. In 2004, she obtained her M.Acc. from Gonzaga University.

As the Budget and Finance Officer, Georgia is responsible for the management of the financial and personnel support functions of Gonzaga Law. She provides administrative and advisory support to the Dean of the law school. She is also the Secretary/Treasurer of the Gonzaga Law School Foundation.
Registrar & Director of Academic Services
Robbie McMillian
Robbie McMillian graduated Phi Beta Kappa from the University of Idaho with a B.A. in American Studies, History Emphasis, and a minor in Political Science. She has worked at Gonzaga Law since 2005 and became Registrar in 2011.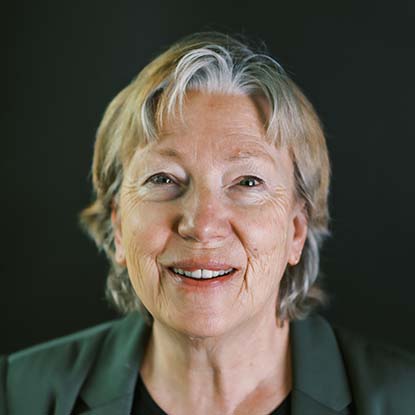 Coordinating Lawyer, Gonzaga Law School - Clinical Legal Programs
Gail Hammer
Professor Gail Hammer directs the Indian Law / General Public Interest Practice Clinic for University Legal Assistance, Gonzaga's legal clinic. She has taught in the classroom and the clinic at the University of Montana, Washington University in St. Louis, and Gonzaga. Her classroom teaching focuses on pretrial and trial practice and on children's law. Prof. Hammer has represented indigent people in Idaho, Washington, Missouri, and Montana, and served as a Special Assistant Attorney General for Montana.
Prof. Hammer served as a consultant on teaching methods in Croatia, Serbia, and Brazil for the ABA CEELI program, the National Center for State Courts Serbia Rule of Law project, and São Paulo Law School of Fundação Getulio Vargas (Direito GV). She served as legal consultant for Same Page, a project working to improve parenting evaluations and treatment and to raise the standard for expert testimony on parenting issues. She has significant volunteer experience with community agencies dedicated to ending interpersonal violence.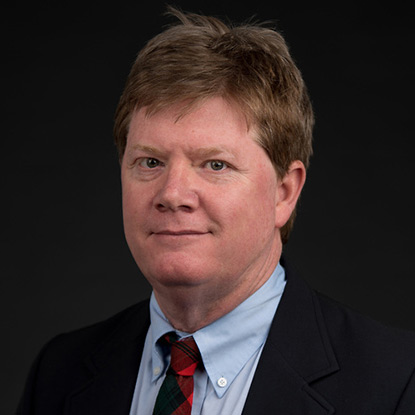 Associate Professor, Director of the Chastek Law Library, and Director of the Executive J.D. Program
Patrick Charles
Prior to joining Gonzaga University School of Law, Patrick J. Charles was a Reference Librarian and Legal Research Instructor at Creighton University School of Law in Omaha, Nebraska, from 1997 until July of 2007. From 1994 until 1997, he was the Circulation/Reference Librarian at Widener University School of Law in Wilmington, Delaware. From 1990 until 1993, he was judicial clerk for the Honorable Dorothy M. Baker of the Multnomah County Circuit Court in Portland, Oregon. He is an inactive member of the Oregon State Bar Association.
Professor Charles teaches Legal Analysis, Advanced Legal Research, and Sports Law. He is responsible for all operational aspects of the law library.