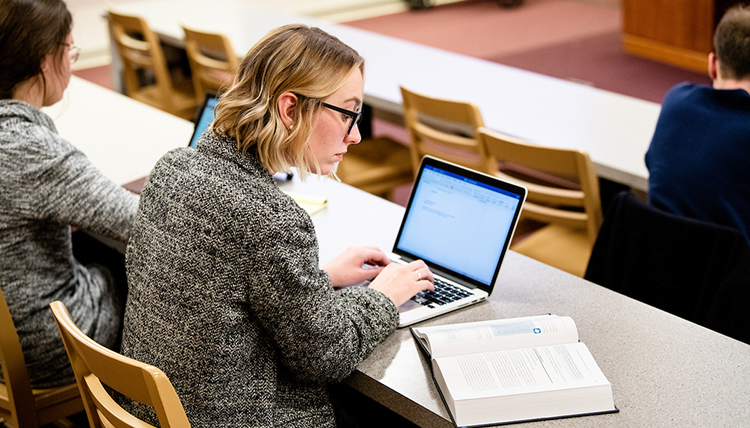 Graduate With The Writing Skills the Law Demands
At Gonzaga University School of Law you can expect more from our legal skills program. The difference starts with Legal Research and Writing.
Most law schools require only one year of writing classes. At GU, we believe extensive training in legal research and writing is the cornerstone of a successful legal career.
That is why we require four terms of Legal Research and Writing, to provide an exceptional grounding in the practical and essential skills the law demands.
Our required writing curriculum makes us unique among law schools. It is a skill-building process that will improve both your research and writing skills. Because classes are small, every student receives a great deal of individual attention.
Students complete the program in four sequential terms:
Terms One and Two
The full first-year course, LR&W I & II, is a four-credit class. It focuses on developing and refining these skills:
Legal analysis
Legal research, both in print sources and on-line, and
Objective, predictive legal writing.
The goal in each term is to teach the skill, critique the skill, and then grade the skill. Individual conferences and rewrites are hallmarks of the first-year writing program.
You will work on a series of increasingly complex research and writing projects, e.g., legal memoranda and opinion letters.
The first two projects in the first term are "closed universe"; they are fully critiqued by the instructors, but are not assigned a grade. Both projects emphasize legal analysis.
You will then be assigned at least one open research memo that is fully critiqued, but not graded in that term.
A final open research memo in the first term is fully graded.
Second-term work will focus on more complex resources, such as constitutional provisions, statutes, legislative history, and administrative regulations.
You will write two open memos on complex issues and an opinion letter based on one of your memos. The final memo is graded.
At the end of each term, you will take a graded research test. Throughout the year, you will also write shorter pieces and keep research journals that are critiqued by the teachers.
Terms Three and Four
The second-year / third and fourth term writing program is designed to enhance and refine research and writing skills. The emphasis is on persuasion and precision in drafting litigation and transactional documents, as well as other written material common to the practitioner.
LR&W III
Focuses on litigation-oriented persuasive writing, including both pre-trial and appellate briefs. Students work on a series of increasingly complex research and writing projects to increase their skills while learning persuasive organization and the use of persuasive rhetoric in support of a hypothetical client's position.
Students choose one of four course options that will fulfill Legal Research & Writing IV
Advanced Advocacy: This course will further hone persuasive writing skills first acquired in the Litigation Skills & Professionalism Lab and LR&W III. It will also introduce oral advocacy. Students will research and write a trial memorandum in support of, or in opposition to, a motion. Students will then work with co-counsel to research and write a complex appellate brief based on a record, and then present oral argument on that brief.
Drafting for Litigation: This course will focus on the skills necessary for drafting in litigation. Students will draft various pleadings that could include any of the following: complaint, answer, discovery requests/answers, motions, notices, proposed orders, jury instructions, and settlement agreement. This course builds on concepts first introduced in the Litigation Skills & Professionalism Lab and LR&W III.
Judicial Opinion Writing: This course will introduce judicial opinion writing at both the trial and appellate levels. It will benefit not only those who will serve as judicial interns, externs, or law clerks, but also those who move on to serve as administrative, state, or federal judges. Additionally, students who plan to be litigators will benefit from this course's focus on organization, rhetoric, construction, judicial style, clarity, and ethical considerations. The course builds on the early research, writing, and analytical skills acquired in LR&W I, II, and III.
Transactional Drafting: This course is designed to develop skills necessary to draft effective transactional documents. It will further refine skills first acquired in the Transactional Skills & Professional Lab. Transactional documents include a wide array of documents, both public and private that you will be called upon in practice to draft, amend, interpret, enforce, defend, or litigate. The course will emphasis organization, accuracy, precision, and clarity by using simple and plain English to effect a desired outcome.