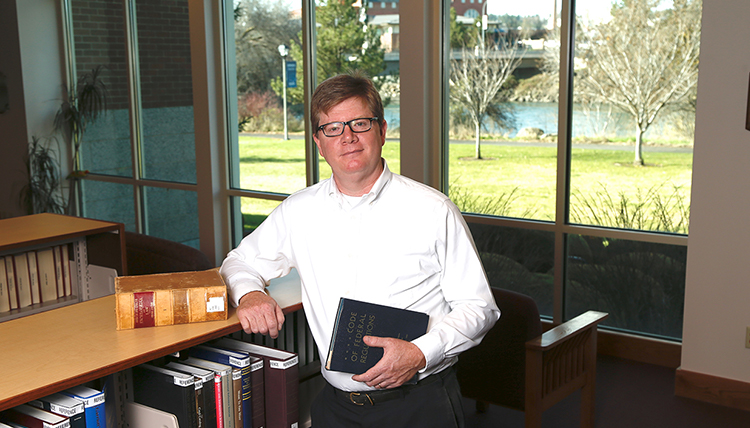 A Conversation with Patrick Charles, Library Director and Associate Professor
When people hear the word librarian, most think of cardigan sweaters, glasses on chains, a light coating of cat fur, and a penchant for quiet. But this really isn't the case, especially for Patrick Charles, director of Chastek Library at Gonzaga Law. He's more a fan of pullovers, has a dog, wears regular glasses, and curates far more than books. Perhaps most notably, Charles has a vibrant personality and booming voice that blasts away those stodgy librarian stereotypes.

Charles came to Gonzaga Law in 2007 after working as a reference librarian and legal research instructor at Creighton University School of Law and as a reference librarian at Widener University School of Law. At Gonzaga Law, he teaches Advanced Legal Research, Legal Analysis, and Sports Law, along with directing Chastek Law Library and maintaining an active publication schedule.

We sat down with Charles to discuss the past, present, and future of law libraries.
When did you decide to become a law librarian?

When I was in law school, I knew I wanted a judicial clerkship after graduation. I was fortunate to secure one in the Multnomah County (Oregon) Circuit Court. During the end of my second year of the clerkship, I had several job offers to work in criminal defense and criminal prosecution. At the same time, one of my best friends from law school, who had completed a one-year clerkship at the Idaho Supreme Court, was getting ready to graduate from the law librarianship program at the University of Washington, which offers a master's in Library and Information Science. She said it was a great program and an interesting field of work. That year, 1993, was a really exciting time because the internet was beginning to affect libraries, research, and higher education. I had always been interested in information and its preservation and accessibility, so I applied to the University of Washington's one-year Law Librarianship program and was accepted for the following academic year.
To what extent have law libraries changed since you first began your career?

The migration from print to online, which has occurred relatively quickly. Chastek Library takes up three floors of the Gonzaga University School of Law building. When I became the director of Chastek Library in 2012, the thinking shifted from concern about having enough shelf space to house current materials to thinking about trying to have enough current print subscriptions on the shelves and preventing the library from being one giant archive. During that time, we cut many of our print subscriptions because of cost considerations and most of the print resources were available via our Westlaw, LexisNexis, HeinOnline, and Bloomberg Law online subscriptions.

As an academic law library, Gonzaga University School of Law students, faculty, and staff have access to many of those databases with individual logins and passwords; however, we are also open to the general public, and many of those subscription databases do not allow general public access. Chastek Library still has to maintain some print subscriptions for the general public. Chastek Library also needs to maintain the print subscriptions because our students still need to learn how to use print materials. These skills are necessary for students if they end up working for law firms where Westlaw, LexisNexis, HeinOnline, and Bloomberg Law are not available due to cost considerations.
What new roles will librarians come to have as libraries become more digital and less paper-driven?

It should be understood that everything is not freely available on the internet. Commercial databases still make available the vast majority of primary and secondary legal authority, including many of the legal treatises that most legal scholars and practitioners use today. Someone has to purchase and manage those materials to make sure institutions like law firms, governmental agencies, and law schools have reliable access to those digital materials. Librarians have always been involved in collection development, maintaining access to materials, and training library users when materials were available in print, and it is no different now with digital collections.

In addition, librarians have always taken an active role in addressing information literacy issues, such as locating and determining whether information and sources of information are authentic, reliable, and trustworthy. This has always been a concern in print publishing; however, with low barriers to entry for publishers on the internet, this is even more important in the internet age.

Librarians are also necessary in navigating through the vast amount of information that is available. We are drowning in a sea of information and the wonderful thing about librarians is that, as teachers, we educate people how to swim in that sea of information. When we assist those in search of materials, we also act as lifeguards in helping people distinguish between trustworthy information and information that is not trustworthy.
Do you think the internet makes the general public cavalier about preserving knowledge for the future? Why is it important to preserve legal knowledge for the future?

The internet is a great thing because it makes information so much more accessible to anyone with access to a smartphone or a personal computer. Prior to that, people had to physically go to a library, governmental office, or some other physical place to access that information. That was sometimes very difficult and there were many constraints to accessibility of this information. This has been a good thing; however, it also has a downside in that there is so much information out there that people are having a difficult time getting access to authentic, reliable, and correct information.

Although the internet has been great about making current information and legal information available, there have been concerns about retaining and making archived legal information available. For example, the current Spokane Municipal Code is available online at the city of Spokane's website. The problem is that archived/historical versions are not available. As we all know, municipal codes, statutory codes, and regulatory codes can be amended or repealed at any time, and current versions of municipal codes, statutory codes, and regulatory codes only reflect the changes to the code sections. The city of Spokane's website only has the most current version of the Spokane Municipal Code available. This is problematic. If you wanted to look at the 2010 version of the Spokane Municipal Code because you had a client who did something back in 2010, and a current section or sections of the Spokane Municipal Code govern that action, but it was amended in 2015 and 2017, then you'd be unable to see what law governed your client's actions. If the city of Spokane website archived their historical Spokane Municipal Code by year, then you'd be able to search the 2010 version of the code section and see what law governed your client's actions without having the 2015 or 2017 amendments.

Some governmental websites have figured out this problem and done things to address it. For example, the Office of the Code Reviser page on the Washington State Legislature website makes available PDFs of archived annual editions of the Revised Code of Washington going back to 1973. The United States Government Publishing Office (GPO) has also addressed this problem, and they make archived editions of the United States Code and other works freely available. Other states haven't been as diligent in addressing this problem, and even if they have, they still grapple with the question of how far back they should go in making this information freely available to the general public. This is commonly referred to as "scope of coverage." State budgets can be tight and there may not be money available to digitize all of these codes; however, there should be some responsibility from the government to make all current and former laws available to the general public so that they can follow the laws.

Commercial databases such as Westlaw, LexisNexis, HeinOnline, and Bloomberg Law have addressed the issues of making archived editions available, but they still grapple with the issue of scope of coverage because it has to be financially viable for them to load the older editions and make them available. Commercial databases are in the business of making money, and if little demand exists for an archived edition, then financial considerations come into play for those businesses.
What role should an academic law library—or just a local law library—take in issues like access to justice? Is the issue of access to legal resources a part of preserving knowledge?

Academic law libraries and local law libraries are at the cutting edge of providing access to legal research materials to the general public. Several years ago, the Spokane County Law Library was faced with significant cuts to it acquisitions budget. Chastek Library has been able to accommodate many of the local attorneys who used the Spokane County Law Library. More importantly, Chastek Library was able to accommodate many from the general public who formerly used the Spokane County Law Library, especially in the Washington and self-help collections where county budget cuts severely affected the general public's ability to adequately perform legal research.
Do you see the role of a law library, academic or local, as shrinking or growing?

It is growing. Libraries and librarians are still needed to help people locate relevant and reliable information. The constantly changing and disorganized nature of the legal information explosion can be overwhelming to individuals, and law librarians are there to bring order to this chaos and disorganization. We see countless general public patrons in the library who have retrieved a case from the internet but haven't a clue how it is relevant to the law and their situation.
How does a library decide where to focus its energies, funding, and time in preserving sources and knowledge?

Preserving every bit of legal knowledge is exceedingly difficult and something we don't even attempt to do. It is similar to drinking out of a fire hose. On the other hand, we focus on preserving discrete collections. For example, because we are an academic law library in Washington it is our goal to collect all current and historical primary and secondary authority related to Washington law. The different formats in our collection include print, electronic, and microform. We also try and collect materials in fields that are relevant to our faculty's areas of interest. For example, we have a particularly strong collection of print, electronic, and microform materials related to the historical and legal aspects of slavery in the United States because we have a faculty member who has written extensively about that subject.

We manage to do this on a limited budget, but we have been able to work with vendors to get favorable subscription and ownership rights to these print and online materials. In addition, we have been able to build these collections with the generous help of many donors who value the existence of Chastek Library.
Do you see Chastek Library's role differently since it is also a federal depository library?
The Federal Depository Library Program (FDLP) was established to make federal government publications available to the public at no cost. We are a selective depository library under the FDLP. Under the program, the GPO provides government documents free of charge to libraries, and in exchange the depository libraries are required to make their collections of these government documents available to the general public at no cost. Depository libraries are responsible for the costs of processing the items, retaining the government documents for a period of time, and making them available to the general public. Chastek Library has been a depository library in the FDLP for over 25 years. Our role as a selective depository library fits in nicely with the Gonzaga University School of Law's Jesuit mission of serving the public good and pursuing justice.