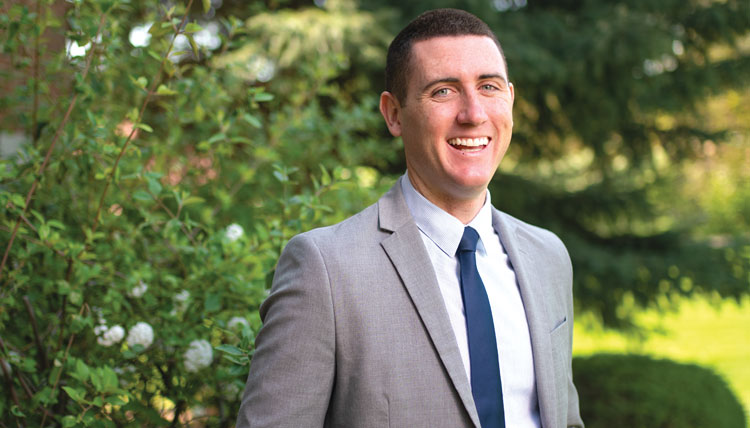 All law students require problem-solving skills during the job hunt, but few employ them so deftly as Christopher M. Boyne, class of 2019.

When Boyne chose Gonzaga Law, he knew he wanted to have a career in public service. In fact, Gonzaga's Jesuit and altruistic values drew him to the law school. Boyne was concerned, however, about juggling public service salaries with student debt. He became interested in joining the Judge Advocate General's (JAG) Corps and took a trip across Gonzaga's campus to inquire about the university's ROTC program. Boyne wasn't sure if they accepted law students, but his curiosity paid off. He earned an Army ROTC full-tuition merit scholarship, which paid for the last two years of his legal education, plus stipends for living expenses.

"I wandered into the Army Gonzaga ROTC office," Boyne recalled. "I found Lieutenant Colonel (retired) Alan Westfield Ph.D., who has been with the program for 20 years and developed it into one of the top-tier programs in the country. I am not sure why, but he immediately showed belief in me and found a way to get me into the program with a scholarship."

He completed Army Basic Training and Army Advanced Camp at Fort Knox, Kentucky, during the summers after his 1L and 2L years. After his Army training each summer, he headed to California for an internship with Navy JAG at Naval Air Station Lemoore.

Boyne also somehow found time to intern in the Torts Division of the Washington State Attorney General's Office in Spokane. Boyne has earned a top-level pro bono distinction for his public service work.

How did he do it all? "I really leaned on family for support and perseverance to get through tough times," he said. One tough time came during his ROTC training at Fort Knox. He was hungry and tired, soaking wet in the Kentucky woods at night. Feeling dispirited, Boyne reflected on the circuitous path that brought him there that night: several undergrad programs, minimum-wage jobs, a brief time teaching at an elementary school. "I thought to myself that my journey had been far too long to even think about giving up," he recalled.
On May 10, 2019, Boyne accepted a commission as an Army lieutenant. On May 11, 2019, he graduated from Gonzaga Law with his Juris Doctor. After the champagne toast, he was off to join the JAG Corps. And he did it all his way: curious, pragmatic, and unafraid of the unknown.