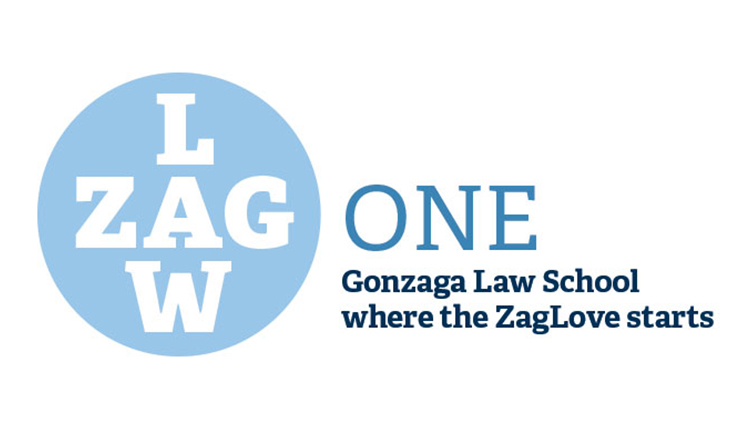 #ZagLove
The Gonzaga Law family is strong and rich in character and we want to share our gratitude for the support we receive from alums and friends. We call this support ZagLove. ZagLove can be expressed through financial support, giving your time to mentor or even sharing your expertise with our students.
During the month of February we're focusing on this ZagLove: sharing stories and cherished memories from YOU.
Make a Gift
You can spread and share your ZagLove by making a gift to your favorite program, sharing a fond memory you made during your time at Gonzaga Law, or attending an upcoming law event.
To make a secure gift online, or to make a gift by phone using Visa or MasterCard, please call 800-463-6925.
Admissions
You might remember, when you were a prospective law student, you most likely had a host of questions about the student experience at Gonzaga University School of Law. Our Student Ambassadors are here to answer their questions, and to give them a sense of what they might expect to experience as a student here. The Ambassadors are always happy to give them an insider's view of Gonzaga and the Spokane area. One way you can show your ZagLove is by assisting the Admissions department by visiting prospective students near you, sending a welcome email to a newly admitted student, or donating to the Law Student Scholarship fund.
If you are interested, please contact Admissions.
Cheryln F. Walden '12
As a recipient of a Thomas More Scholarship, it was important to me to give my time and efforts back to Gonzaga while I was in attendance and beyond. Working in the Admissions Department was one of my favorite ways to show my ZagLove and share it with new and prospective students. I was a Student Ambassador my second and third years of law school and had the privilege and honor to serve as the Diversity Outreach Ambassador and Chair of the Alumni Association Recruitment Committee. These opportunities allowed me to meet and connect with many admitted and prospective students through campus tours, email, phone calls, law school fairs, and more.
I have had countless positive experiences with prospective and admitted students that have to ended up at Gonzaga Law and others who did not. One thing that these students regularly commented on is how much they appreciated that Gonzaga Law took the time to connect with them on an individual basis, whether by phone, email, or in person. With the help of our Alums throughout the U.S., each year we have emailed hundreds of admitted students and got to share our ZagLove and why we chose Gonzaga. I know that this personal touch makes a difference, not only because students have told me so, but also because it has made a difference in my life. In any instance I have had a need, our GU alumni network, professors, and staff have never disappointed–from mock interviews and resume feedback to legal advice, career advice and beyond. The ZagLove here is strong! Go Zags!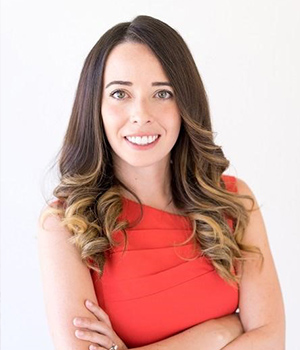 Laura King '14
After I graduated from Gonzaga Law, I had the unbelievable opportunity to serve as an ambassador to the admissions office. They sent me all over the country to speak directly to prospective students about my experience at Gonzaga Law. I got to share my ZagLove face-to-face which was an incredible honor. Just as I had been, most of the prospective students were interested to learn about the kinds of things that are impossible to learn from a statistic. In fact, I found myself most often talking about the support I had in the Gonzaga community and the kinds of friends I made along the way. Occasionally, prospective students would email me after the fact just to thank me for our conversation. That ZagLove is what sets Gonzaga apart. When I was a prospective student, I remember receiving a note from the admissions office congratulating me on my acceptance. I still have it!
Couples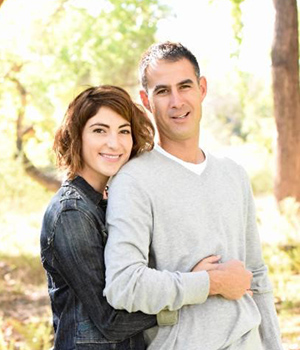 Matthew ('07) & Michelle ('07) Hironaka
We met during the summer torts session of 2004 (an early start program with smaller class sizes that allows students to get a headstart on the 1L year). Matt, originally from Lethbridge, Alberta Canada and myself originally from Albuquerque, NM were both miles from home and started our law school adventure without knowing a single person in Spokane. We sat near each other the first week of class and were part of a small group of people that decided to meet up for dinner at the Onion at the end of that first week. Although we were both determined to focus on our education and not get involved in the distraction of a relationship, we couldn't fight our connection. We spent all 3 years of our law school education together; taking some classes together and occasionally having study groups. We both became actively involved in GPILP, organizing the yearly Halloween Party and Auction. We also both worked at the clinic.
The law school will always be a fixture in our story. The 3 years we spent in Spokane are some of the fondest memories of our lives. We loved every minute of struggle and growth; sharpening our minds; meeting new friends; expanding our horizons.
We currently live in Gilbert, AZ. This summer we made it back to the law school for a visit and the librarian recognized our faces. Several of the friendships we made at Gonzaga while dating are still friendships we value immensely and continue to foster.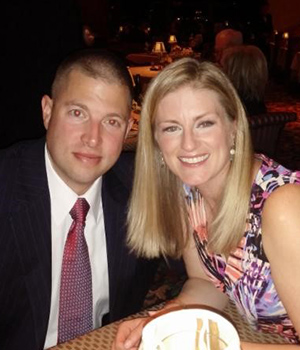 John ('06) & Laura ('06) Haberland
Our mutual friend Katie (Medley) Clark introduced John and I during orientation (in one of the desks up on the second floor of the library) and we hit it off as friends initially. We stated dating right after Winter Break and we dated all through law school. We moved to Connecticut to take the bar and got engaged in Seattle shortly after the bar exam. Thankfully John didn't propose right after the bar exam because I was so mentally drained! We got married less than six months after we graduated and just celebrated our 10 year anniversary in November. I guess that would put our ZAGLOVE anniversary at about 13 years?! Time flies!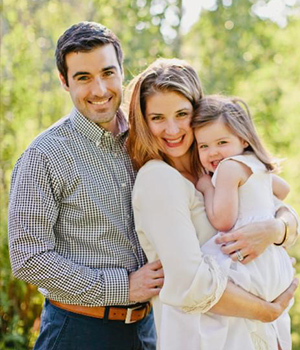 Jacob ('10) & Janelle ('09) Brennan

Jacob and Janelle's ZagLove story began in 2008 on a Thursday night at The Boulevard where the Women's Law Caucus was holding a Trivia Night. As Treasurer of the WLC, Janelle was collecting money at the door when Jacob walked in. Not much was said that night but there was a mutual attraction. About a week later Janelle saw Jacob at the library and again thought he was handsome but wasn't brave enough to leave her table and go talk to him. Fortunately, another Zag, Jillian Zech (GU '05), and Facebook helped them connect. This was when Facebook still displayed a person's friends on the left side of their profile page. During a study break (or class…) Janelle was on Jillian's Facebook page when she saw Jacob's picture and thought, "No way! How does she know him?!" She promptly sent Jillian a message. To Janelle's surprise, Jillian replied that she was best friends with his brother and that Jacob is "an amazing guy and is always a lot of fun." Jillian put her professional matchmaking skills to work and orchestrated a study session for Jacob and Janelle. That study session at Rockwood Bakery was their aha moment. They've been inseparable ever since.
Thanks to Gonzaga for bringing us together!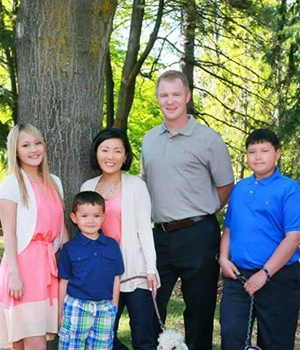 Joshua ('07) & Aimee ('06) Maurer

Our ZagLove story began in a courtroom of the Spokane County District Court in 2007. At the time, Aimee was a new Spokane County Prosecutor and Josh was working in the private sector doing personal injury work and criminal defense. Our first meeting was an argument regarding the facts and evidence of a case; Aimee thought Josh was arrogant and Josh thought Aimee was stubborn. We always laugh when people ask us how we met because it was not necessarily "love at first sight." However, two years later, our stars aligned and we had our first date. In 2010, we married, finding our happily ever after.
Gonzaga University and Gonzaga School of Law have played an enormous role in our lives and our love story. While Josh started his legal education in New York, he transferred to Gonzaga School of Law to be closer to home after a family member was seriously injured in a car accident. Josh graduated with his J.D. in 2007.
Aimee attended both Gonzaga University ('03) and Gonzaga School of Law ('06). Wanting to stay in the Spokane area Aimee applied only to Gonzaga Law School. The day she received her acceptance letter was one of the happiest days of her life. Because of Gonzaga we were able to obtain an education in the law, pursue our legal careers which led to us meeting, arguing (as all good attorneys do) and falling madly in love.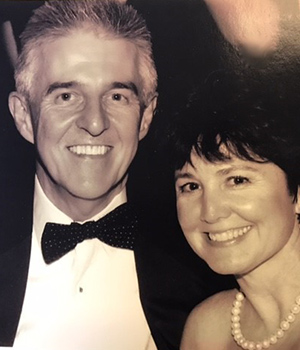 Randy ('78) & Bridget ('79) Harris
I met Randy at the Bull Dog Tavern my first week of law school and he taught me how to play pool. That was the beginning of our wonderful "ZagLove". We clerked together at the US Tax Court following Gonzaga Law School and we are still working together in San Francisco. We are now celebrating 36 years of marriage and have 4 great children.
Mentoring
Sarah Ward, 1L Student
"My mentor and I have a lot in common beyond our interest in law."
Gonzaga Law Community
Joan Henning
Assistant Director Financial Aid at the Law School
(22 years sharing ZagLove at the Law School!)
"Gonzaga for me is not only a community but a family that has always been here to support, encourage and help you with life's struggles that you may encounter. They are a support to our students, staff and faculty."
Betty J. Craipo
Expected Graduation 2017
"Like a loving embrace, Gonzaga Law gave me a Thomas More scholarship. I am now a Thomas More Scholar4Life and understand that the law is not a light by which to see. The law is not an instrument. The law is a causeway, once built, hat provides safe passage for all who travel it. With this understanding… I will further the ZagLove!"
Debbie Ortega
Clinic Front Desk Receptionist
(7 years sharing ZagLove at the Law School!)
"I love being a part of the Gonzaga family. Working in the Law Clinic and helping people in the community just fills you with love for Gonzaga and Spokane. We really live the "mission statement" and it is great being a part of that. This is the best job I have ever had and I was truly led here. This is home."
Jennifer Gill
Program Coordinator for Center for Professional Development
(8 years sharing ZagLove at the Law School!)
"Yesterday, when I notified a student she was invited to interview with an employer, she literally jumped up and down. She was so excited because it is the employer she REALLY wants to work for. I love helping students turn their interests and passions in to a career!"
Genevieve Mann '03
Clinic Supervising Attorney & Assistant Professor
(3 years sharing ZagLove at the Law School!)
"I have my dream job! As a clinic student, this is where law school came together for me. I got to put into action all that I was learning in my classes. Now, I am the lucky one that gets to witness students' "aha" moments as a clinic supervisor. When I joined the clinic faculty I was thrilled to now be a colleague with my law school mentors. I hope to carry on the traditions they started of serving the Spokane community with passion and dedication while teaching students to be professional and enthusiastic lawyers."
Please feel free to share your stories on Facebook, Twitter or Instagram using the #ZagLove tag, or email your story.