Reunion Events Calendar
June 16–18
Gold Club Reunion Weekend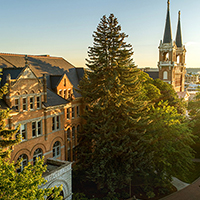 Class of 1973's 50th reunion
A weekend of festivities celebrating the Class of 1973's 50th reunion that will culminate with a Saturday night party welcoming all Gold Club members (alumni 50 years or more beyond graduation).
Dates: June 16–18
Location: Gonzaga University campus 502 E. Boone Ave., Spokane, Washington
---
We can't wait to celebrate with you!
Need ideas on where to stay? Check out the list of hotels in the area that have partnered with Gonzaga!