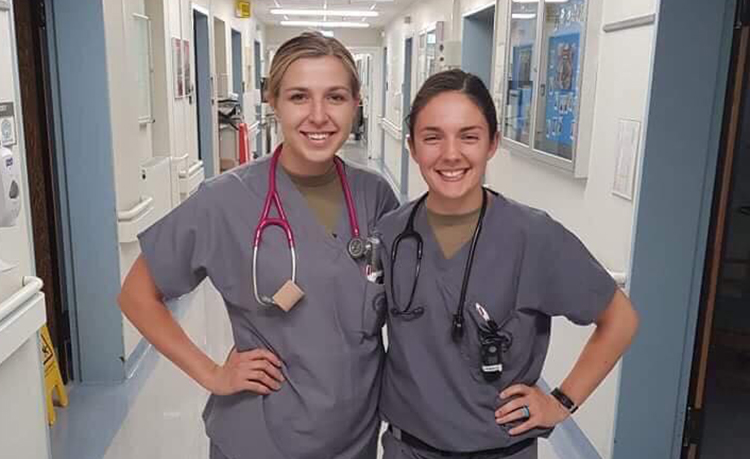 Scholarships
2, 3, and 4-year scholarships are available to nursing students
All scholarships provide:
Tuition/fees: up to $17,000 per year
Books: $600 per year
Monthly tax-free stipend during the school year. ($250/month as a freshman, $300/month as a sophomore, $350/month as a junior, $400/month as a senior)
University incentives: some schools offer additional incentives for scholarship winners (i.e. free room and board, out of state tuition waivers, etc.)
Criteria for Scholarships:
United States Citizenship
High School Graduate with a minimum GPA of 3.0
Physically fit and medically qualified
Under 31 years of age on 30 June of the year you graduate from college
Good moral character
Non-Scholarship
Students can participate in ROTC without a scholarship and will receive a monthly stipend starting their junior year, currently $350 per month (up to $3,500 per year) for their junior and $400 their senior year.
Army Nurse vs. Civilian Professional

Approximate salary (without dependents) including housing & subsistence allowance:
Starting: $48,000 After 2 Years: $61,000 After 4 Years: $78,000

Compare Your Future

Civilian Professional

Army Officer

Vacation
Two weeks per Year
30 Days per Year
Sick Leave
Limited
Unlimited, with full pay and allowances
Medical/Dental
Possible Professional Discount
FREE
Travel
At Own Expense
Military facilities around the world and space available flights overseas
Recreation
At Own Expense
Officers Club, golf courses, fitness centers, etc. at reduced rates. Planned family activities
Continued Education
Possible Reimbursement
Programs available for tuition Army pays 75-100% of all tuition cost
Retirement
Social Security at 62 and own retirement plan
Eligible for retirement after 20 yrs. Active service
Pay Raises
As determined by civilian institution
Automatic raises every 2 years
Shopping
Civilian stores
Reduced prices at Base Exchange and Commissary, Garden Shop, etc.
Relocation Allowance
At Own Expense
Household goods moved at government expense, plus moving allowances
Life Insurance
At Own Expense
$400,000 term policy for only $29 per month
Job Security
Seniority lost when relocating
SECURE! Your security moves with you!
You are about to begin an exciting career as an Army Nurse Corps Officer.
Please enjoy your time in ROTC.
We look forward to you joining our team!